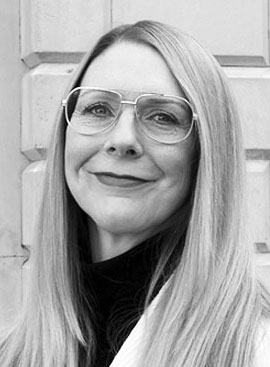 Welcome to my new blog, ELEVATION, which aims to share creative ideas, knowledge, skills, and insights from experienced arts insiders.
I have been lucky to have worked with all kinds of creative people over 30 years. Discover more about my winding career path here.
Working directly with artists has enriched my life, brought joy, laughter and occasionally tears. Artists have astonished me, thrilled me, tested me, been my guides and teachers and encouraged me to question myself, my ideas, and perspectives.
Artists help us all explore what it means to be truly alive. They help us to see the possibilities; to feel, to connect, to articulate the unspeakable and hidden and to help us understand our relation to ourselves and others.
I am still intrigued and occasionally baffled by what resonates, sells, sticks, and sucks.
Throughout my career and now as a creative coach artist mentor and consultant, I work closely with artists and creatives and have privileged access to what makes them tick, what their drivers and challenges are and what aspects of society and culture they are interrogating through their work.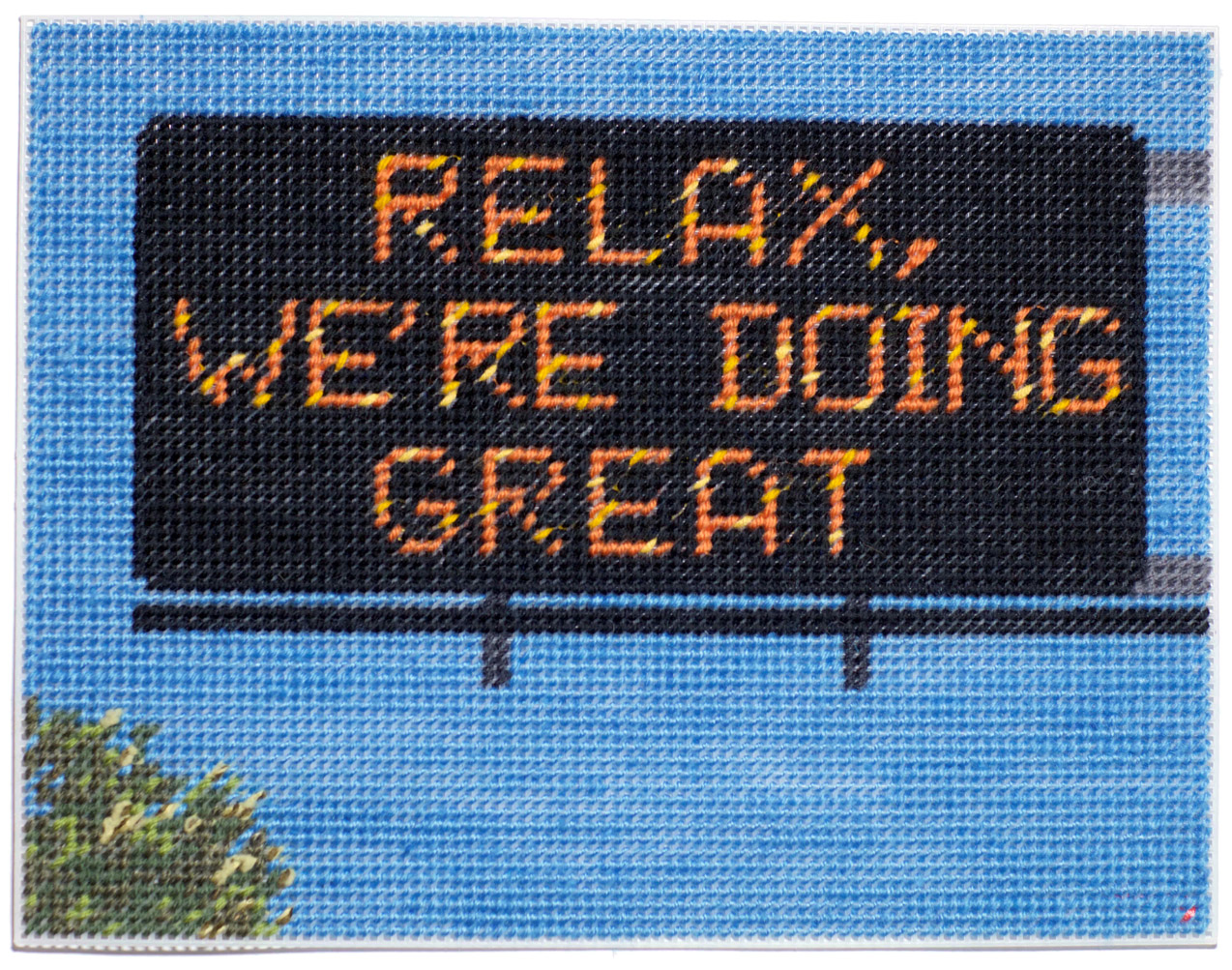 Michelle Hamer, Relax, We're Doing Great, 2020, Mixed yarn on perforated plastic, 26 x 34cm
This blog is called ELEVATION because artists lift us up.
And that's what I want to do for artists.
Artists and creatives have an incredible superpower of sifting out the wheat from the chaff, of shining a light on the important stuff, of being determined and curious. We can learn much from their way of assessing, reflecting, channelling, producing, and living.
Over coming weeks and months in this blog I will share illuminating interviews, advice, and tips from contemporary creative professionals, who question the status quo and are committed to exploring new ways to communicate, connect and challenge our perceptions.
I have invited a range of extraordinary creatives to shed some light on their ideas, processes, values, career highs and lows, motivations, risks, and key learnings. I have selected people that continue to inspire me, through their work, their ideas, their bravery, and consideration of others.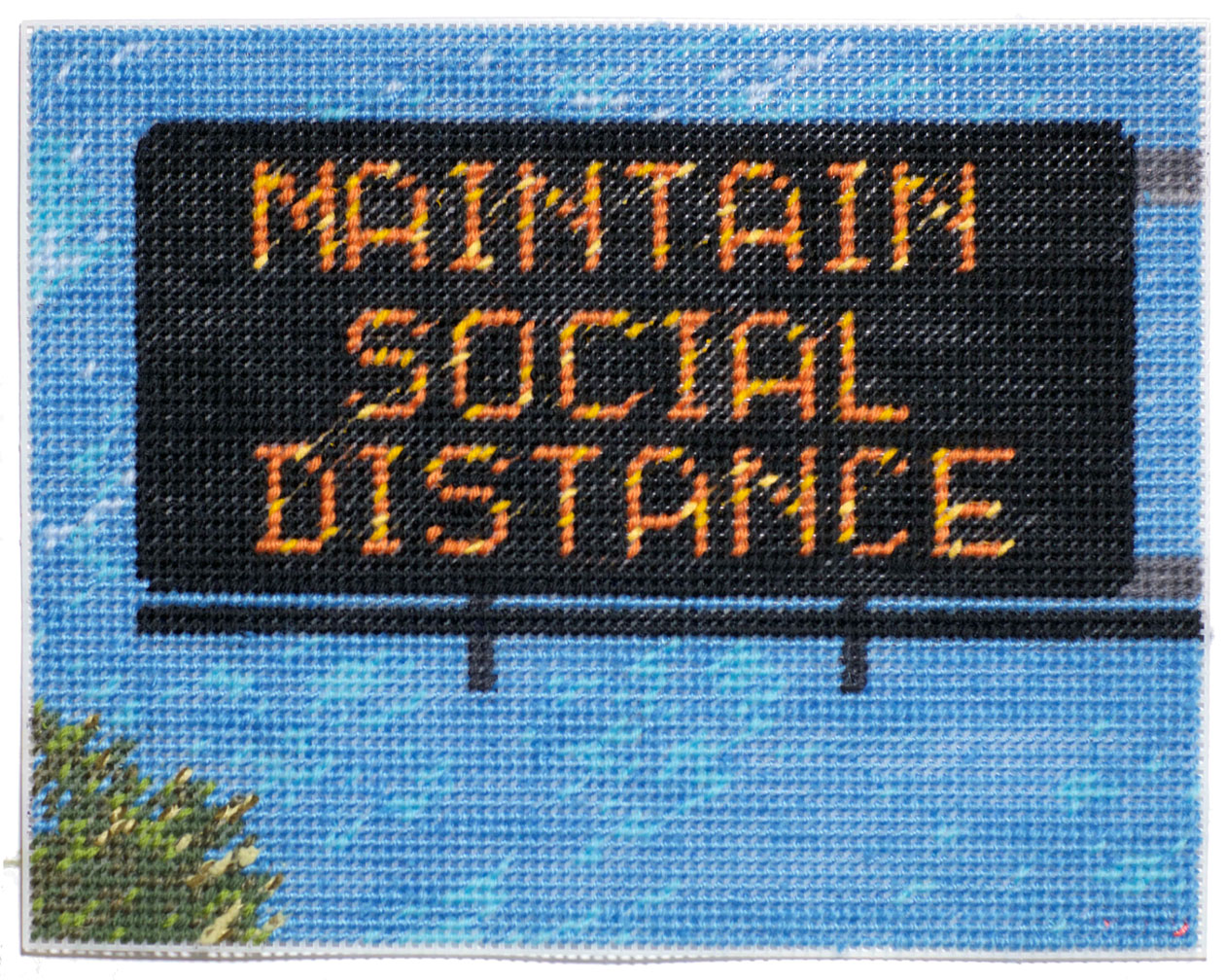 Michelle Hamer, Relax, We're Doing Great, 2020, Mixed yarn on perforated plastic, 26 x 34cm
In this strange, brave new world, I am prioritising creative coaching through Artist Mentor which supports artists and creatives in developing their work, navigating and steering their creative journeys.
If you would like to find out more about creative coaching, click here and to book a session click here.
I am also starting a free monthly Newsletter that will be launched in June. If you subscribe you will get priority access to exclusive discounts on mentoring sessions, creative career advice, tools, tips, and resources, delivered to your Inbox directly from me.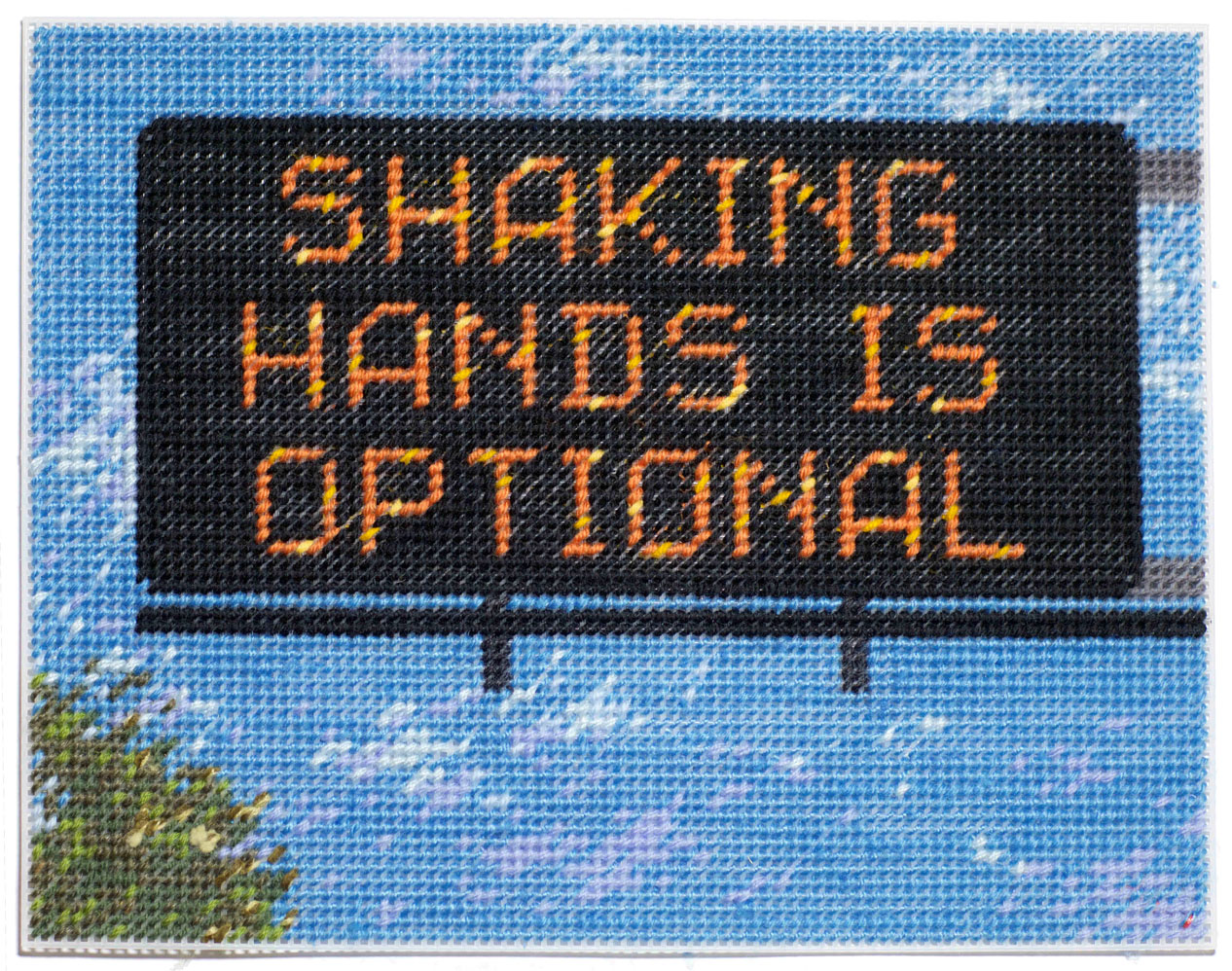 Michelle Hamer, Relax, We're Doing Great, 2020, Mixed yarn on perforated plastic, 26 x 34cm
This blog will explore the ideas, challenges and sources of inspiration and recommendations from contemporary creatives working in the arts.
In coming days and weeks I will be sharing interviews with inspiring creatives including
George Vasey, GAIKA, Iain Forsyth & Jane Pollard, Eleanor Moreton, Gareth Pugh, Francesca Gavin, Helen Nisbitt, Gavin Wade, Aaron Cesar, Mel Brimfield, Christian Viveros-Fauné, Richard Parry; Will Jarvis, Stephanie Dieckvoss, Sarah Cook, Valeria Napoleone, Rebecca Lennon, Darryl de Prez, Kristin Hellejegarde, Sophie Jung and many more in text, audio and video format.
In time I hope this blog will be a vehicle for a creative community that values honesty, trust, difference and enables others.
All feedback, recommendations, links, and ideas welcome!
Please email me or find me on socials @cerihand on Instagram and Twitter, I'd love to hear from you.
If you are an established creative practitioner and would like to share your experience and reflections and participate in an interview to benefit others, please do reach out.
If you know somebody who would appreciate Artist Mentor creative coaching support or enjoy via this blog or the Newsletter, please do share.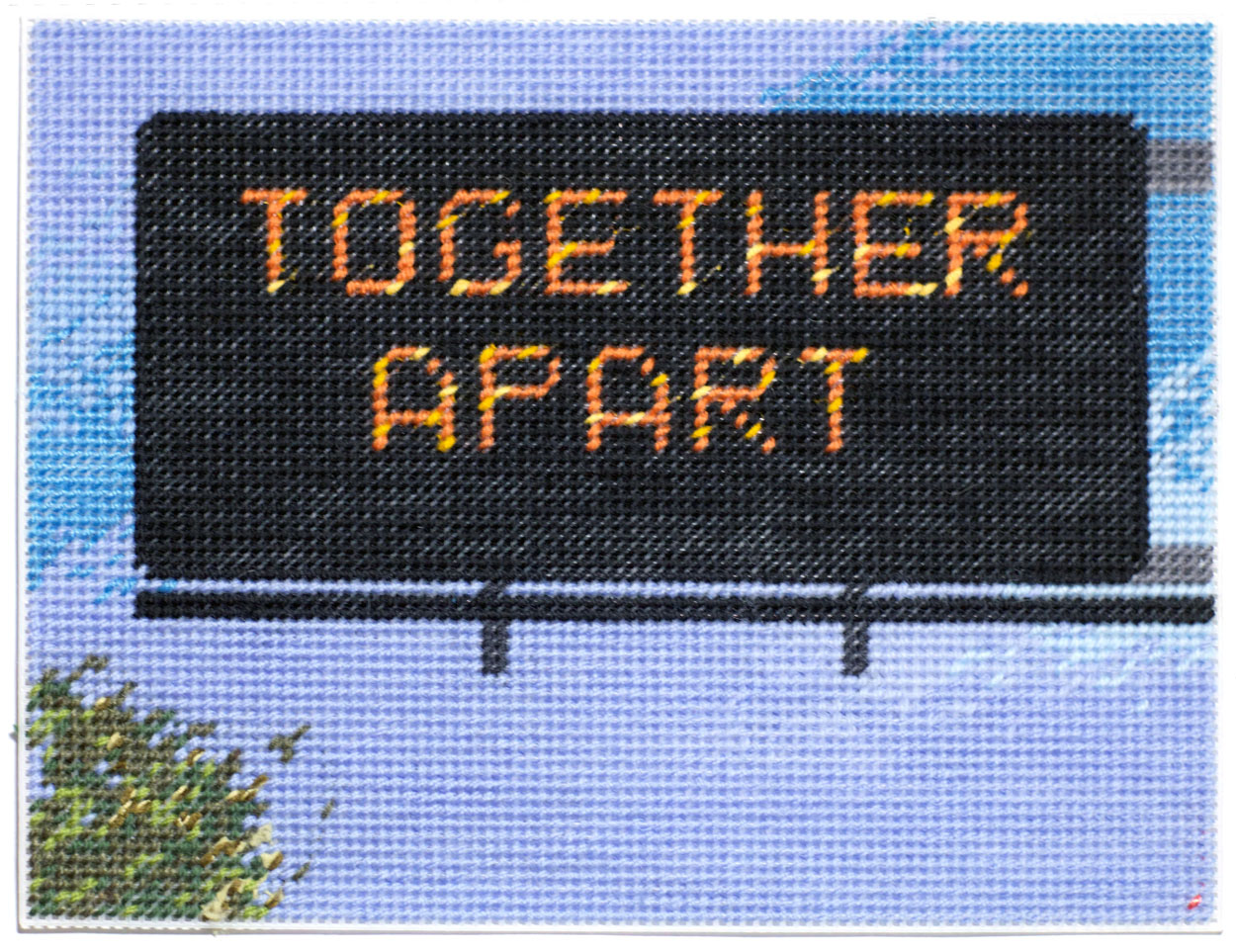 Michelle Hamer, Relax, We're Doing Great, 2020, Mixed yarn on perforated plastic, 26 x 34cm
Introducing
In each of my blog posts I will introduce an artist and examples of their new work.
Relax, We're Doing Great is an ongoing series of hand-stitched works by Michelle Hamer, that explores public messaging by local and international leaders during the COVID-19 pandemic.
Michelle Hamer is a Melbourne based artist who uses signage and language to reflect the social and political systems, structures, ideologies, and mixed messages we negotiate every day.
Since 2005 she has had twenty-one solo exhibitions and participated in numerous group shows. She has works in permanent collections of the National Gallery of Victoria, City of Melbourne; Artbank; Gippsland Art Gallery; Textile Art Museum Ararat and private collections in Melbourne, Sydney, Brisbane, New York, Chicago, Los Angeles, London, Copenhagen and Auckland.
Visit her website or follow her on socials @michelle_hamer
For exhibition or sales enquiries please quote code AM_B1
Coming next..
An interview with Iain Forsyth & Jane Pollard, artists and BAFTA-nominated directors working across film, installation, performance, sound, documentary, and TV drama. Their debut feature film, 20,000 Days on Earth, won two awards at Sundance and nominations from BAFTA and the Independent Spirit Awards. In 2015 Iain & Jane received the Douglas Hickox Award for best debut director from the British Independent Film Awards.
Please share