Join the FREE Artist Mentor community 
Register by completing the form at the bottom of this page and get access to all  of the following for FREE.
1. Subscriber only events

An Evening with Doug Fishbone
Thursday 21 January 6pm-7.30pm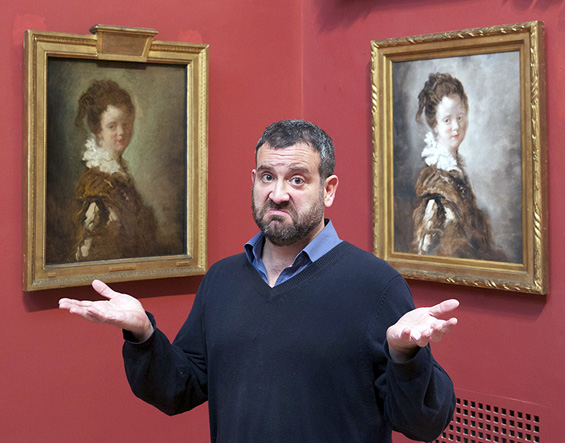 International artist and art educator Doug Fishbone will share his experiences of life in the trenches of the art world over the past 20 years. Noted for his engaging and highly unlikely projects - from piling 30,000 bananas in Trafalgar Square, acting the lead role in a low-budget Ghanaian melodrama, to designing a crazy golf course at the Venice Biennale - Fishbone works in a wide range of media to present an amusing critique of contemporary life, prompting one critic to call him a "stand-up conceptual artist."
He will share insight from his broad experience in navigating the art world and is very open to any kind of questions.
Subscribers will be contacted by email and provided with the required Zoom meeting ID and passcode prior to this event.
Read more about Doug Fishbone here
2. Artist Mentor Creative Surgery
Join Ceri Hand, experienced arts professionals and fellow subscribers at the end of each month for a regular 1 hour informal SUBSCRIBER ONLY online Creative Surgery.
Occasionally themed and art world insider led, these FREE online sessions are designed to demystify the art world and help you with any pressing issues or questions on any subject related to the art world.
Subscribers are notified of the date and time of each session in each Newsletter and provided with a Zoom link.
Subscribers feedback on what they found useful include:
"Open and friendly with good information."
"It has been great to hear the questions being asked by other artists, questions that might never have crossed my own mind. I guess in a way it has been a way of learning about things I didn't know I should learn/know about."
"It's the straightforward approach - detailed answers based on a huge experience and knowledge underlining a commitment to generosity."
"Great depth of knowledge and common sense of Ceri."
3. FREE Facebook Group 
A private group for artists to connect, share information, make recommendations, offer advice and hacks and enable each other to address challenges in your practice.
It's a respectful, safe space for you to ask those quick questions of Ceri Hand and a trusted group of artists when you're in  need a bit of extra help. So please do join and post useful & inspiring stuff!
4. Monthly Newsletter

Receive the Artist Mentor newsletter each month and get a round-up of useful creative hacks, insights, opportunities and introductions.
The newsletter includes:
Tips on developing and reaching new audiences
Unique insights into how the art world operates from leading industry professionals
Useful exercises to help remove creative blocks
Extracts from interviews with artists and arts professionals
Recommended resources
You can view view past newsletters by clicking on the links below: