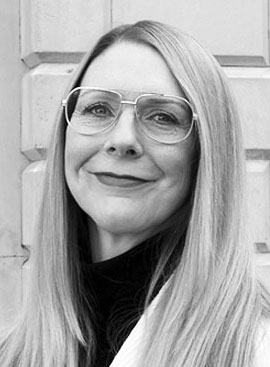 I got to know art critic & editor Tabish Khan when I was working at Somerset House. I really appreciated his support, as he visited most of our exhibitions, and our conversations were warm and engaging.
I am always impressed by his incredible commitment to seeing as many shows across London as possible. He has a genuine enthusiasm for seeing art, getting to know the artists, and sharing his joy and passion with as many people as possible.
He deliberately writes in an accessible way for a broad and diverse public, in the hope he tempts non-arts audiences to visit the wealth of culture on offer in the city. He is unafraid of holding unfashionable or controversial opinions but is very open to having his perception shifted.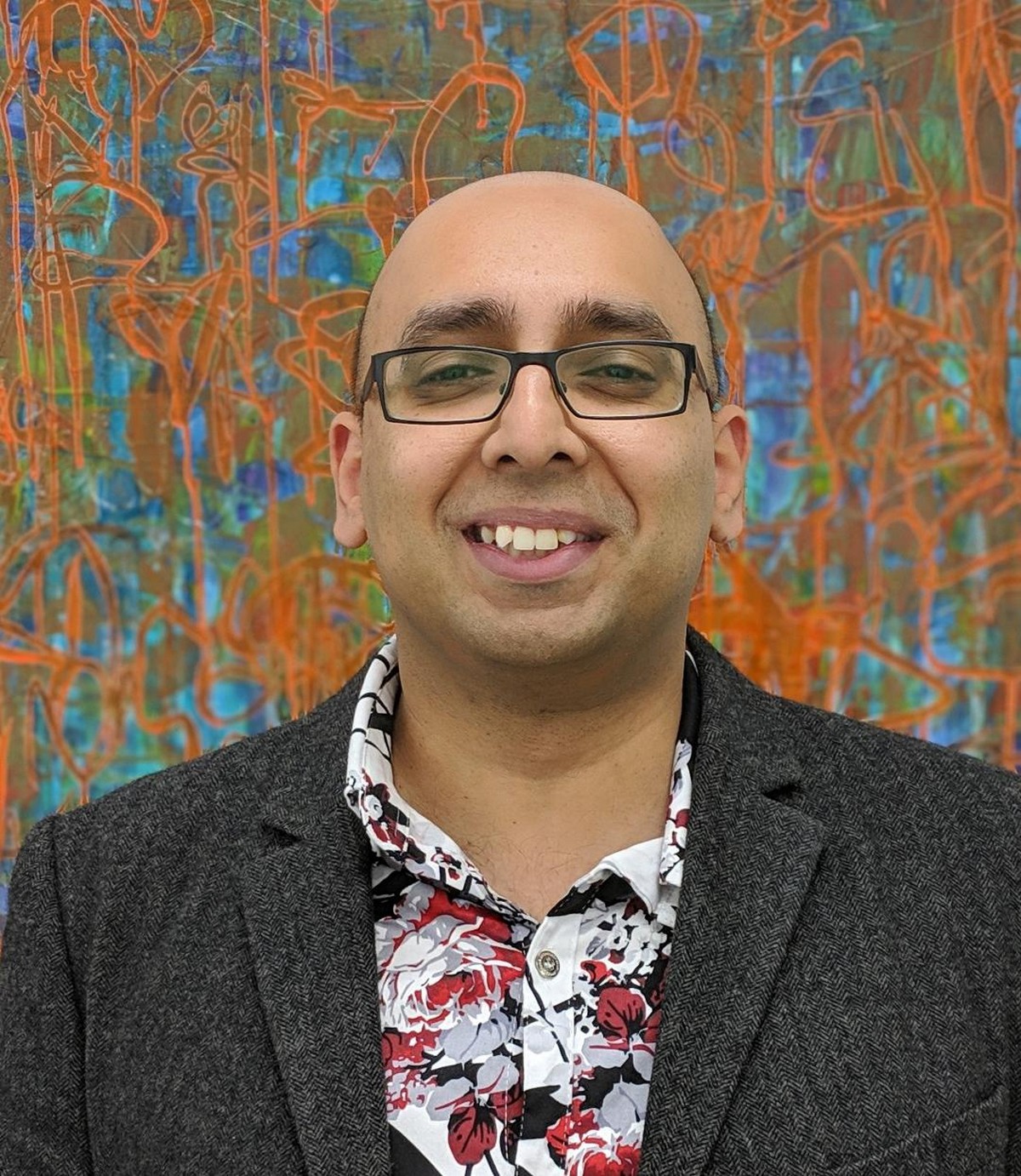 Tabish Khan is an art critic specialising in London's art scene. He visits and writes about hundreds of exhibitions a year covering everything from the major blockbusters to the emerging art scene.
Tabish has been visual arts editor for Londonist since 2013, a website about London and everything that happens in it. He is also a regular contributor for FAD with weekly top exhibitions to see in London and a column called 'What's wrong with art'.
Tabish is a trustee of ArtCan, a non-profit arts organisation that supports artists through profile raising activities and exhibitions.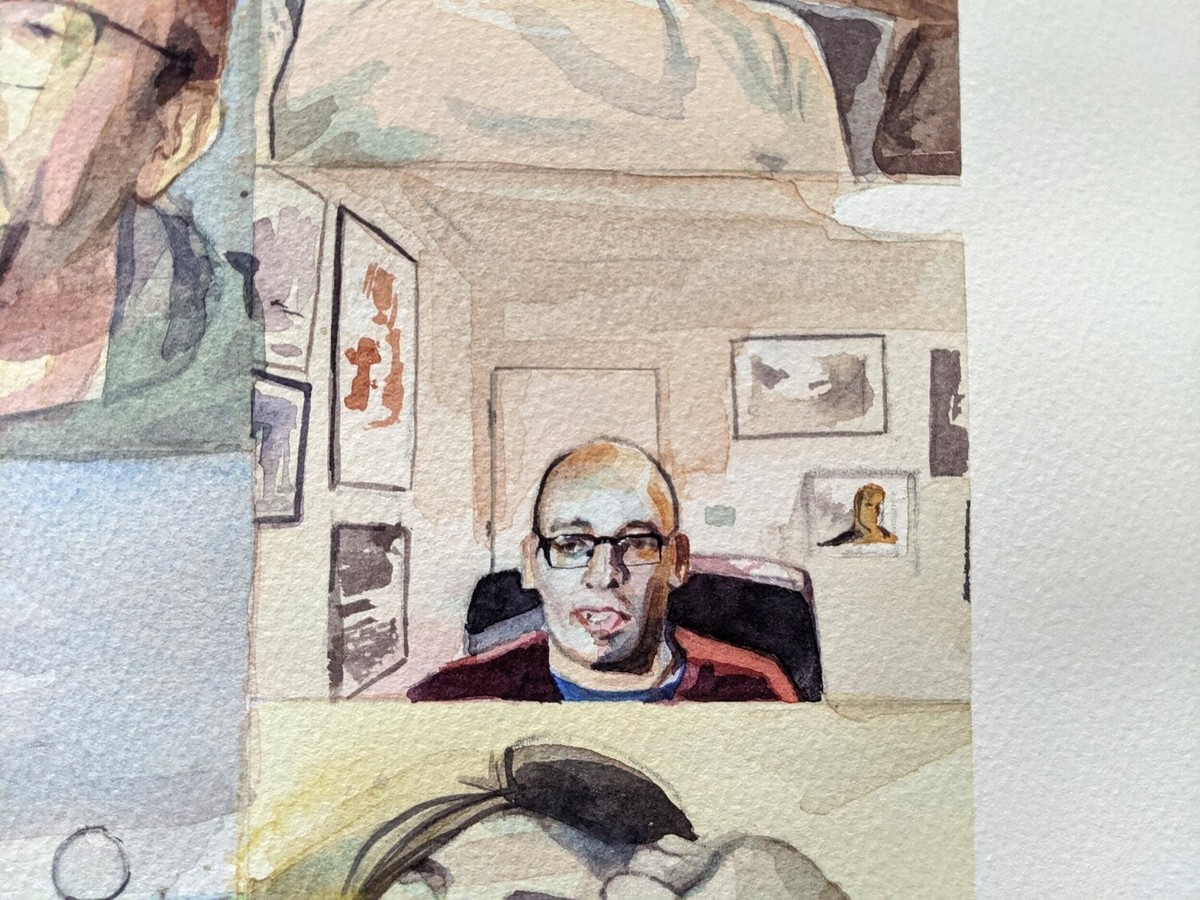 Jose Sanchez Peinado, 2020, Watercolour of Tabish Khan and friends on a Skype call
What are you doing, reading, watching, or listening to now, that is helping you to stay positive?
The vital activity for me is staying in touch with people. During full lock down this was via video calls, more recently by outdoor meetups. Staying in touch with friends and family has been the single most important activity for my mental wellbeing.
It's also made me recognise the friendships I had neglected with those who had moved away. Distance is no barrier when we live in such a connected world. It's been great to reconnect with old friends and I'm hoping to keep those friendships active once the world returns to a new normal.
The reduction in work has also been an opportunity to catch up on all those items I had ignored as I was too busy before. My list of books I've bought and haven't read is over 200 books long and I'm now slowly chipping away at it. I love reading and it's a shame I didn't carve out more time for it before.
I've also enjoyed watching the wider arts such as theatre, opera, ballet and dance now that they have all been streaming online. Also, there's nothing wrong with a good Netflix binge and I loved watching all of Breaking Bad and the prequel Better Call Saul. It's a thrilling watch, even if I am very late to the party.
Recycle Group: Nature of non-existence, 2018, Gazelli Art House, Image courtesy of Gazelli Art House
How have recent world events affected your ideas, processes, habits, ambition, or methodologies?
Recent events place a lot of things in perspective. It's forced me to slow down and think deeply about what I want to do in the future. When life is busy it's easy to get caught up in the rush and to not stop to think about what I should or could be doing.
I fell into both my corporate job and being an art critic, without intending to. While I love writing about art, I've never given much thought to other forms of writing and presenting.
It's also forced me to slow down my thought process, which is usually all over the place, with the experience of dozens of exhibitions bouncing around in my head. With this chance to slow down it's been nice to chew ideas over for a few weeks with no deadline to work to.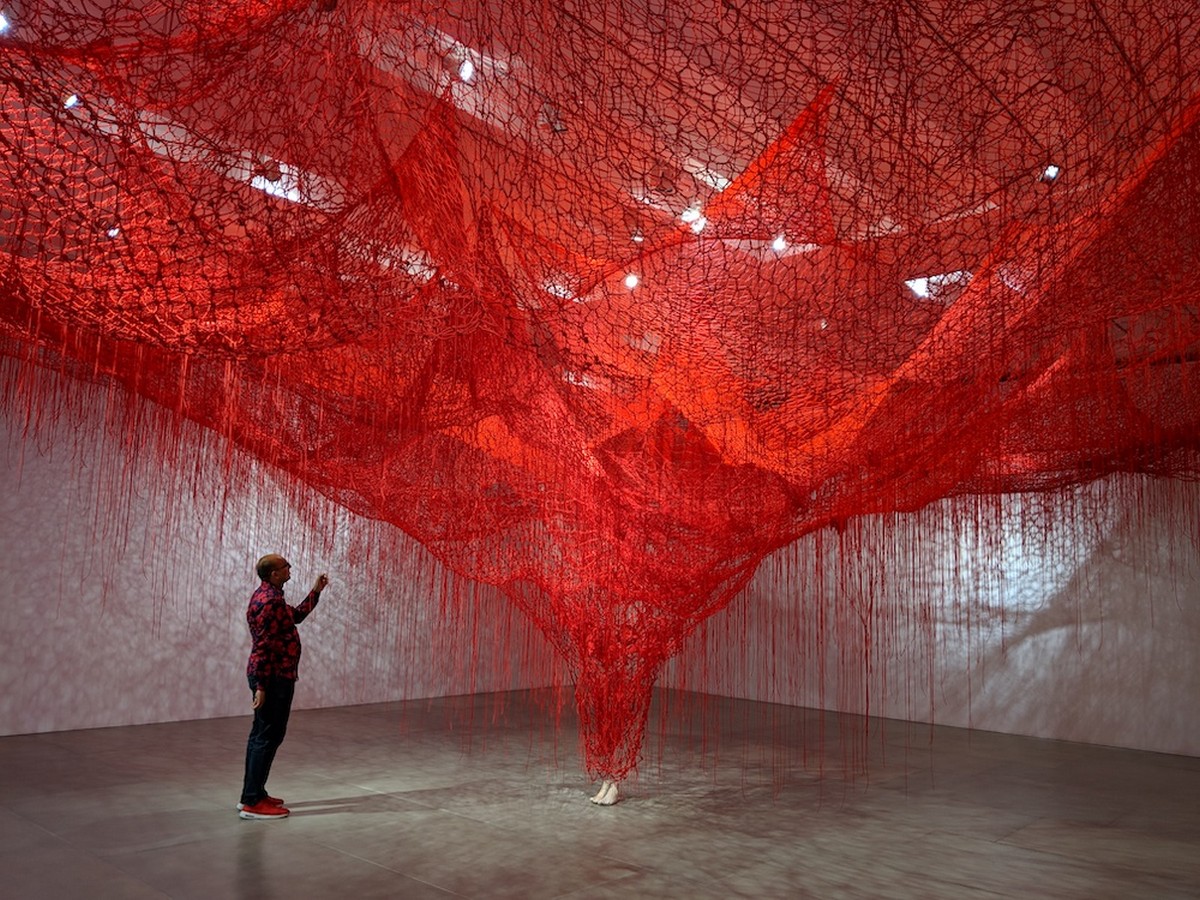 Chiharu Shiota: Inner Universe, 2020, Galerie Templon, Paris, Included in Tabish Khan Top Picks for FAD
What will you do more of?
My daily walk when I was only allowed one piece of exercise was a highlight of the day. I've got lovely parks on my doorstep and I don't make enough of them. I'm hoping to keep that up as well as doing a better job of staying in touch with close friends.
As I'm driven by deadlines, I never actually stop to ask myself what I want to write about. Instead I write about what needs to be written about, i.e. reviewing the latest exhibition. Over the last few months, I've discovered the joy of writing blog posts on topics of my own choosing, something I haven't done for over five years. I'm hoping to keep publishing these once the exhibition openings pick up again.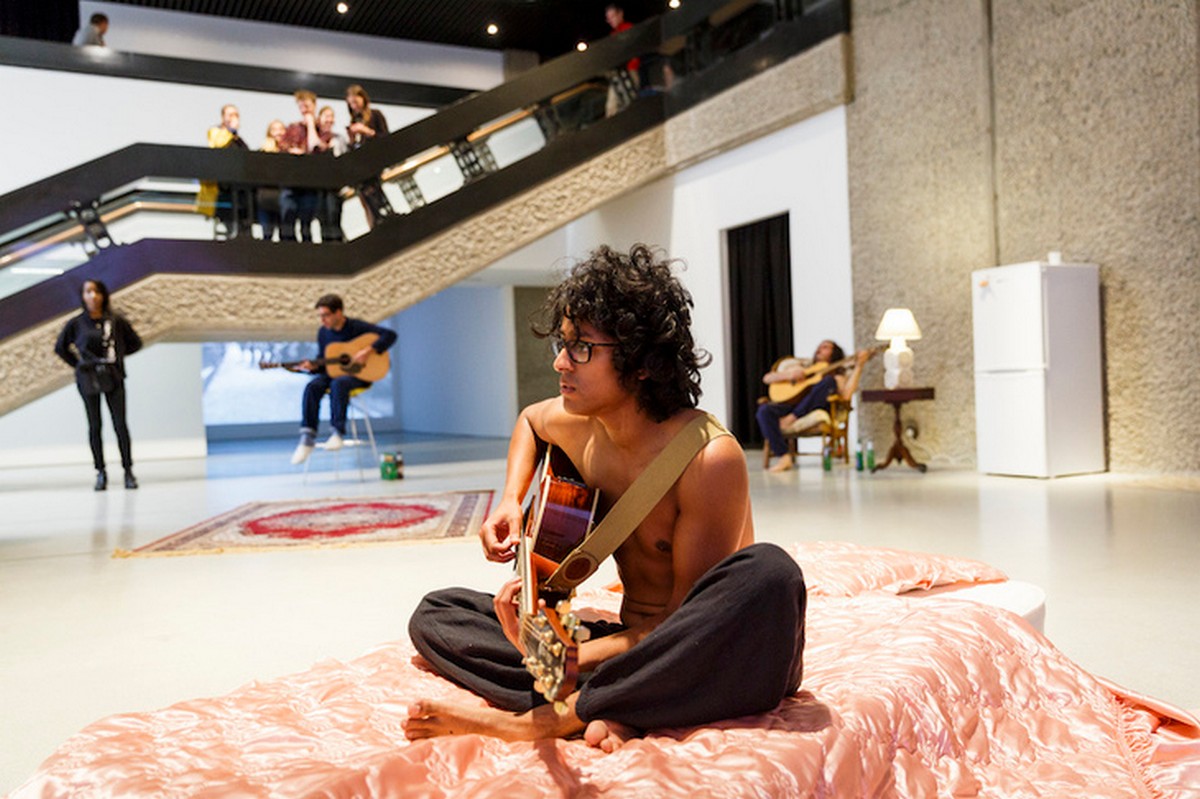 Ragnar Kjartansson exhibition installation view, 2016, Barbican Art Gallery, London, England

Courtesy of the artist, Luhring Augustine New York and i8 gallery Reykjavik. Photo by Tristan Fewings/Getty Images for Barbican Art Gallery

What will you do less of?
As I came to art very late in life, in my late 20s, I feel like I must work harder to keep up with everyone else. This is a pressure I've placed upon myself and I realise I need to give myself more of a break. In 2019, I visited over 1,100 exhibitions and while that's quite a feat, it made me realise I can't really give all those shows the attention they deserve.
So, I plan to visit fewer exhibitions once lock-down is lifted and focus on those that are more likely to resonate with me. I need to focus on quality over quantity.
What do you care about?
Everything I do in the arts is centred around the idea of making art accessible. I stumbled across art with very little knowledge of art, and I want to help others do the same.
Art is inspiring and it should be for everyone. Yet despite many galleries and exhibitions being free to visit there is still a racial and socio-economic class divide in the demographics of those who visit exhibitions.
Now that's not something I can solve alone but I want to ensure that everything I write doesn't pre-suppose existing knowledge of art and that it can be read and understood by anyone. Too much of art is surrounded by artspeak and is impenetrable, thus making it feel like it's for a privileged elite when it isn't.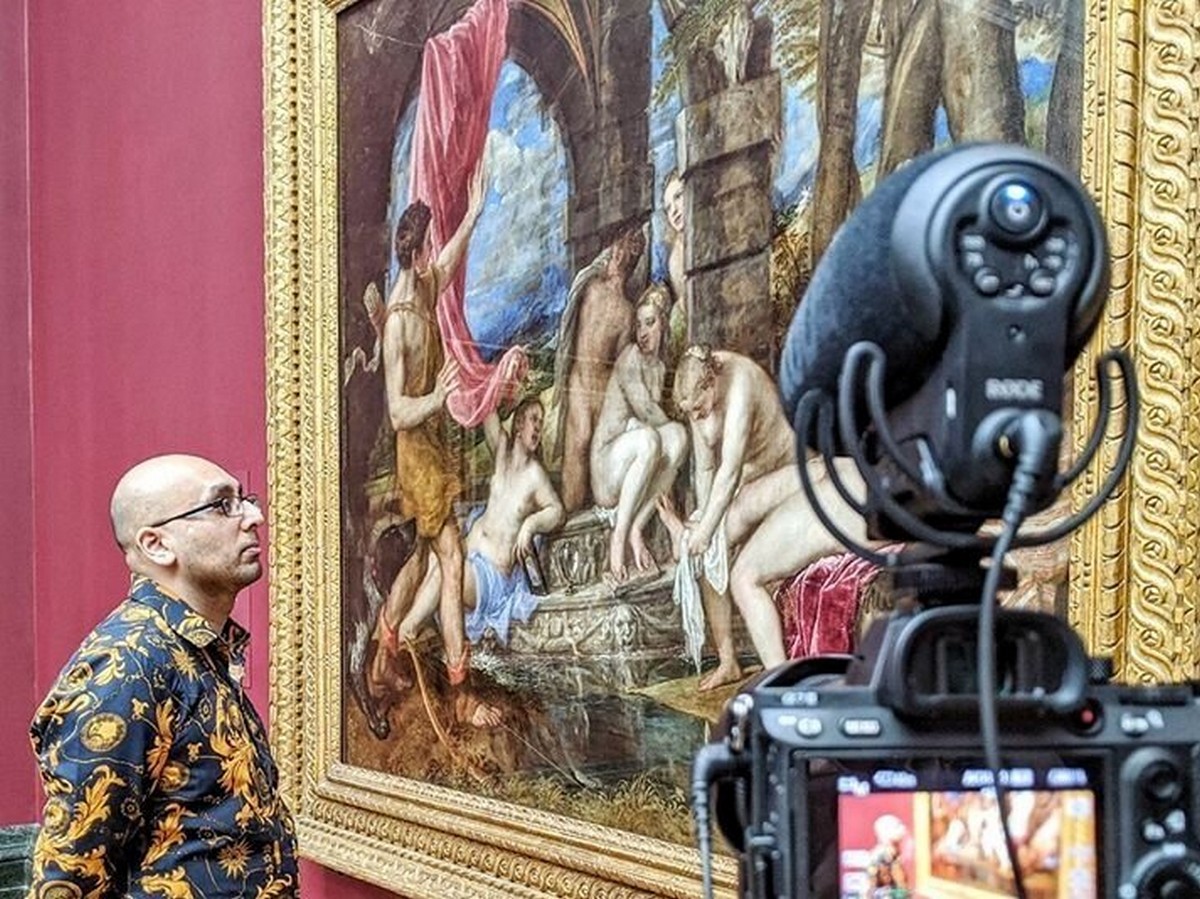 Filming at the Titian press view at The National Gallery, May 2020
What recurring questions do you return to in your work?
It's always important to ground yourself by remembering why you do what you do. For me, it's writing in a way that makes art accessible to everyone and to introduce people to art and artists they wouldn't have come across otherwise.
I started off with no knowledge of art and took a chance of visiting exhibitions prompted by advertisements I used to see on the London Underground. Now my star ratings are regularly on those very same posters. My path may seem extraordinary, but I want to make it ordinary.
There must be hundreds of potential Tabish Khans in-waiting and I want to reach out to them by encouraging them to take a chance and go to an exhibition they wouldn't ordinarily visit.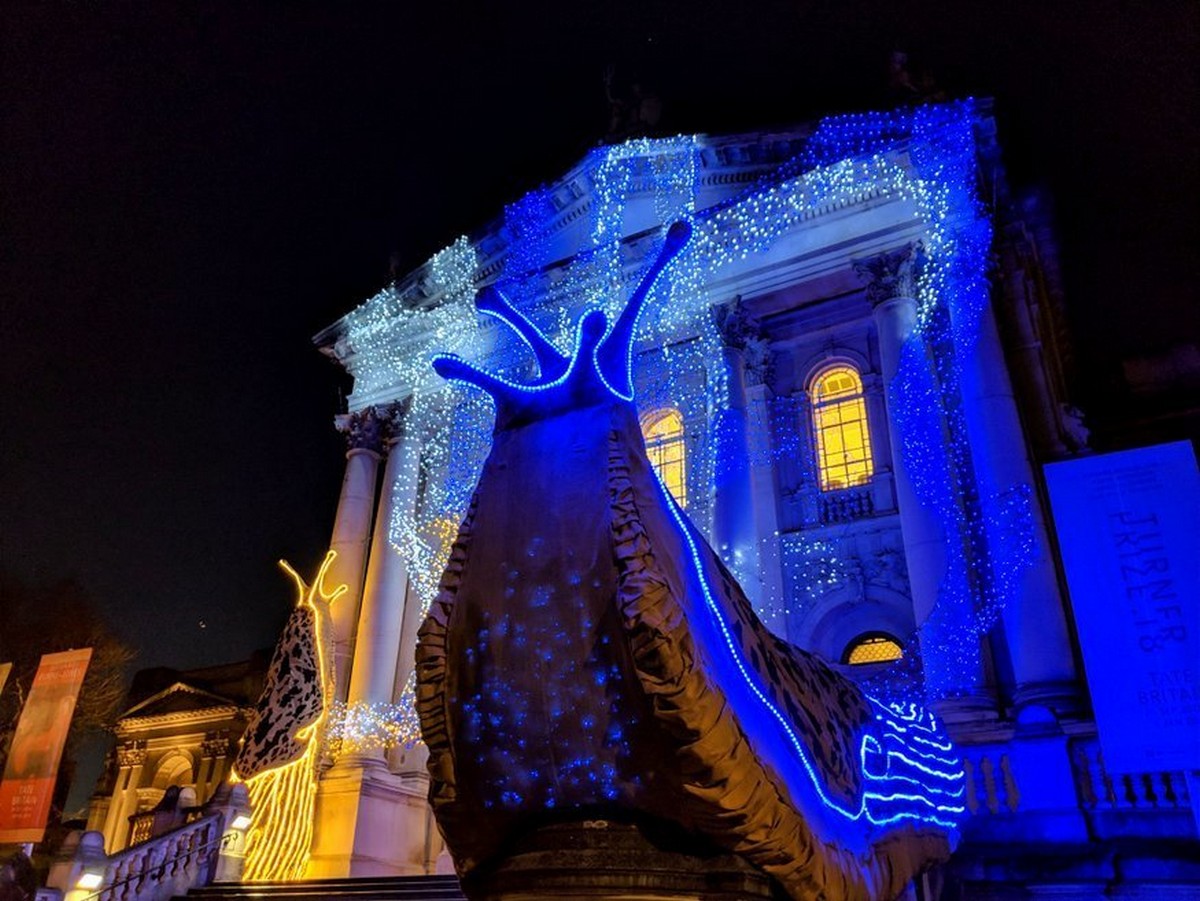 Winter Commission by Monster Chetwynd, Tate Britain, Image copyright Tabish Khan, Londonist
What risks have you taken in your work that paid off?
The biggest risk was asking Londonist to take a chance on someone who had so little writing experience. Even now I look back and wonder how I had the courage to do that. If I had been knocked back, I'm not sure I'd have had the courage to pitch to anyone else and my fledgling art critic career would have ended there.
I always wonder what my life would look like if I had been rebuffed. My life would be so different - my successes, friendships and experiences would be completely changed. I don't think it's too much to say I would be a different person. To use a cheesy pop culture reference, it was my Sliding Doors moment.
What risks have you taken that perhaps did not go so well but you learnt the most from?
I'm naturally risk averse, so I tend not to take many risks at all. One chance I took was to write the longer form wordy reviews you often find in art magazines. It just felt so unnatural and I didn't enjoy the process.
Short and punchy is my style and it's what resonates with the audience I'm trying to reach. It's why you're unlikely to find me writing for any of the art magazines that are tailored to an art specific audience. In truth I don't think they'd have me anyhow, I'm far too irreverent for their tastes.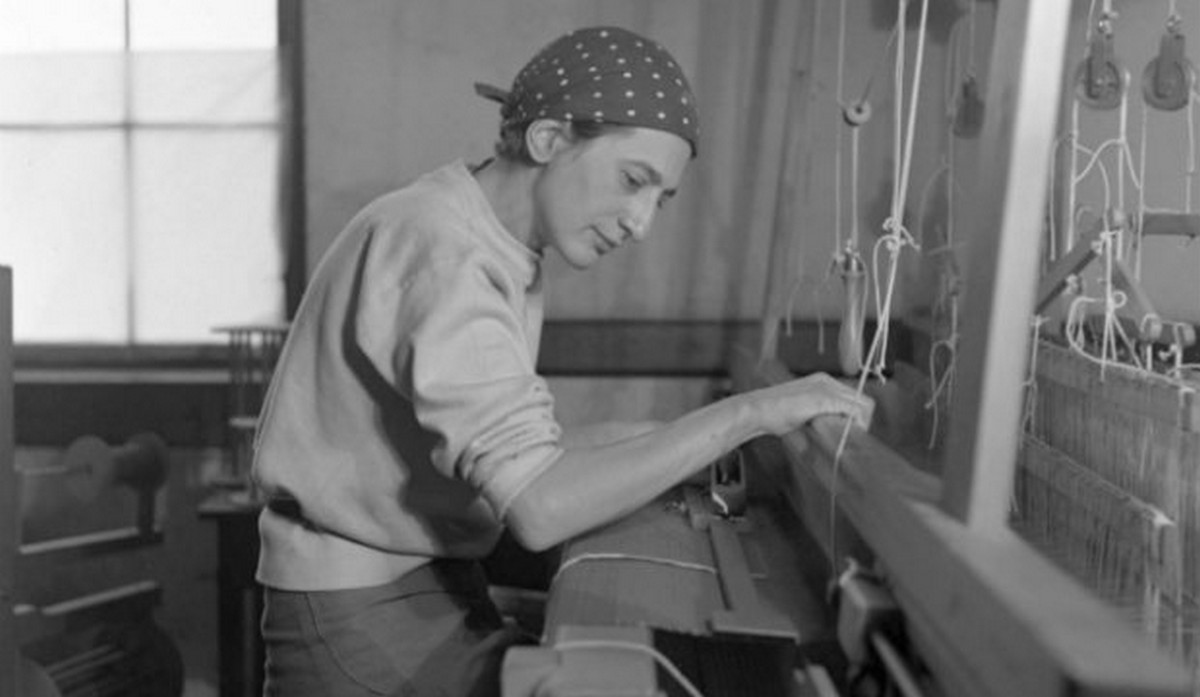 Anni Albers in her weaving studio at Black Mountain College, 1937, Image included in Tabish Khan's Review: Anni Albers, Tate Modern, for Culture Whisper, 2018
How would you like your work to lift others up?
I want people to read my writing and visit exhibitions they hadn't intended to. To then be inspired by what they see. One of the nicest parts of my job is when people tell me how much they enjoyed an exhibition they heard of from me.
It's also brilliant when artists get sales, press attention and commissions based in some part on what I've published or posted on social media. Often, I've been told an article of mine was the first piece of press an artist received, which is a great feeling. Years down the line it's great to see these same artists doing so well in their careers.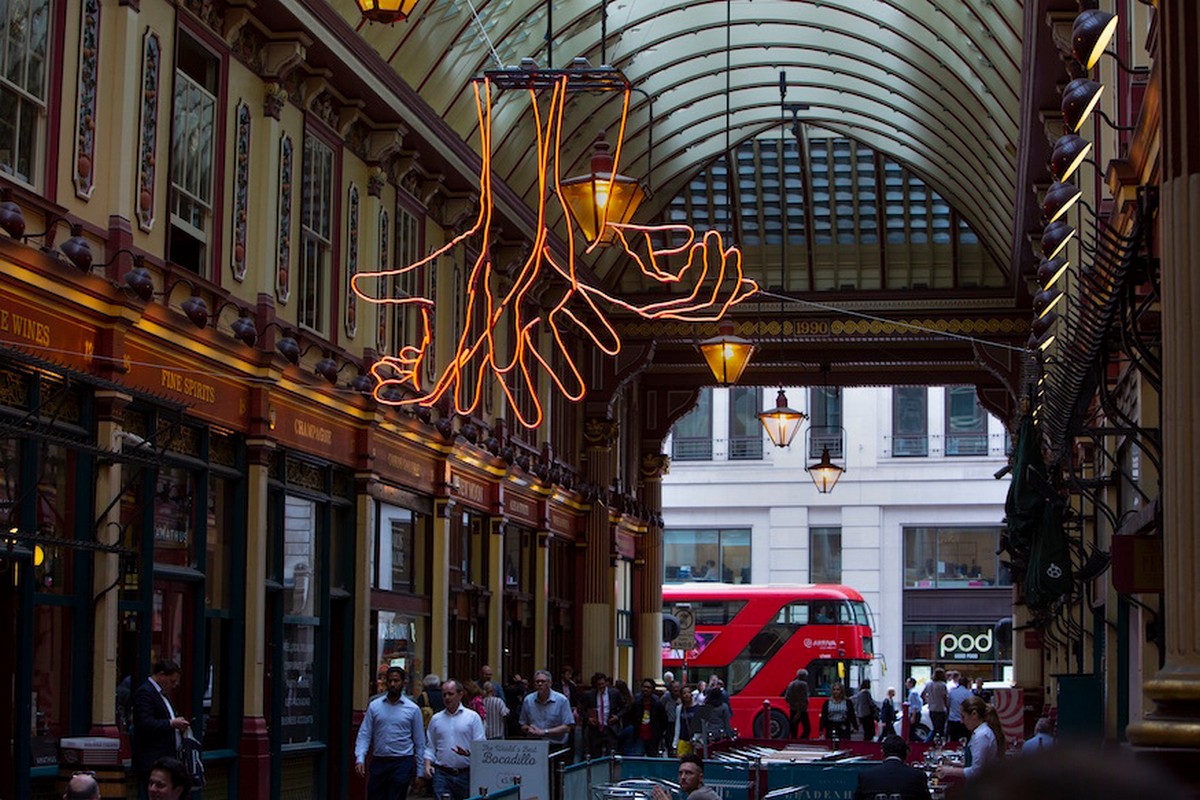 Patrick Tuttofuoco, The Source, 2017, Leadenhall Market, EC3V 1LT, Featured as part of Sculpture in the City
Could you tell us about at a time when you felt stuck and what you did to help yourself out of it?
I have a full time 'day job' in energy policy. After I started out as an art critic I was pushing hard in both careers - working seven days a week, long hours and not getting enough sleep.
Something had to give, and it was my immune system. Over the course of six months I had both shingles and impetigo, two illnesses that a healthy young immune system should not be suffering. After this I decided I had to change something to protect my health.
I made the hard decision to slow down in my energy role, no longer looking for a promotion, and focus on growing the art career. It was difficult as I'm ambitious and having to cool off is something that doesn't come naturally. Yet it was the right call and thankfully there's been no drastic health concerns since then.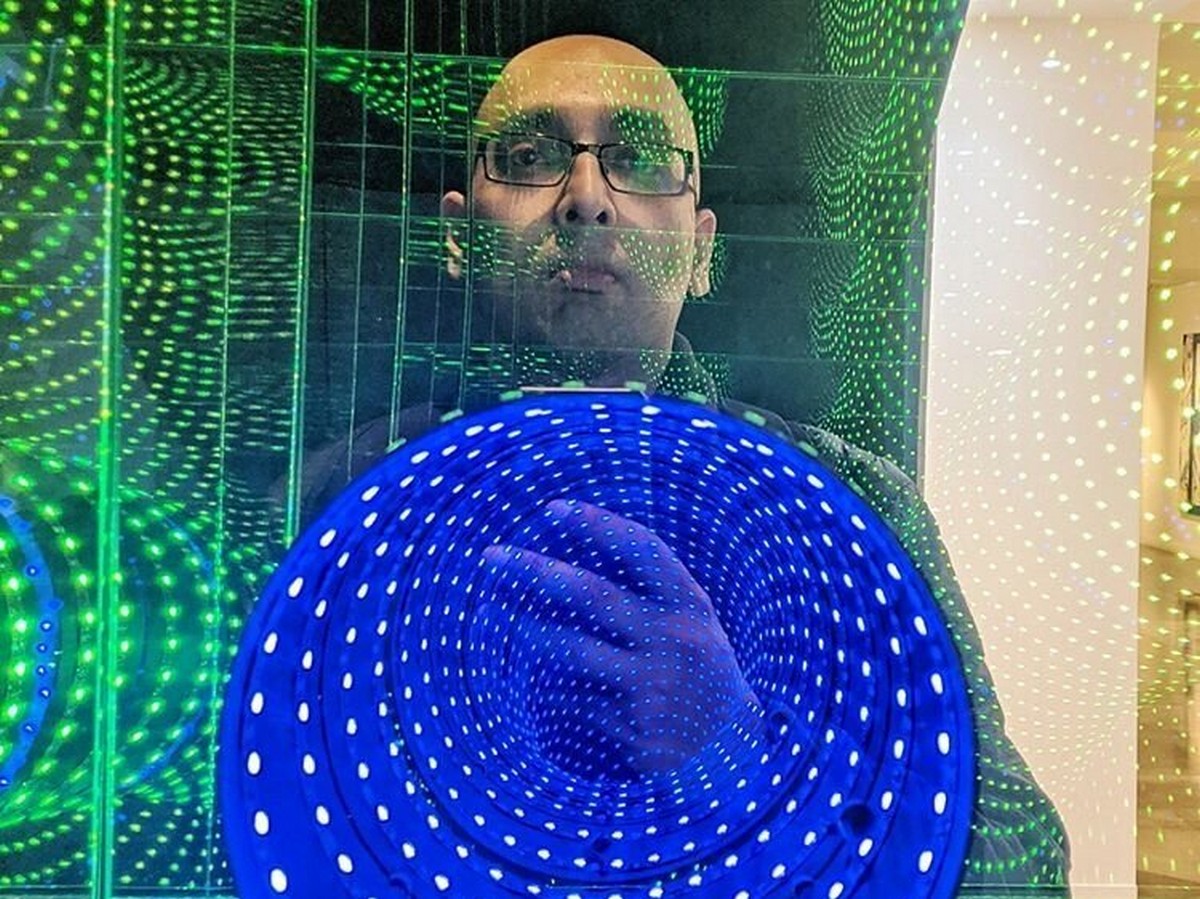 Tabish Khan reflected in a Hans Kotter work at JD Malat Gallery in Mayfair
Which creatives do you feel your work is in conversation with?
All of them, I hope. I know a lot of creatives have specialist areas that they focus on and that's great, but it's not for me. I'm a generalist and proud of it. I want everyone in any field to be able to connect with anything I write.
Sure, art is my specialism, but I feel just as comfortable writing about theatre, food, and my experiences in London. It's great that both artists and those new to art can get something out of one of my reviews - whether that be of an exhibition or a restaurant.
How do you make money?
Not from art that's for sure. I have a full-time job in energy policy and that pays my mortgage and all my bills. My writing earns about a tenth of that salary, and that's in a good year - i.e. not this one.
It's why I can often be seen visiting galleries on a weekend, or at evening private views, as that's when I can break free of my desk.
It's a compromise but it does place me in a financially sound place, and I don't have to worry about chasing after the writing that pays - I can focus on what I want to write.
When I speak to my fellow writers who struggle to pay the bills, are constantly chasing unpaid invoices and always on the hunt for the next paid gig I don't envy them. Writing about art is a difficult profession and I'm grateful for my primary income.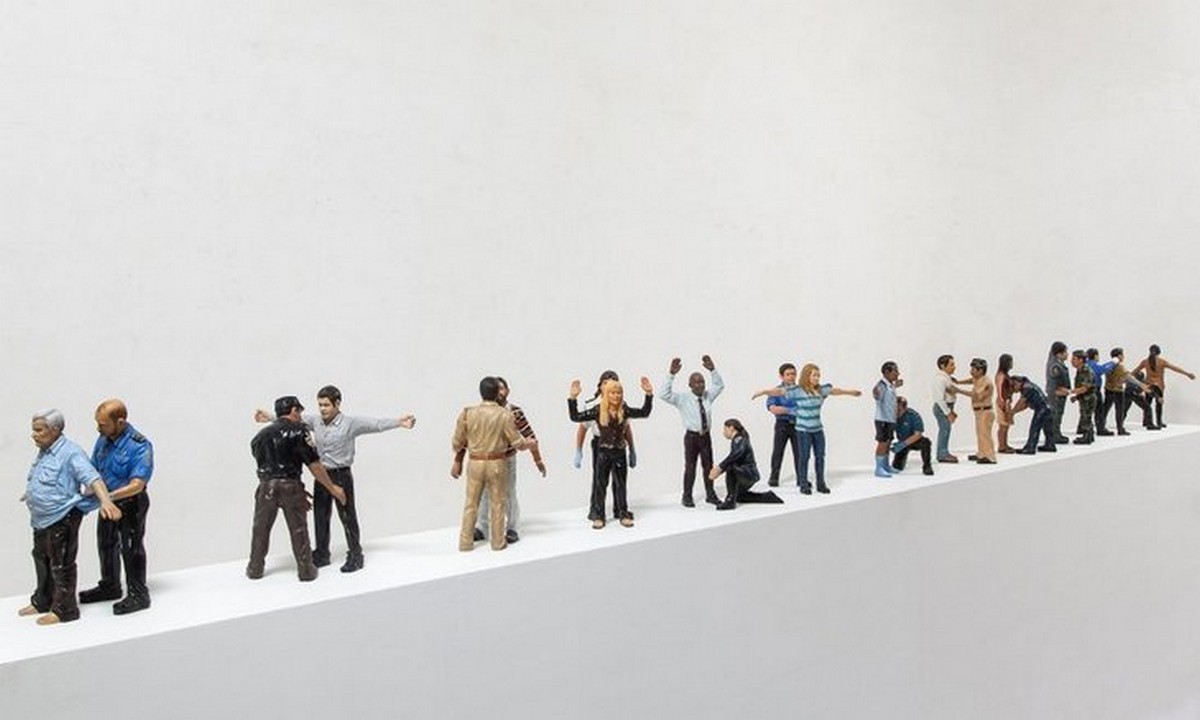 Jitish Kallat, Circadian Rhyme 1, 2011, Photograph: Anil Rane/Thelma Garcia/Galerie Daniel Templon, featured in the exhibition Age of Terror: Art since 9/11, 2017/18, Imperial War Museum
Reviewed by Tabish Khan for Londonist
What compromises have you made to sustain your practice?
The 'day job' is a big one as it means I can't see as many exhibitions as I want and missing press views means I often have to visit on opening weekends of exhibitions, which can be very busy and therefore difficult to get in the right headspace to review an exhibition.
It also means I work most weekends and that affects my personal life and the time I can spend with friends and family. In the early days I was terrible at this, but now I aim to put them first, as an article can wait if it means spending time with those that are most important to me.
What advice would you give your past self?
I remember reading an article that stated the number one regret from those on their deathbed was 'I wish I'd had the courage to live a life true to myself, not the life others expected of me'.
That's the advice I'd give my younger self, as I've lived most of my life living up to the expectations of others and never really thought about what I want out of life. I'm simply lucky I stumbled across my dream job, as an art critic, more by chance than any particular drive on my part.
However, it's important to note that if my younger self had followed his dreams, I would be a completely different person and that's not something I wish were true. All the mistakes I've made, and there have been many, have gone towards making me who I am today. So, I feel it's important to own your mistakes, and learn from them.
What career hacks or useful nuggets would you give to aspiring creatives?
Try your hand at things you don't think you're capable of doing. I knew nothing about art and I'm now an art critic - that wouldn't have happened without me taking a massive leap into the unknown.
I'd also say be nice to people and help out those when and where you can. It's important to support others as we're all struggling and we remember those who helped lift us up, particularly those who helped us in our early career. Plus, you never know if in the future they'll be in a position to help you out and repay the favour.
Can you recommend a book film or podcast that you have been inspired by that transformed your thinking?
In line with my above point Dale Carnegie's How to Win Friends and Influence People is a classic for a reason. If we all went about work in the way he suggested the world would be a much nicer place. We don't need to step on each other to succeed, we should all think win-win.
Deep Work by Cal Newport is another important one when it comes to getting work done in an age where digital distractions are everywhere.
I grew up in a conservative Muslim household and Elif Shafik's 40 Rules of Love showed me a spiritual side to religion that I didn't know existed and changed my perspective when it comes to my faith.
Follow Tabish Khan on Twitter and Instagram @LondonArtCritic and visit his website www.tabish-khan.com
https://londonist.com/contributors/tabish-khan
Weekly Top exhibition picks and What's Wrong with Art column on FAD: http://fadmagazine.com/author/tabish/
Trustee of ArtCan: http://artcan.org.uk/
Please share this interview
And do subscribe to our newsletter for a monthly round-up of some useful creative hacks, insights, opportunities, and introductions. On Friday 31 July 11am we will host a free special 30 minute online subscriber event on Zoom, providing up to 100 subscribers with the opportunity to meet and ask Ceri Hand questions in advance about creative careers or in relation to mentoring.
Feel free to email or contact us via socials @cerihand