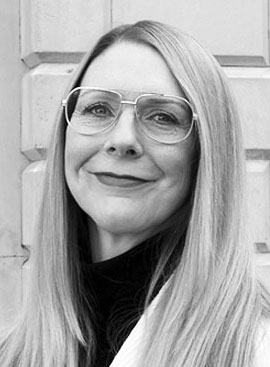 My clearest memory of meeting Kristin Hjellegjerde was in Manchester Art Gallery in 2012 at the launch of the Manchester Contemporary Art Fair. I can recall thinking how friendly she was and how her eyes seemed to truly represent her, that they reflected both they way she saw the world and you, and what a sincere, enthusiastic and trustworthy woman she was.
I have been delighted to see her programme and success unfold; her unwavering commitment to artists is reflected in the fact she now has four gallery spaces - two in London, one in Berlin and one in Norway.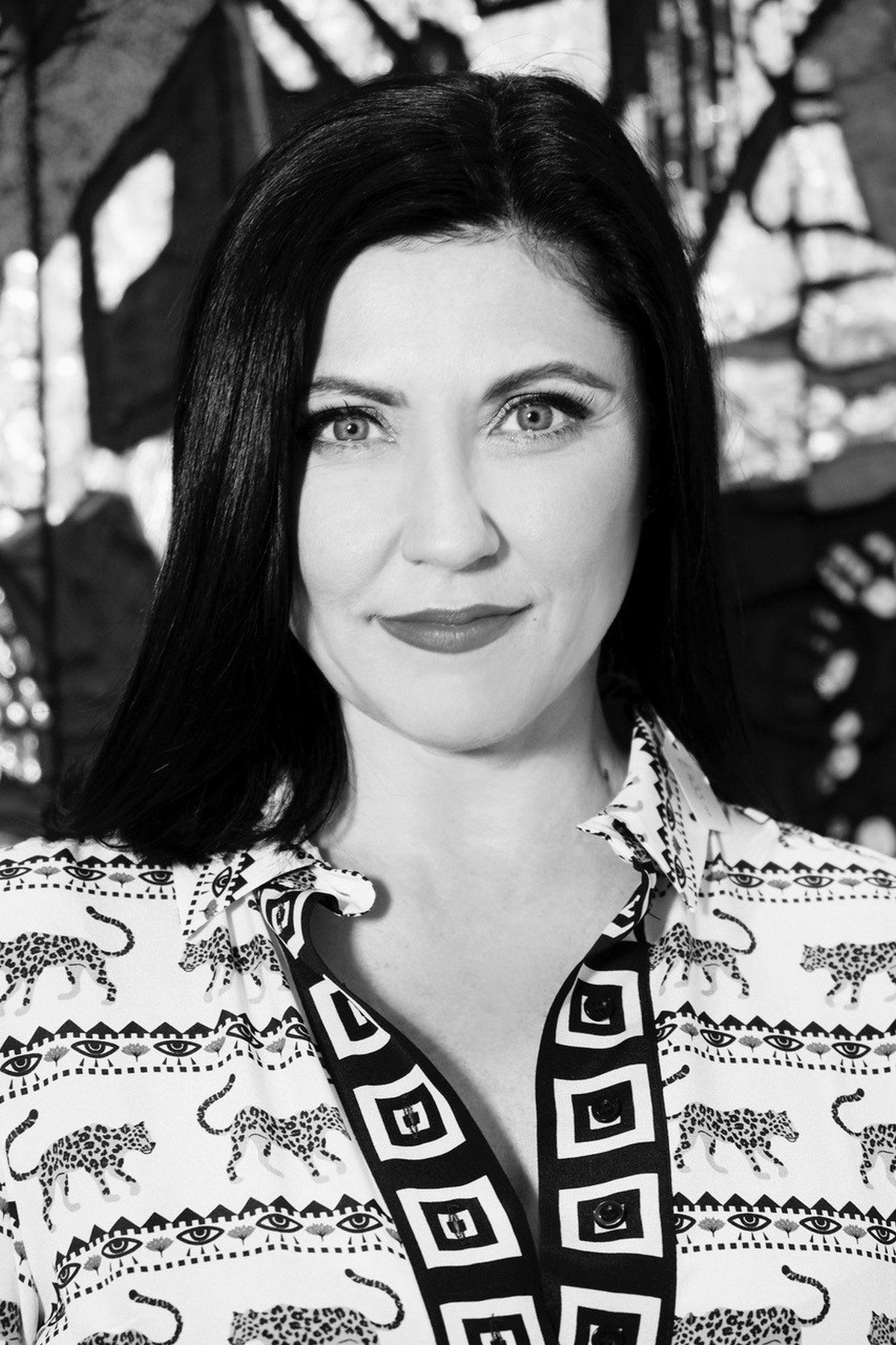 Photo by Erica Bergsmeads, make-up Ninni Marklund
Established in 2012, Kristin Hjellegjerde quickly gained recognition as an international gallery dedicated to exhibiting a roster of innovative, international artists, both emerging and established, with strong theoretical and aesthetic bases.
Known for its multicultural curatorial approach, the gallery has, over the past years, fostered close and cooperative relationships with museums and curators worldwide, maintaining a deep devotion to the artists it represents.
Drawing on her own international background, Kristin Hjellegjerde seeks to discover new talents by creating a platform through which they can be exposed to local and international clients. In 2019 she curated Kubatana, a museum exhibition focused on African artists at Vestfossen Kunstlaboratorium, Norway. Her curatorial approach is collaborative, working closely with other curators and collectors, as well as with developers and architects.
In April 2018 the gallery opened its second space in Berlin and a second space was opened in London Bridge. In June 2020, Kristin Hjellegjerde is opening an annual Summer space in the coastal town of Nevlunghavn, Norway.
What are you doing, reading, watching or listening to now that is helping you to stay positive?
I feel so fortunate to have had so much time to read and usually I never watch TV but now we binge watched the whole Peaky Blinder series, which left me with many nights with nightmares… still watched to the end. I have been listening to Hazel English, Ren Harvieu, Nina Nielsen, Lenci and Kurt Elling.
And my favourite lockdown books have been: Bernadine Evaristo Girl, Woman, Other, Olivia Laing Funny Weather, Art in an Emergency; Women Artists, the Linda Nochlin Reader, Edited by Maura Reilly; Tara Westover Educated; Ann Patchett The Dutch House, Delia Owens Where the Crawdads Sing and Elizabeth Gilbert City of Girls.
What are your core values and drivers that you bring to the gallery? What do you care about?
That everything we do today is for the future and for long term goals.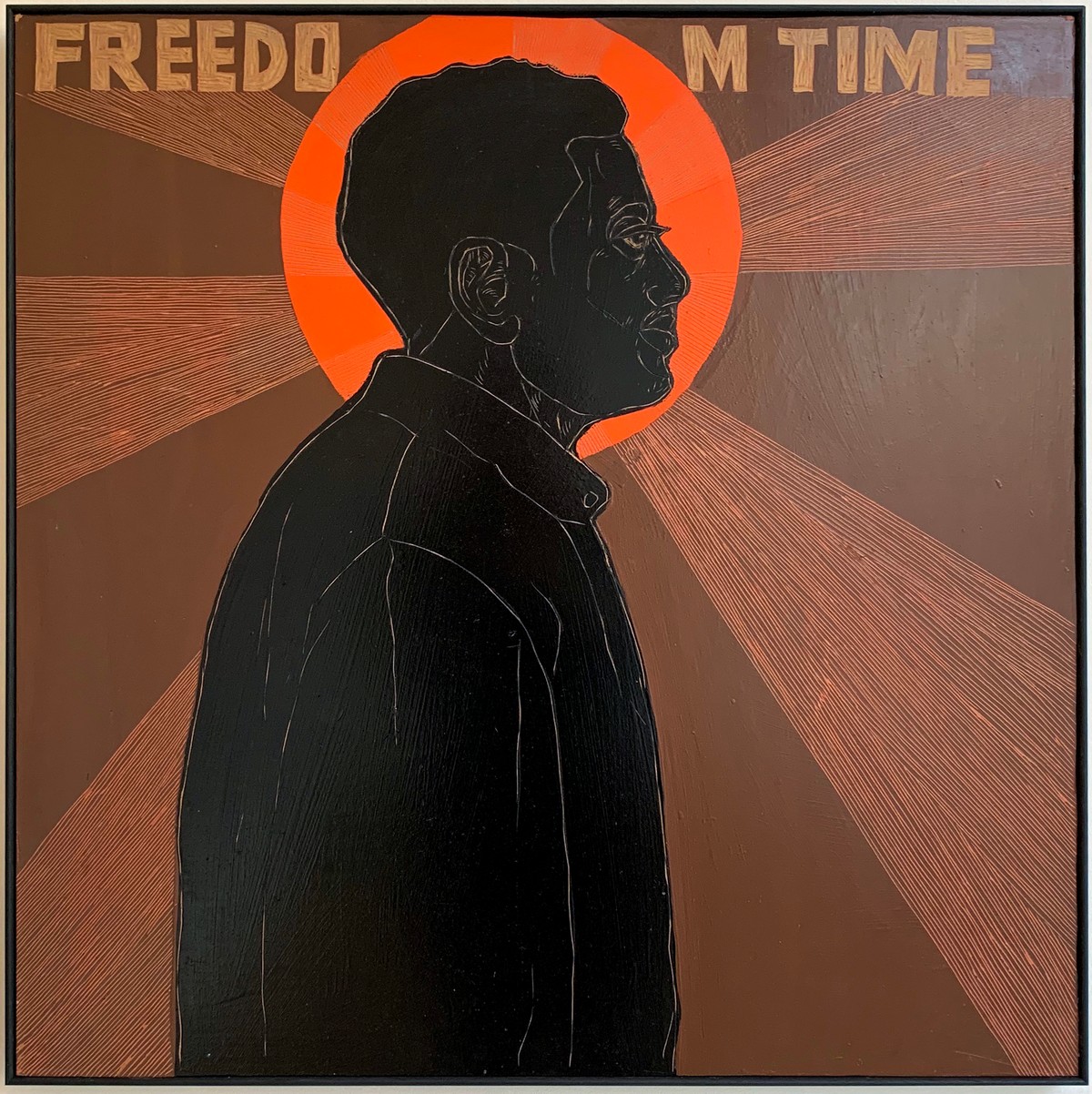 Ephrem Solomon, Earth Series (18), 2019, Woodcut and mixed media, 82 x 82 cm / 32 1/4 x 32 1/4 in
What do you enjoy the most about running a commercial gallery?
Being able to discover great talents and to help the artists reach their goals, to inform them about sales and knowing we made a collector happy on the other end.
How do you discover artists and what makes you finally decide you want to work with an artist?
Through various sources, through other artists, Instagram, articles etc. I usually add the artist to a group show, to first see if we can work well together and that we are going to enjoy each other's company for the future. If I feel the friendship and can see that the artist is hardworking and continues coming up with great work I will for sure offer a place with us, especially if we also have the right collectors for the artist.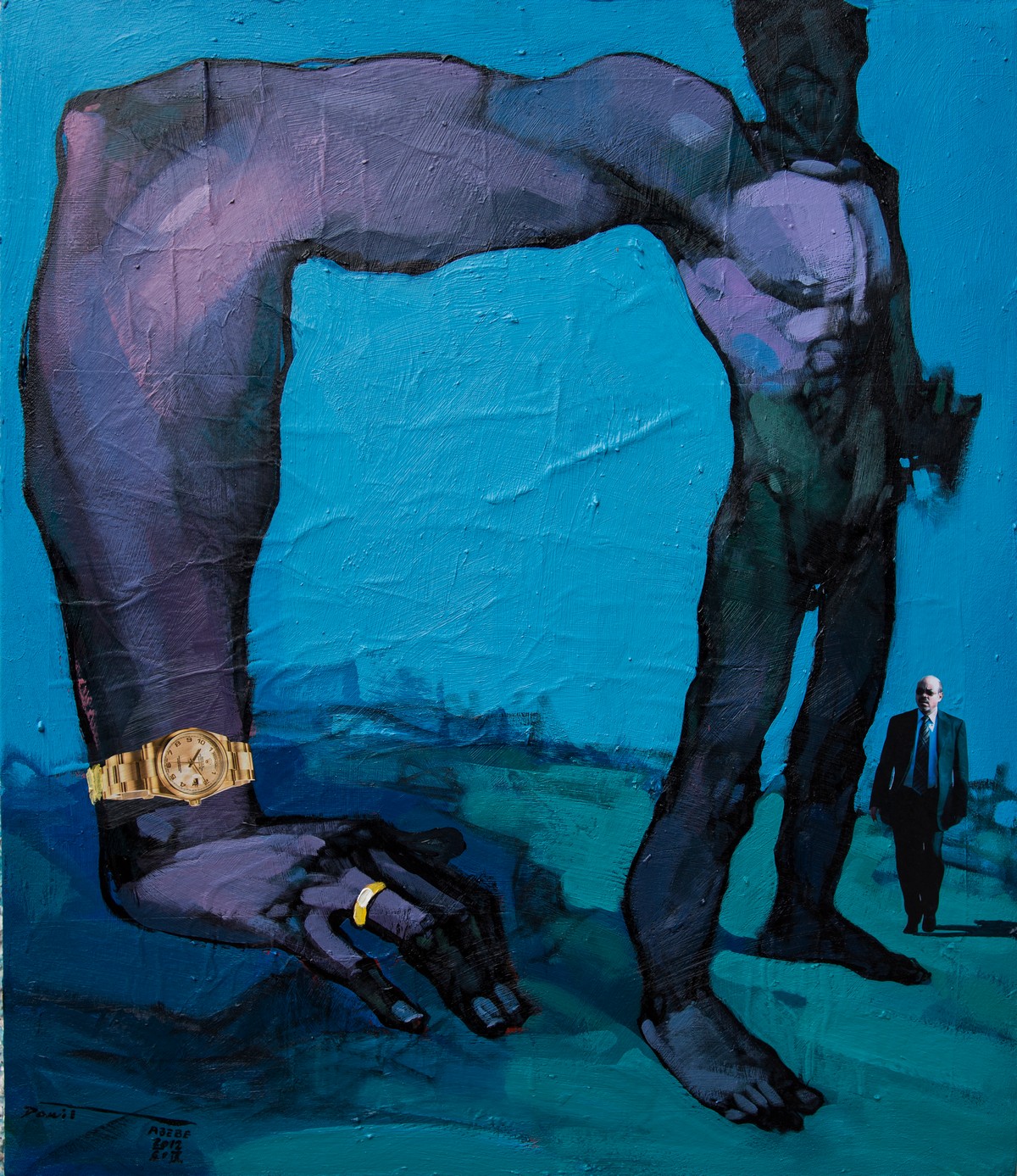 Dawit Abebe, Long Hands 3, 2019, Acrylic and collage on canvas, 70 x 60 cm / 27 1/2 x 23 5/8 in.
How do you gauge which artists and artworks will be interesting to audiences?
I follow my instincts and show only what I feel confident about.
What kind of support or expertise do you offer or provide artists?
I am doing my best at making the artist feel safe to focus solely on their work and remain true to themselves.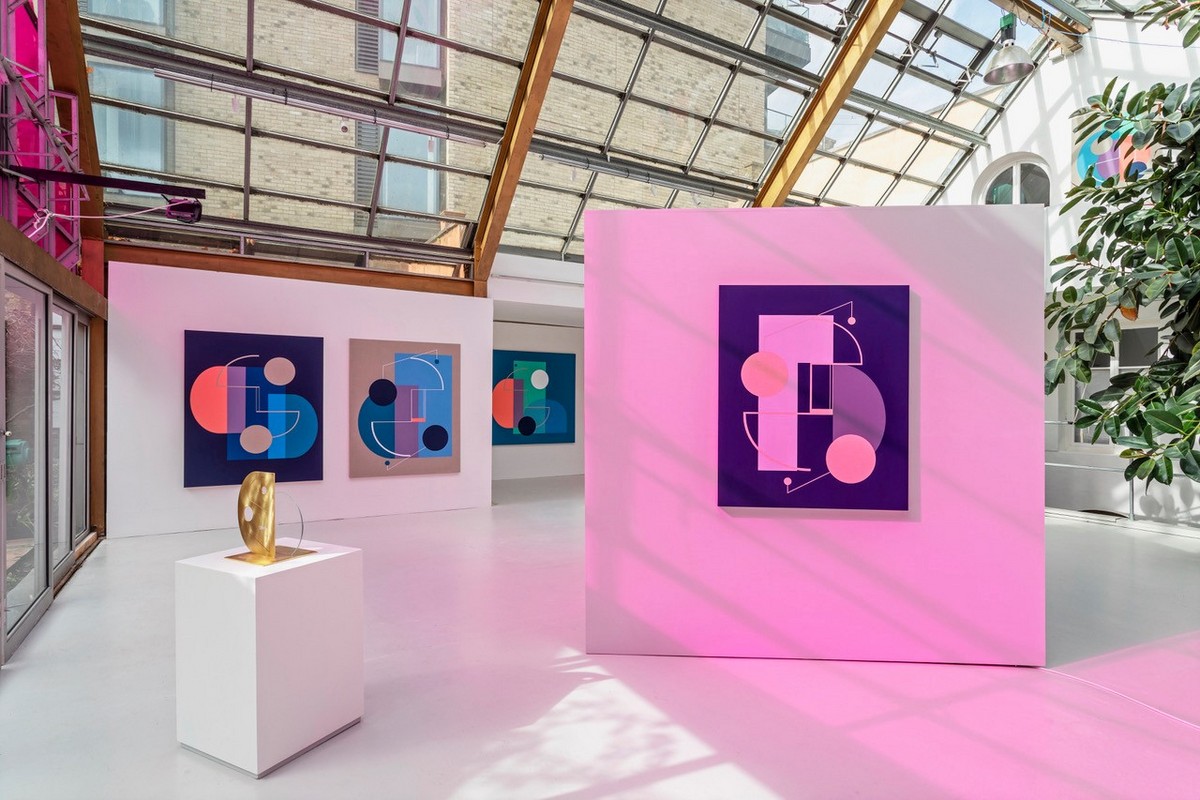 Sinta Tantra, Modern Times, 2020, Kristin Hjellegjerde, London Bridge Location, Installation view, Photo by Luca Pfifaretti
What sales channels do you find work best for your artists?
My team and I's personal friendship with each collector.
Dawit Abebe, Mutual Identity 34, 2020, Mixed Media Drawing on Paper, 100 x 70 cm / 39 3/8 x 27 1/2 in.
Can you describe one of your most rewarding relationships with an artist - what factors made it enjoyable?
I can mention my friendship with Soheila Sokhanvari, I discovered her before I opened the gallery and she was the first I called when I was opening. We have had over eight years of creative friendship and now we will be traveling together to Australia for her inclusion in the Triennial at the National Museum of Victoria in Melbourne, and next year will have a solo show at a London museum, more information to follow. But it's fantastic to be there for someone through the journey to success.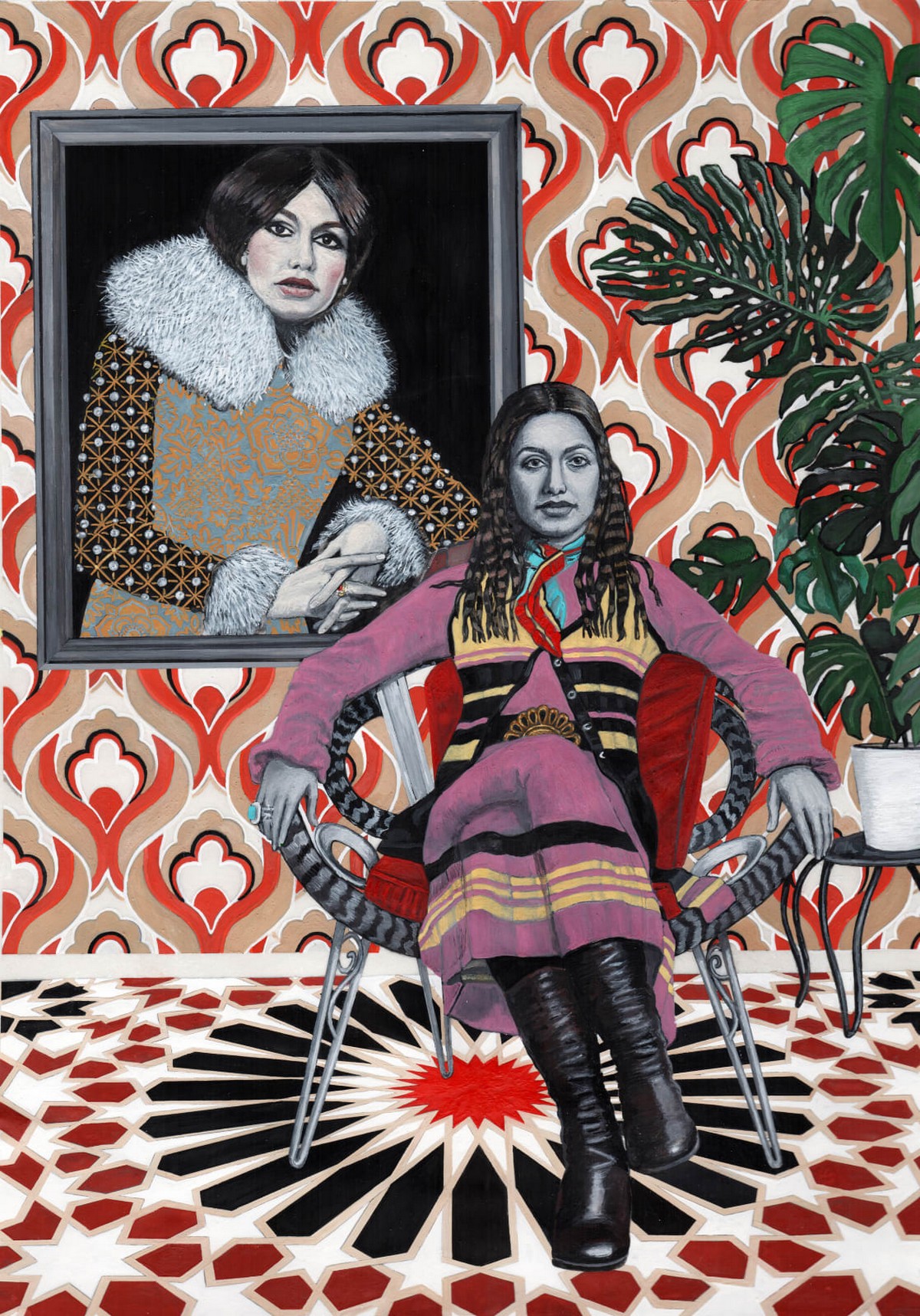 Soheila Sokhanvari, The Love Addict, 2019, Egg tempera on calf vellum, 27 x 40 cm / 10 5/8 x 15 3/4 in.
What risks have you taken in the gallery that perhaps did not go so well but you learnt the most from?
The first four years I was barely getting by, I started with no collectors and no experience completely naive…! It took me many years to be able to pay myself a salary. So, I worked out of passion, and I can finally see results, it takes an immense amount of determination.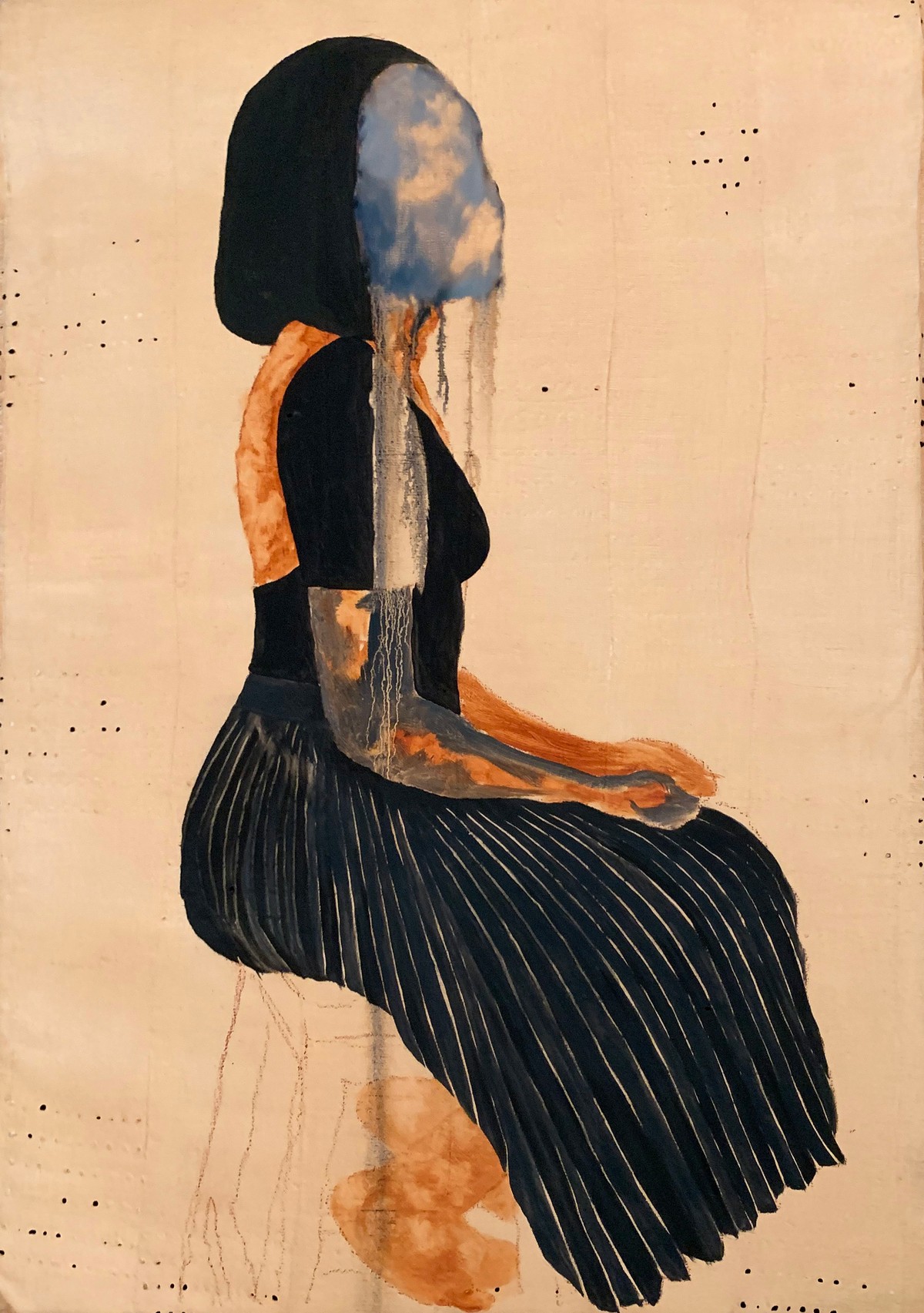 Nengi Omuku, Funke I, 2019, Oil on Sanyan, 91.4 x 61 cm / 36 x 24 in
What new strategies are you trying or considering in the current climate? How will you measure success?
I am opening a gallery in Norway in June, by the sea, it will be with one solo show every year opening with a midsummer night party and last until August. In relation to the current climate we will do less art fairs and focus much more on in-house events, dinners, and stronger bonds with both our artists and collectors. We believe the gallery space will be important again and that it's the personal friendships that counts.
What would you hope that people experience and learn from seeing one of your exhibitions or events?
By seeing the work in person again I hope people will have gained the patience to take in the artwork for a longer time and feel it. With the art more inspiration and a greater conversation and appreciation.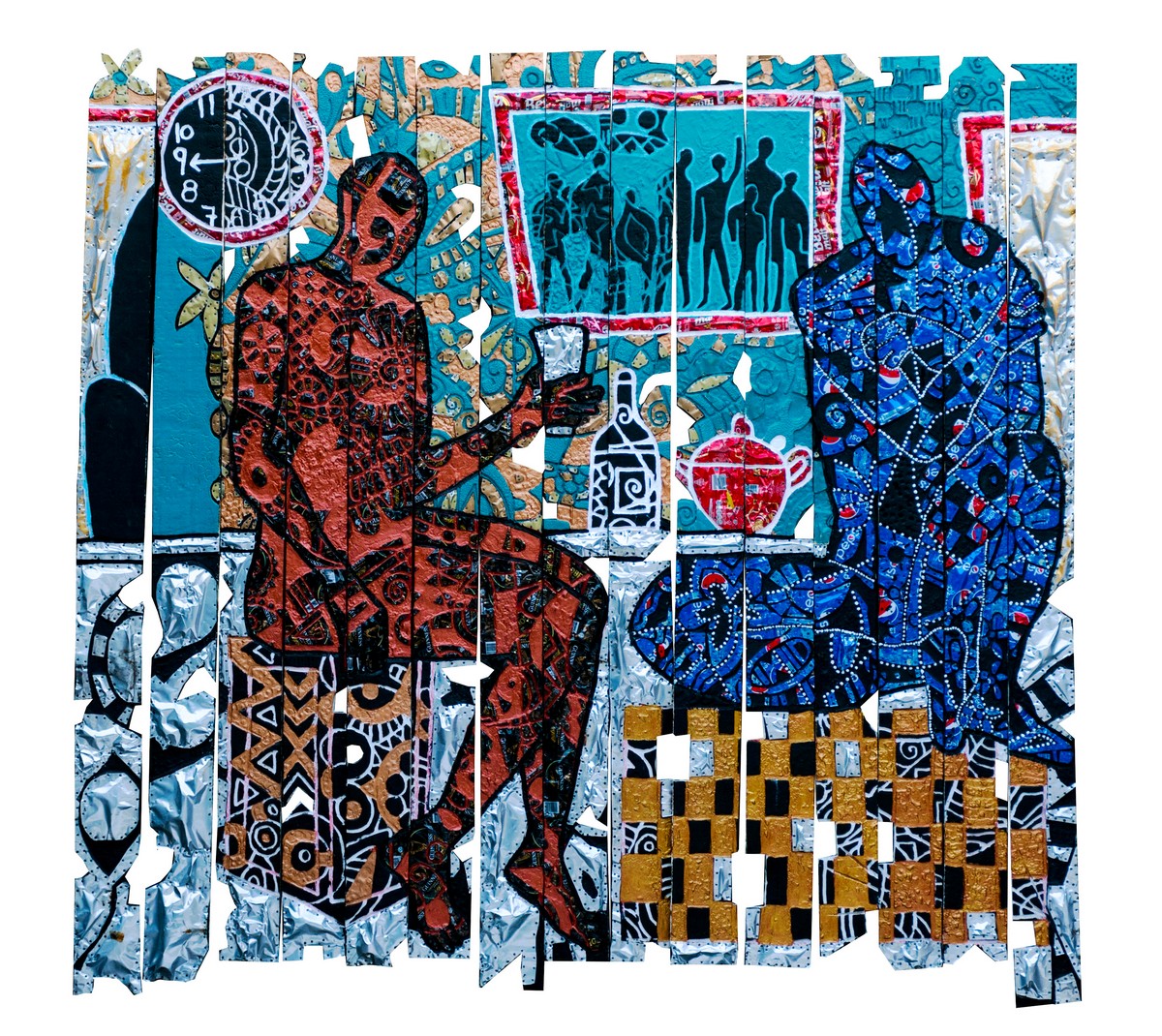 Gerald Chukwuma, AFTER, 2020, Mixed Media, 185.4 x 170.2 cm / 73 x 67 in.
Do you have any advice for artists? 
Dare to go to that place where you are completely you!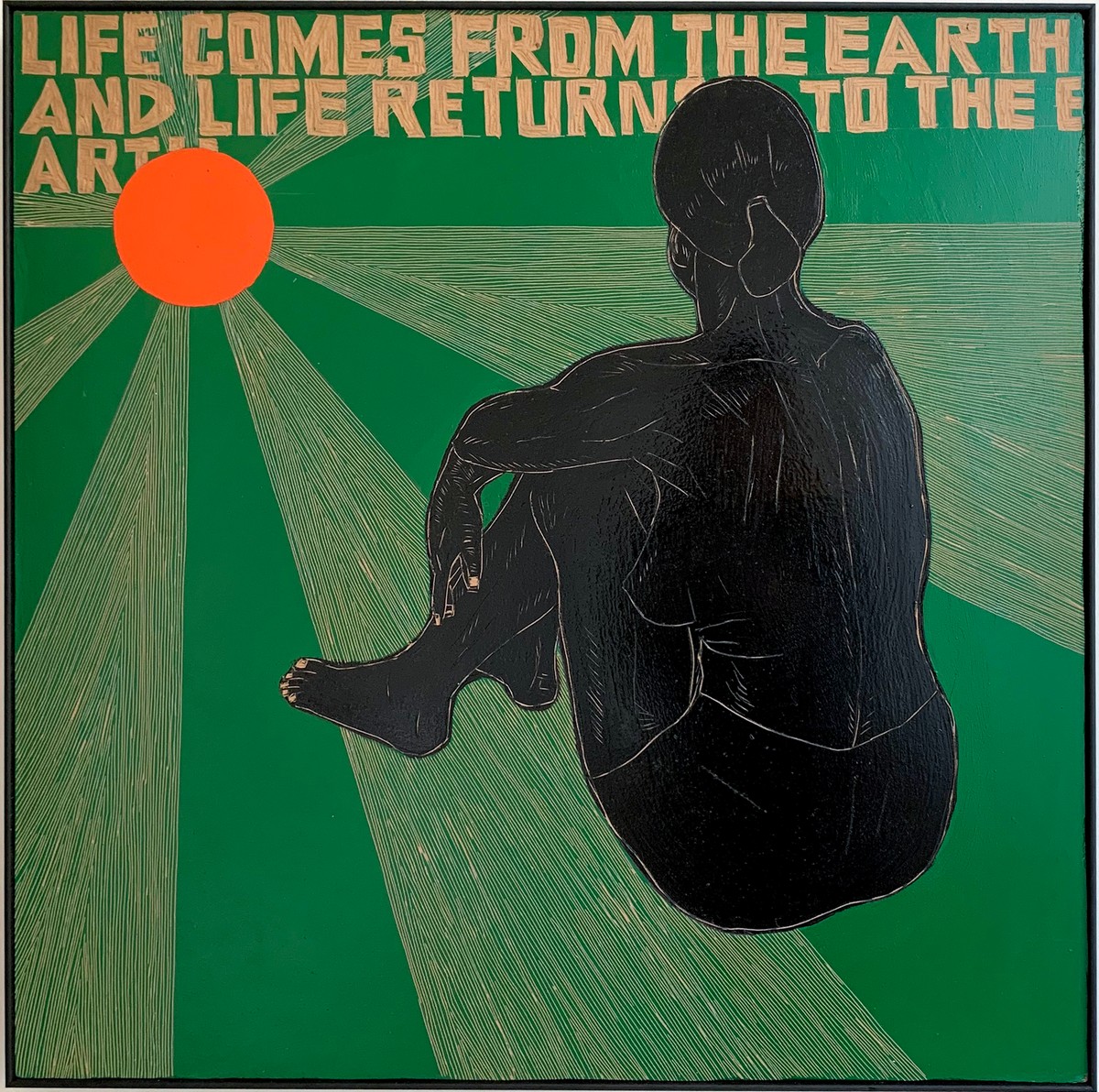 Ephrem Solomon, Earth Series (17 ), 2019, Woodcut and mixed media, 82 x 82 cm / 32 1/4 x 32 1/4 in.
What helpful resources would you recommend to artists?
I am trying to create a family of support and I think that by the friendships they are building between each other they will feel safe and comforted. I recommend the artist to surround themselves with people they can trust.
Follow @KHjellegjerde @kristinhjellegjerdegallery and visit kristinhjellegjerde.com
Please share this interview
And do feel free to email or contact us via socials @cerihand
Coming Next...
An interview with artist Grant Foster (b.1982, Worthing), a London based artist who completed an MA in Painting at the Royal College of Art in 2012. Foster's recent selected exhibitions include: I'm Not Being Funny, Lychee One, London, 2019; Trade Gallery, Nottingham, 2018; Ground, Figure, Sky, Tintype Gallery, London, 2017; Popular Insignia, Galleria Acappella, Naples, 2016; Salad Days, Ana Cristea Gallery, New York, 2015; Holy Island, Chandelier Projects, London, 2014; Bloomberg New Contemporaries, Spike Island and ICA, 2013-14. In 2019 he was the Randall Chair at Alfred University New York, 2019; Fellow in Contemporary Art with The British School at Rome, 2019 and a Prize-winner in John Moores 25, 2008.