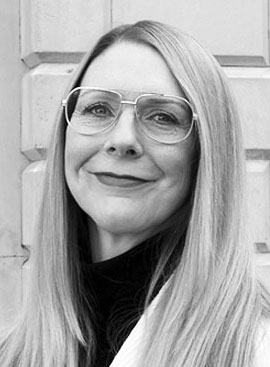 I have long admired Francesca Gavin and her socially and politically engaged, cross platform work in the arts, but I recently had the pleasure of working with her in my capacity as Director of Programmes at Somerset House. I commissioned her to develop a project she had realised in Paris and curate the brilliant exhibition Mushrooms: The Art, Design and Future of Fungi supported by Somerset House's team.
I am in awe of her fearless enthusiasm and zest for life, her breadth of knowledge and her can-do, collaborative, and considerate approach to working with artists, designers, and institutions and organisations. Her answers to this interview are reflective of her transparent, receptive and open way of thinking about the world and broad range of interests.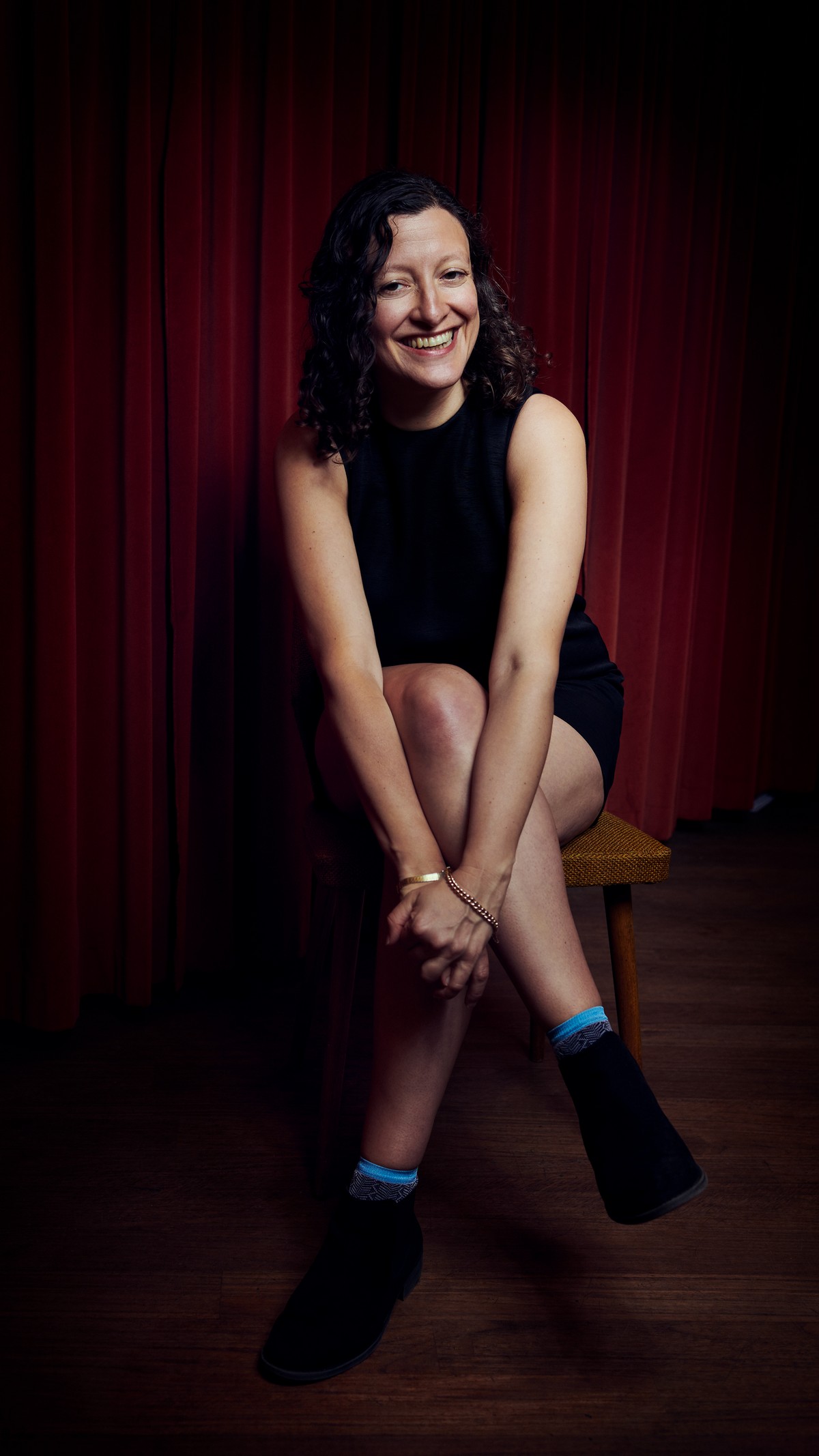 Francesca Gavin is a curator and writer based in London. She is the Art Editor of Twin, editor at large at Kaleidoscope and contributing editor at Good Trouble, Beauty Papers and Semaine. She was the co-curator of the Historical Exhibition of Manifesta11 and has curated exhibitions internationally including The Dark Cube (Palais de Tokyo), E-Vapor-8 (Site Sheffield), and The New Psychedelia (Mu).
She established the Soho House group collection for seven years, amassing over 3000 artworks. Gavin has written six books including Watch This Space, The Book of Hearts, 100 New Artists and Hell Bound: New Gothic Art, and contributed to numerous publications including The Financial Times, Dazed, wallpaper*, Mousse, AnOther and Newsweek. She has a monthly radio show Rough Version on NTS Radio on art and music.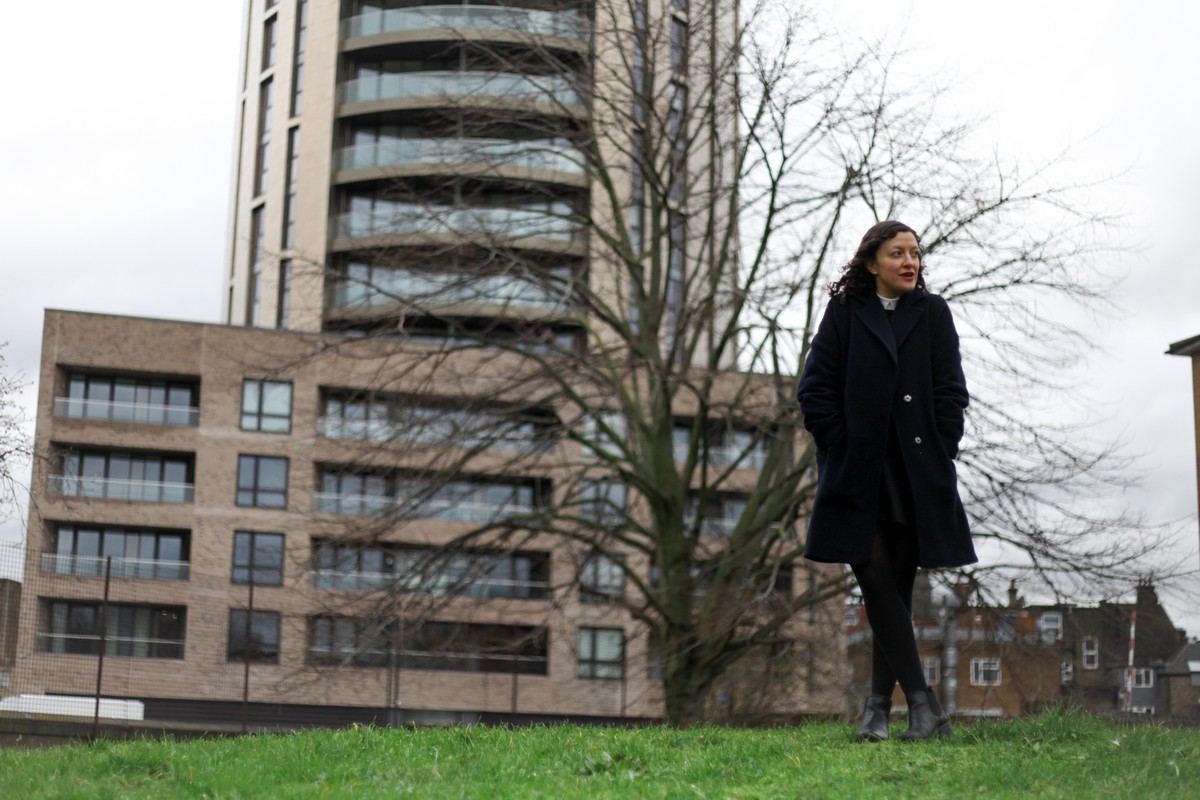 What are you doing, reading, watching or listening to now that is helping you to stay positive?
Dancing. Doing online commercial and heels dance classes twice a day peppered with Instagram Live work outs, Pilates and stretch classes. Basically, putting my attention on the physical to switch my brain off. My attention span has gone out the window and I can barely watch a 30 min episode let alone a movie. I've managed one short book - which I think deserved an award.
What are your core values and drivers that you bring to your curatorial work? What do you care about?
Providing opportunity and attention for artists who are not necessarily part of the big financial market scene. I am a big fan of positive discrimination when putting together shows and am always conscious of the percentage of female, POC and queer artists in the shows I put together. I am driven by the desire to make art as interesting and accessible to as wide an audience as possible. Make people who would not necessarily feel comfortable with a white cube, inspired, and interested in contemporary art.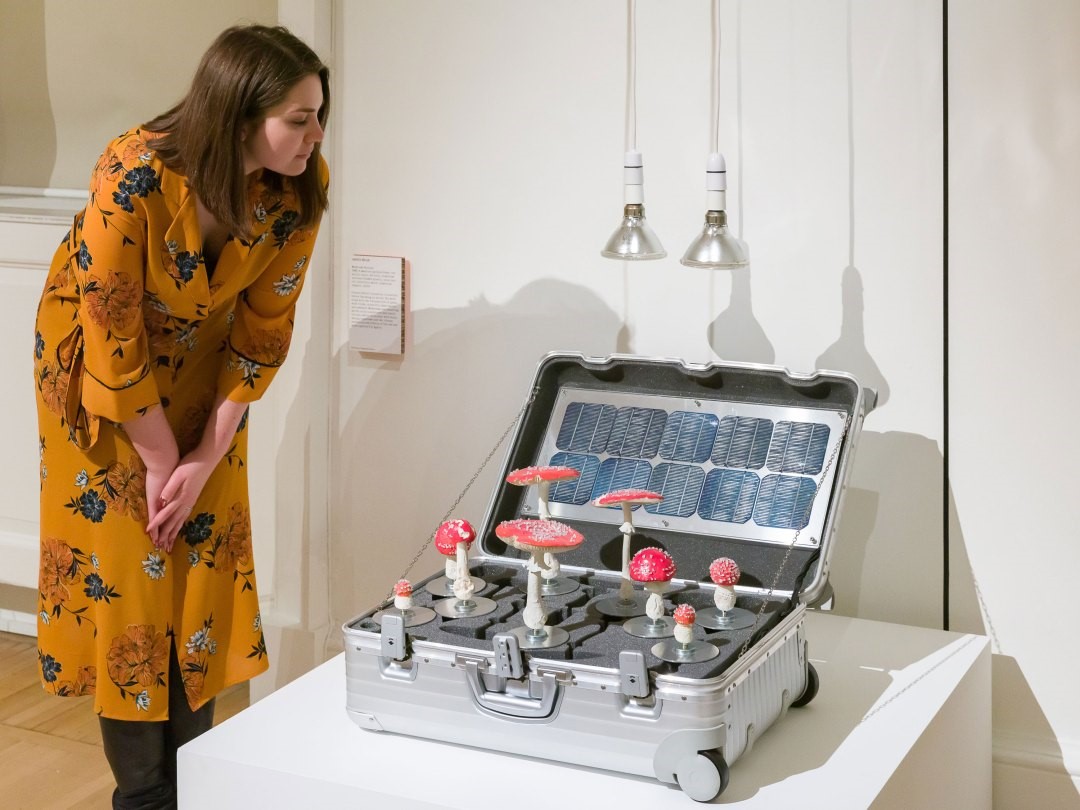 Carsten Holler, Pilzkoffer (Mushroom Suitcase), 2008, Featured in Mushrooms: The Art, Design and Future of Fungi, at Somerset House. Photo © Mark Blower
How do you develop your curatorial ideas? How you test or scope your ideas?
A lot of my shows have emerged out of my background, which I'm aware has influenced my taste. I come from a very left-wing family with a writer mother and actor/singer father. I lived in Los Angeles and Woodstock, upstate NY between the age of 3 and 11. My parents are both major bibliophiles and I grew up surrounded by books on esoteric, spirituality, aliens, plants, travel and was living in a town that still resonated with the aftermath of the Counter Culture. Most of my shows have touched on ideas that have emerged from ideas around psychedelic. I definitely am inspired by the innovation and politics that came out of the late 1960s and 1970s. I was also a computer game nerd and technology is another running theme of interest in my exhibitions, as well as the topic of my last book. I learnt to read music before I learnt to read, and that is another running interest. I DJed for a decade, still have a love of club culture and my radio show is a focus for that interest in art practices.
Ideas for shows come quite naturally. I buy magazines constantly and make scrapbooks out of things that excite me. When not in lockdown, I see shows every day. I travel a lot and look at things constantly. Ideas come out of the work that I'm seeing. I make connections between things in my head and it goes from there. I've always called myself a journalistic curator - as writing is 50% of what I do - and putting together a show is a very similar process as putting together a thematic article or book.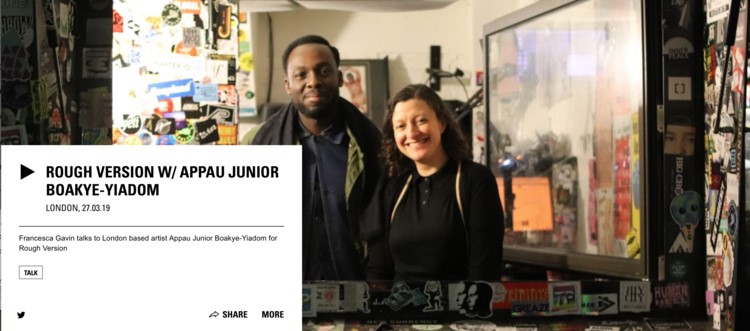 Francesca Gavin with Appau Junior Boakye-Yiadom for Rough Version on NTS radio
How do you discover artists and what makes you finally decide you want to work with an artist?
Everywhere. Project spaces, Instagram, online shows, art magazines, all art fairs, gallery weekends and obviously galleries. Socially I'll meet a lot, particularly when I travel and have more freedom to hang out.
It is always the work that makes me decided to work with someone. If what they are making resonates with a project in progress or sparks ideas in my head. I should do more studio visits, but I never want to waste an artist's time unless I'm working on something specific.
How do you gauge which artists and artworks will be interesting to audiences?
I'm looking for originality, beauty, and interesting take on existence. Thinking of the audience reaction is not necessarily affecting my decision to work with someone - but placing them in a context where their work makes interesting statements and juxtapositions is.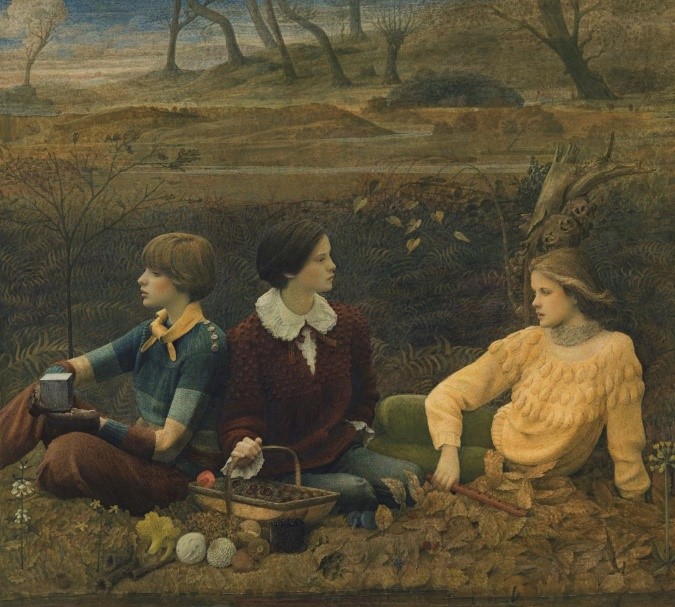 Graham Little, Untitled (Wood), 2019, Featured in Mushrooms: The Art, Design and Future of Fungi, at Somerset House. Courtesy of Alison Jacques Gallery, London
What do you offer or provide artists in the curatorial relationship?
A platform to show their work. I often work with artists more than once if that process has gone well and their work suits future projects.
Can you describe what you ideally want to achieve when curating an exhibition?
An exhibition that makes people think and inspires ideas around politics, meaning, beauty and how we experience the world. I want people to have fun as much as use their brains.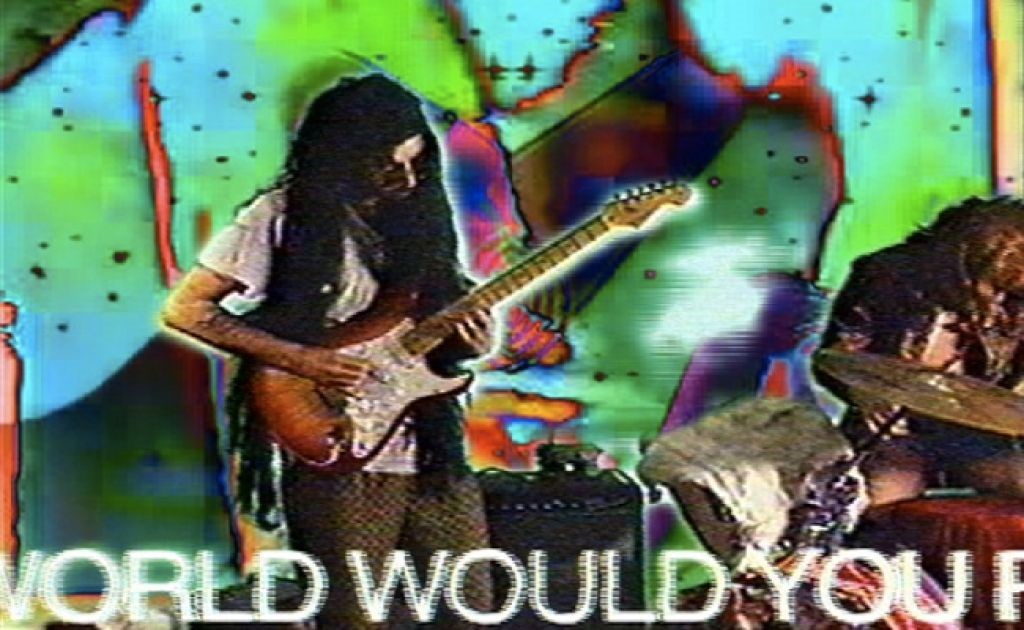 The New Psychedelica, MU, April 8 - June 5, 2011
Can you describe one of your most rewarding relationships with an artist - what factors made it enjoyable?
I love working with Ben Sainsbury. He is an incredible artist who does not show enough but I know I can trust implicitly to create fascinating work that response to a particular idea or context. He was in my first ever exhibition of reworked postcards Improved, the ultraviolet show The Dark Cube I put on at Palais de Tokyo, The New Psychedelica at MU, Eindhoven and most recently in a window show I did for Ballon Rouge in Brussels last summer Have A Butcher's. We come from similar backgrounds. He grew up down the road from me in North London. We overlapped on the skate scene. He is immensely hands-on when working on a show and I always know the results will pop. I only wish I had a gallery so I could coax him to show his work more!
What risks have you taken in curating that perhaps did not go so well but you learnt the most from?
Honestly? Co-curating the Historical Exhibition of Manifesta 11 in Zurich was a huge eye opener. I expected that getting 100 out of 130 artists for one of the biggest biennials in the world, with a show in four of the most respected institutions in Switzerland would lead to more career opportunities. While the process of creating the show with Christian Jankowski was enjoyable, I was quickly written out of the biennial's narrative and nothing direct came out of the show (partly because no one knew I did it). I'm still very proud of the artists I put in the show - people like Susan Hiller, James Son Ford Thomas, Adrien Piper, Rachel Harrison, Anne Collier, Thornton Dial. I learnt to be very careful about how I was credited and to make sure that I bring a lot of credit to whatever team I work with on shows. There is no such thing as a single curator. Exhibitions are very much collaborative efforts and show have cast list in the same way as films.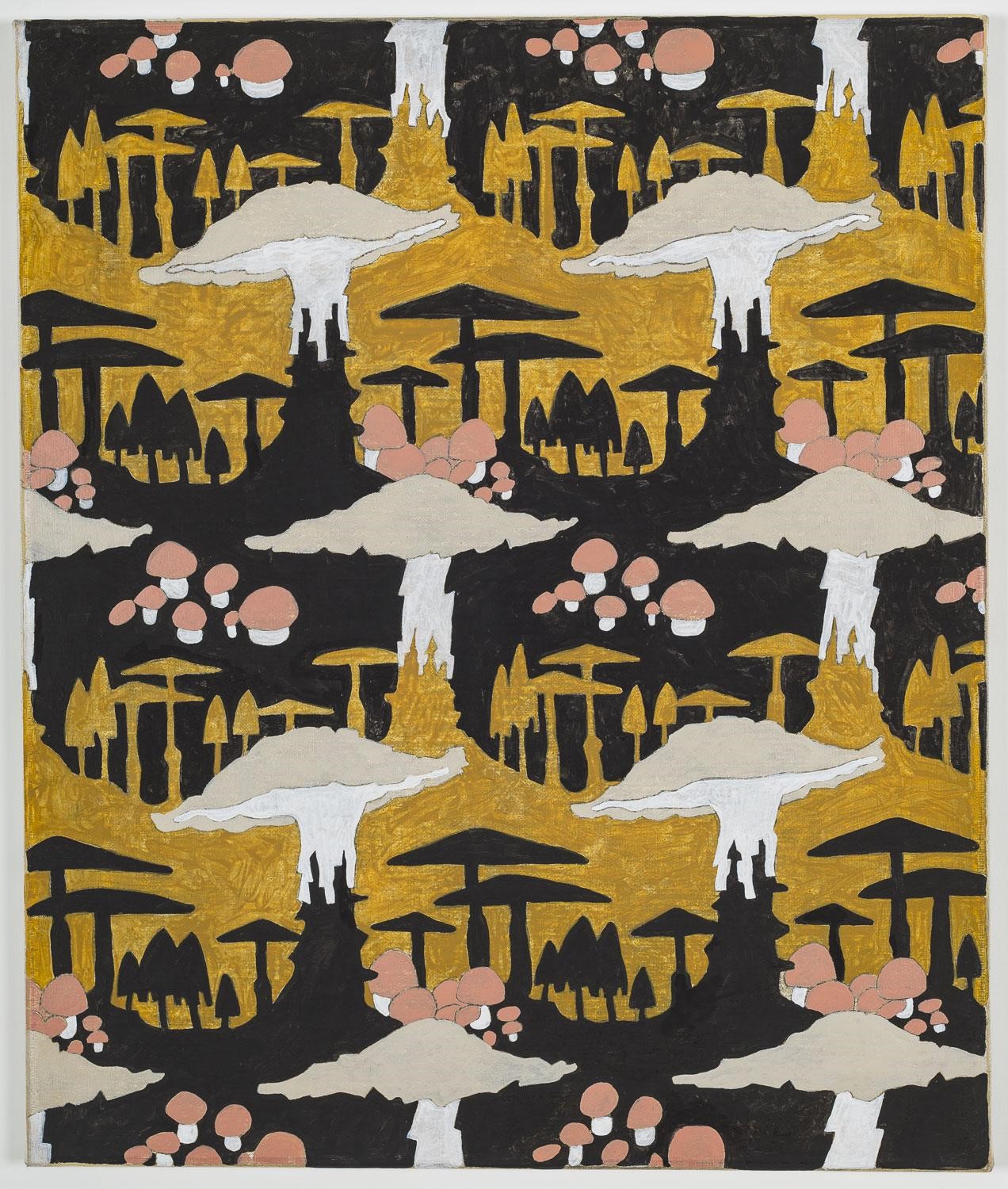 Alex Morrison, Mushroom Motif (Black and Ochre), 2017, Featured in Mushrooms: The Art, Design and Future of Fungi, at Somerset House. Courtesy of the artist, care of L'inconnue Gallery, Montreal
What is one of your personal favourite exhibitions or events you have curated and why?
So hard to choose. I'm very proud of Manifesta 11 for its scale and ambition but I would have to say Mushrooms: The Art, Design and Future of Fungi which I curated at Somerset House. It opened at the end of January and I was blown away by its success. I was working with an incredible team - notably Berta Zubrickaite and Claire Catterall in house, and Pentagram as designers for the show. We had up to 1800 people visiting per day and I think many people look at fungi in a whole new light.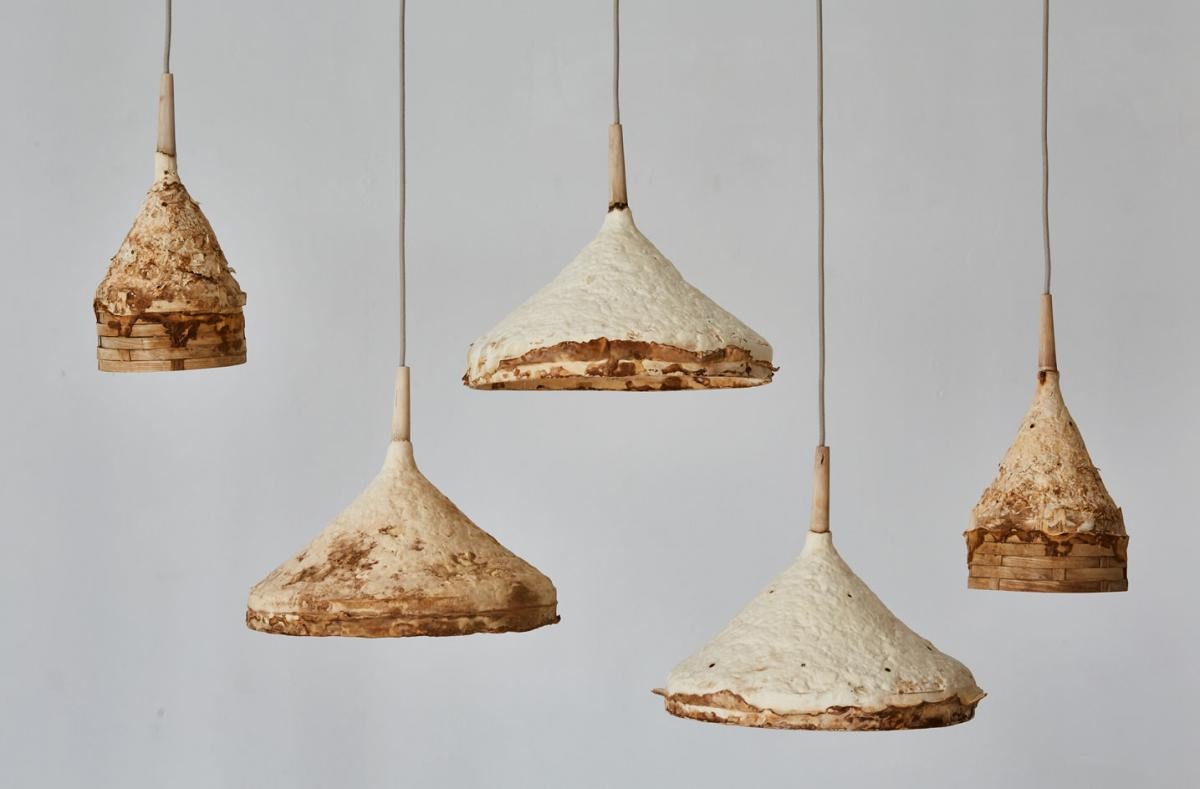 Cochlea Brick Tuft, by Hamish Pearch. Featured in Mushrooms: The Art, Design and Future of Fungi, at Somerset House. Courtesy of the artist
What would you hope that people experience and learn from seeing one of your exhibitions or events?
That contemporary art is not as alienating, pretentious or irrelevant as they may think. That looking at art can make you think of the world in new ways.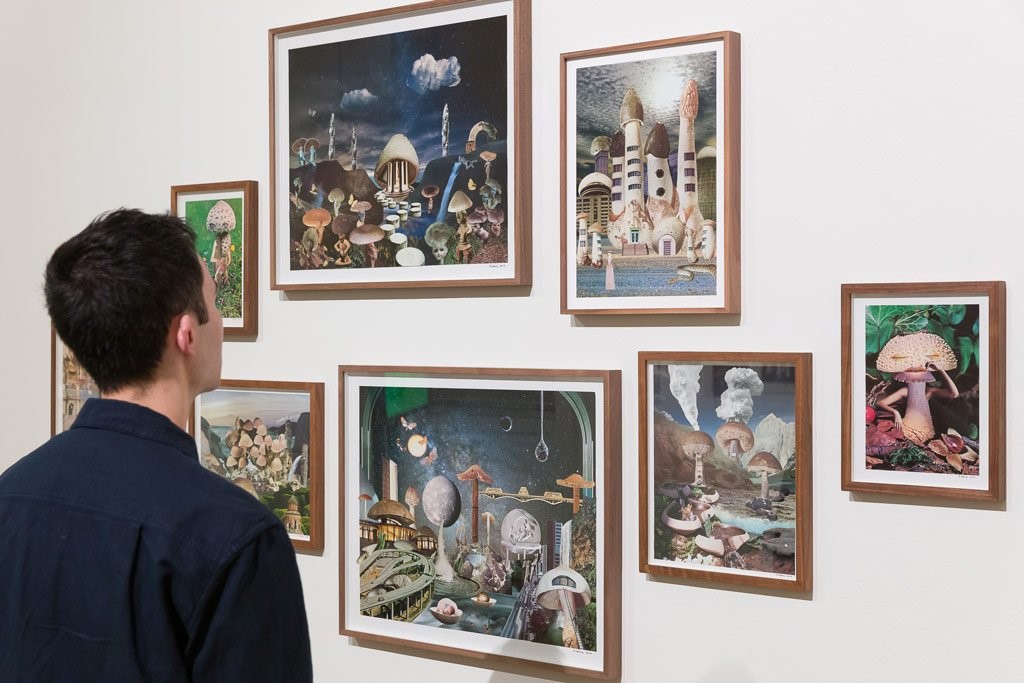 Seana Gavin, collage installation view, Featured in Mushrooms: The Art, Design and Future of Fungi, at Somerset House. © Mark Blower
What emerging artists are you excited by right now and why?
Emerging art is one of my favourite things and I want to revive my regular Monday instagram post bringing attention to new talent #newmoononmonday. I'm very into the work of some young Black British artists Dominique White, Rhea Dillon, Appau Jr Boakye-Yiadom and Ashley Holmes for example, whose visual language and references I find very interesting and emotive.
What helpful resources would you recommend to artists?
Auto Italia South East does some amazing work curatorially and in other ways. Currently they are helping artists with applications for funding and residencies, an almost esoteric process to those outside of institutions.
Do you have any advice for artists working with curators?
Be collaborative. Understand they are trying to balance many factors to make a show work. If you have issues with things don't let it fester - be open, honest, and polite as quickly and early as possible.
For more info on Francesca visit her website or follow her on socials @roughversion
All feedback, recommendations, links, and ideas welcome!
Please share this interview
And do subscribe to our newsletter for a monthly round-up of some useful creative hacks, insights, opportunities, and introductions.
Feel free to email or contact us via socials @cerihand
Coming Next...
An interview with the awesome Will Jarvis, Co-Founder, The Sunday Painter Gallery @TSPGALLERY