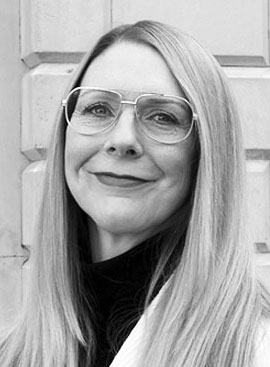 I can't actually recall the first time I met Andy Holden, because I feel like I've been in his orbit and a fan of his work for such a long time. I do recall a drunken male art collector declaring their love for Andy's interdisciplinary genius in Rotterdam in 2011, after we attended a VIP tour to his show, I Promise To Love You, at Kunsthalle Rotterdam. Years later a young colleague declared her crush on Andy during a  packed Grubby Mitts performance, celebrating his remarkable solo show Towards a Unified Theory of M!MS at Zabludowicz Collection, 2013.
No doubt these facts will surprise, unnerve and delight Andy in equal measure, as that's how he rolls.
I was warmed to see Andy geeking out with artist Jim Shaw, after an 'In Conversation' I staged with Jim and Laurence Sillars, (Chief Curator, BALTIC at the time) at Simon Lee Gallery, 2016. It made total sense that he would connect with Jim's eclectic practice, fused with a heartfelt love of popular culture, bent through a politically astute lens.
We included Andy in the Good Grief Charlie Brown! exhibition in 2018 at Somerset House, London and he is currently working on a new exhibition drawing on the Beano comic archive that we initiated whilst I was still in post.
He's a delightfully intense, meandering cultural weaver, in love with the lush gift of material culture and a unique ability to tap into the whimsy of our perverse behaviours and inability to do what's good for us. His work is sincere, authentic, meaningful and a feast for the senses.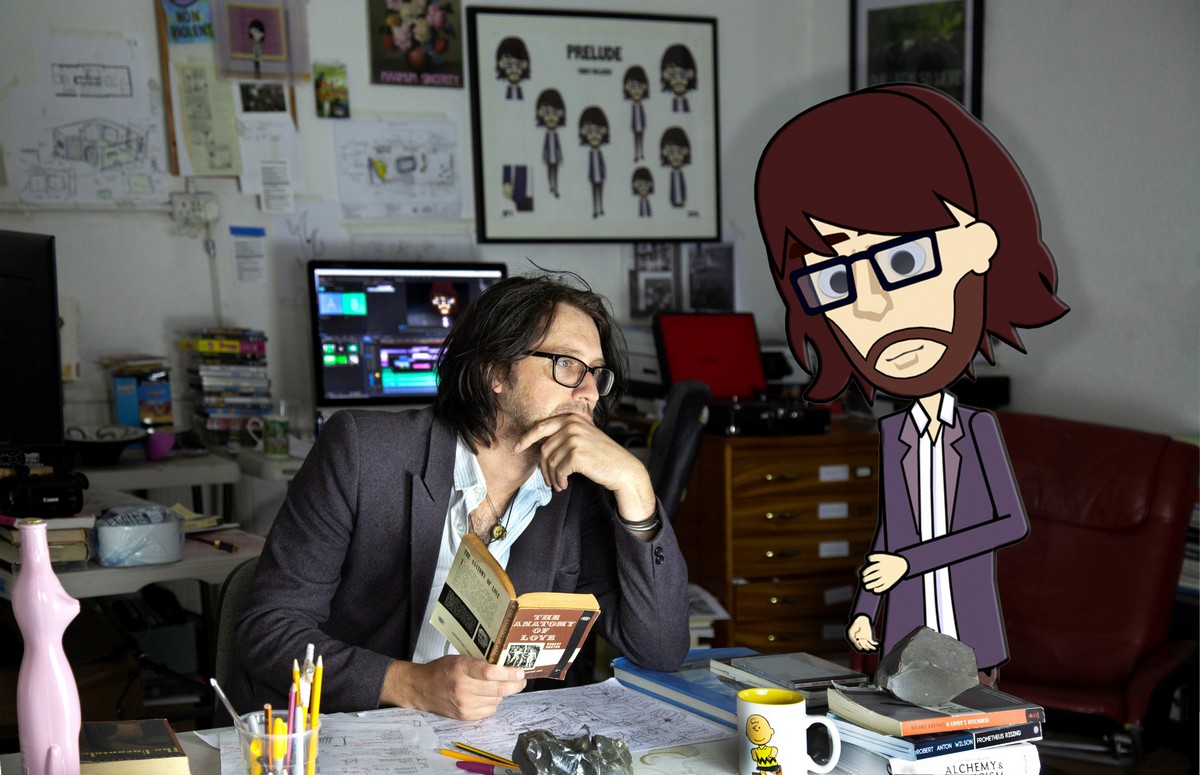 Andy Holden, born and still living in Bedford, U.K, is an artist whose work spans sculpture, large installations, painting, pop music, performance, and multi-screen-videos. Often starting with an examination of an anecdote or a personal encounter, these moments are then unpacked and expanded in an attempt to make sense of a larger philosophical idea.
More recently, through Laws of Motion in a Cartoon Landscape (2011-2017), Holden has been using the allegory of the cartoon as a way to comprehend our fragmented and illogical contemporary landscape. Specifically, how self-awareness, a vital ingredient of the cartoon law, 'Anybody suspended in space will remain in space until made aware of its situation', helps us understand the world we inhabit.
Previous works have included collaborations with his father, ornithologist Peter Holden, examining our relationship with the natural world (Natural Selection, Artangel, 2017), a large knitted replica of a chunk of pyramid and a video of returning this piece of rock to the pyramid from which it was taken (Pyramid Piece, Tate, 2010), a seven-screen video installation which recreated his teenage manifesto which called for 'Maximum Irony! Maximum Sincerity' (Towards a Unified Theory of M!MS, Spike Island, 2013), and a library of books and sculptures dedicated to the notion of 'Thingly Time' (Kettles Yard 2011). Holden performs regularly and releases records with his band The Grubby Mitts and runs the project space Ex-Baldessarre in Bedford. His work is included in the collection of Tate and Arts Council England.
What are you doing, reading, watching or listening to now that is helping you to stay positive?
I am, and this will sound, well, it will sound as it sounds, slightly annoying, doing two of the Yale open courses on Political Philosophy and Moral Philosophy. I used to do quite a few of these courses, whenever I needed a way into a subject, or whenever I had long repetitive studio tasks, like knitting 50sq meters for the Pyramid Piece, streaming lectures for company. Stumbling across the Yale course on literary theory was totally transformative for me, so many ways to interpret the same book, who knew! Big part of my education.
In the evenings I have been reading Of Human Bondage by W. Somerset Maugham which had been on my reading list since I was 20, although I wish I'd read it then as I think it would have had more impact. Also, recently I started staying up in the studio till around 4am and then took my daily exercise to coincide with the dawn chorus. Birds seem to live without illusions without becoming disillusioned, they have a cosmic confidence which now is a kind of regular tune that can pull me out of my own thoughts, and it helps to know which bird is singing which melody-line in the chorus, as then you can really lose yourself. I've been practicing that, thanks to my dad.
I have not been consuming my regular diet of music, except a strange Japanese experimental but curiously smooth Jazz album from 1988 by Killing Time (not chosen for the band name, though apt, but found through a great blog of new age and experimental music called Listen To This! Run by Jen Monroe, which I use to find a lot of obscure records). I have been gradually chipping away at a new Grubby Mitts album where possible, although have not been as productive as I had hoped. It's 90% there, followed by endless tinkering and procrastination. On Saturday nights I tune in for Jarvis Cocker's Domestic Disco on his Instagram live, in which he turns his room into a disco and it sort of feels like pirate radio from the days when I lived in South London, cutting out, shout outs, glitching, vanishing and reappearing. Been also keeping an eye on all the inventive ways musicians and artists are coping with the loss of shared physical space such a getting a virtual ticket for Daniel Kitson's show.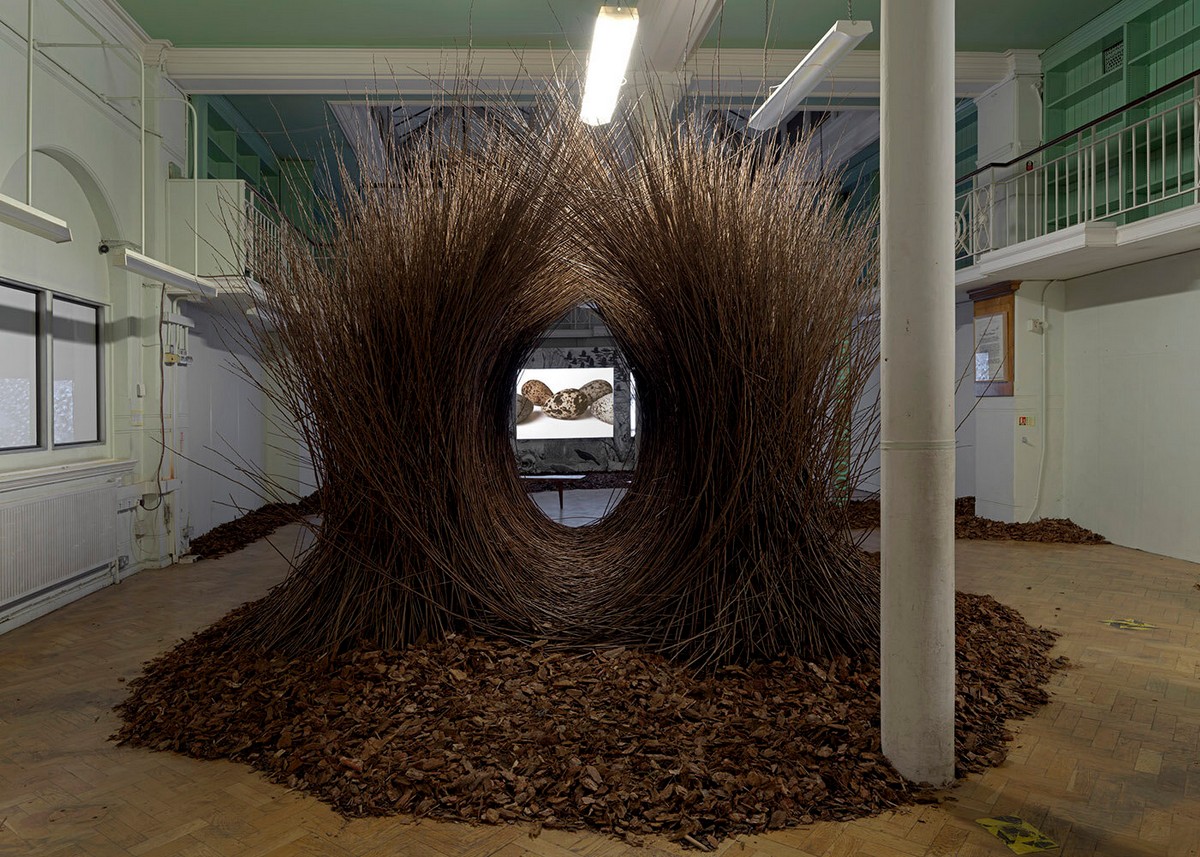 Andy Holden, Natural Selection, 2017, Installation view, Newington Library, with Artangel, Photo: Marcus Leith
What are you working on and how have recent events affected your ideas, processes and chosen medium?
I had a show poised to open, all set up, installed and then we decided not to open it. It remains sealed shut like a cartoon tomb. It haunts me a bit as I have this feeling that when it is one day prized open it won't make any sense at all, the world and its context will have changed so dramatically. Art in the Coronacene should I hope look quite different, and this show is a relic from a past era. That plays on my mind. It has been very hard, for similar reasons to start anything new, so mostly tinkering with finishing things and gently opening daunting books to edge into new topics, new research.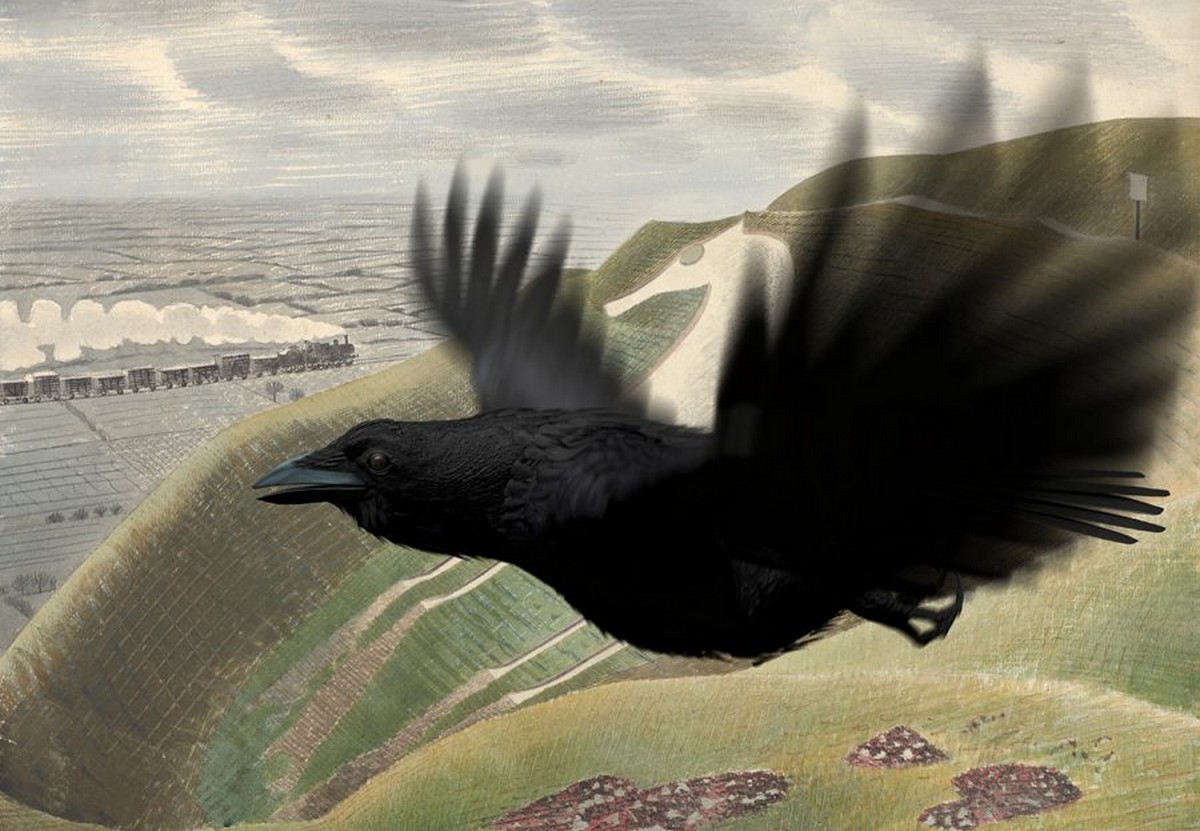 Andy Holden, The Opposite of Time, part of Natural Selection, Artangel, 2017
What do you usually have or need in your studio to inspire and motivate you?
Semi-legible tumbledown chaos: a lot of empty cups from a multitude of beverages, an elaborate array of vapes have replaced the ashtrays, piles of books which are gradually finding their way to new shelves, and more than enough trivial knick-knacks of various origin. Copious remnants of past projects: ceramic cats, Peanuts figurines, always a lot of Sharpies... I'm just listing things that I can see from where I'm sitting.
What systems, rituals and processes do you use to help you get into the creative zone?
The clues are in the previous answers. Coupled with elaborate mind-games to overcome self-doubt.
What recurring questions do you return to in your work?
It's a curious thing to me that although when asked about my work I feel I can now identify the common threads, the recurring questions, the dominant themes: it never occurs to me to think about them when I start a new work, and then I'm constantly surprised when I find them there again at the end. The question that is most general that I seem to return to like a refrain is: why do we come to see the world in the way that we do? I still use that as a way of saying everything and explaining nothing. Or re-formulated more recently as: an attempt to see the world as it is, through trying to discover how I see the world in the way that I do.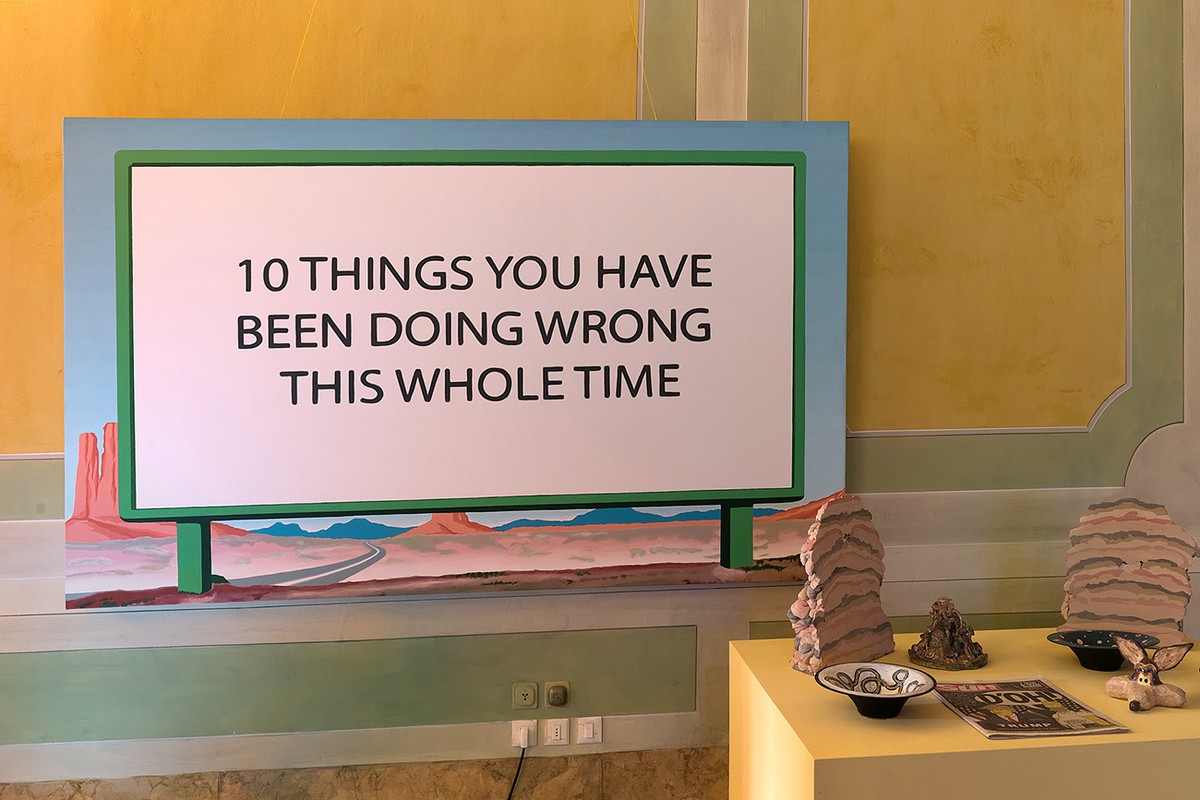 Andy Holden, Laws of Motion in a Cartoon Landscape, Future Generation Art Prize, Installation Detail, Venice Biennale, 2017
What do you care about?
Oh, that's very direct. Maybe the only real question that matters. Thank you for asking. That's the first time I've been asked that in a public forum, and I didn't see it coming and it makes me feel rather vulnerable. I wish I could give a straight answer, but I feel like a snail that when prodded just withdraws into its shell, or a hedgehog curling into a ball. I don't know. I think of saying something like 'the environment' but my actions don't justify it, and I'm too fond of progress, I think of saying humans, but as a species not really, although as individuals, certainly, good specimens in particular. One at a time preferably and usually not when viewed through media. Friends, yes, I've thought about that a lot. Ah, anyone around me knows me well would just be yelling in my ear, be honest, Andy, just say, only art, mostly. Life for me is just a constant struggle for that to be less obviously the case.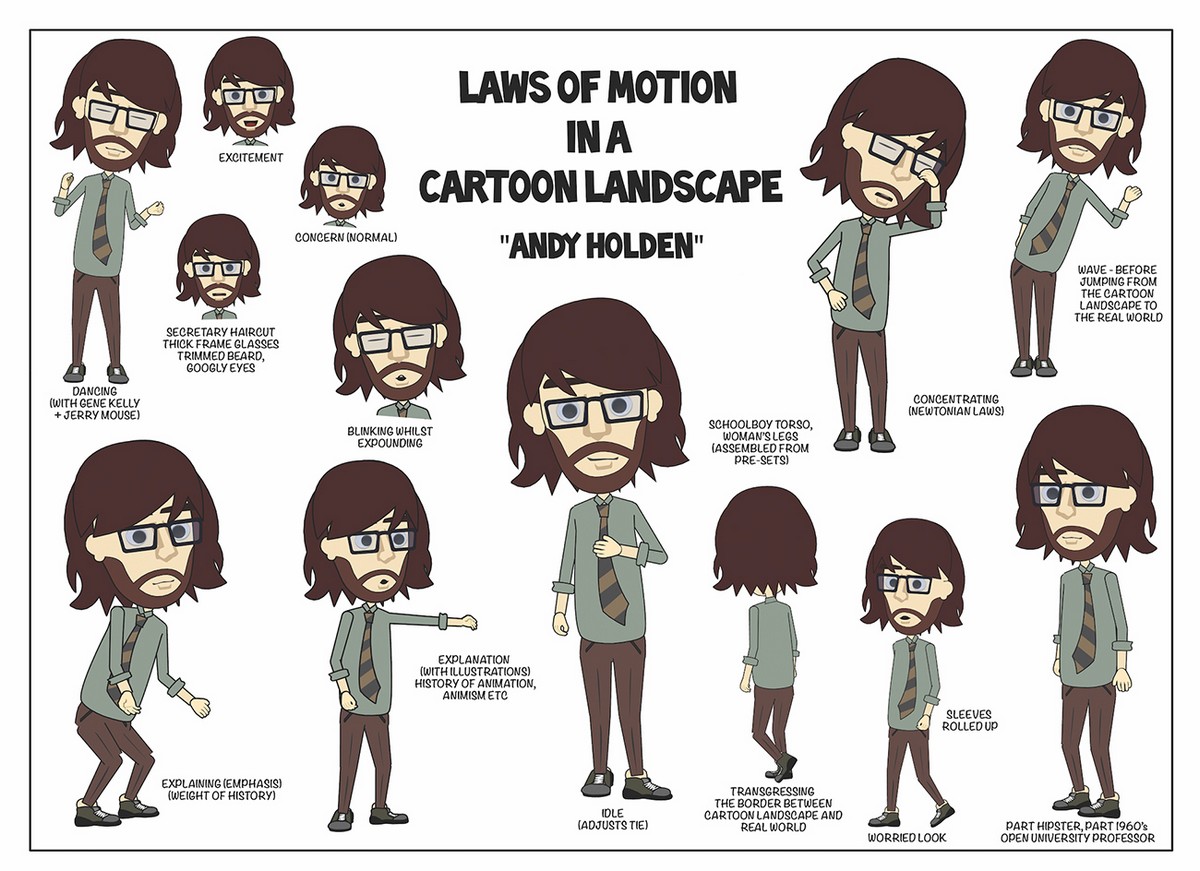 Andy Holden, Character Study for Laws of Motion, 2016
What risks have you taken in your work that paid off?
Quite a lot of the risks have come through not doing things. You never get to find out if that paid off as such, but at the time saying no to something seemed like a bigger risk than saying yes. It's not always nothing ventured nothing gained, I've risked a lot through not venturing far and I'm not sure what paid off is or means but every year that I am still going seems more than I expected. I suppose I risked working independently and not joining a gallery roster. That always felt like a risk and still feels like a risk, I feel like a tightrope walker with no safety net, and there are times I wish I hadn't been so cocky as to climb the ladder up to the wire and shout look at me!, but ultimately it has opened up other opportunities while I was trying out a lot of different formats, adding juggling balls or a unicycle here and there, and when it's good you can really enjoy the breeze.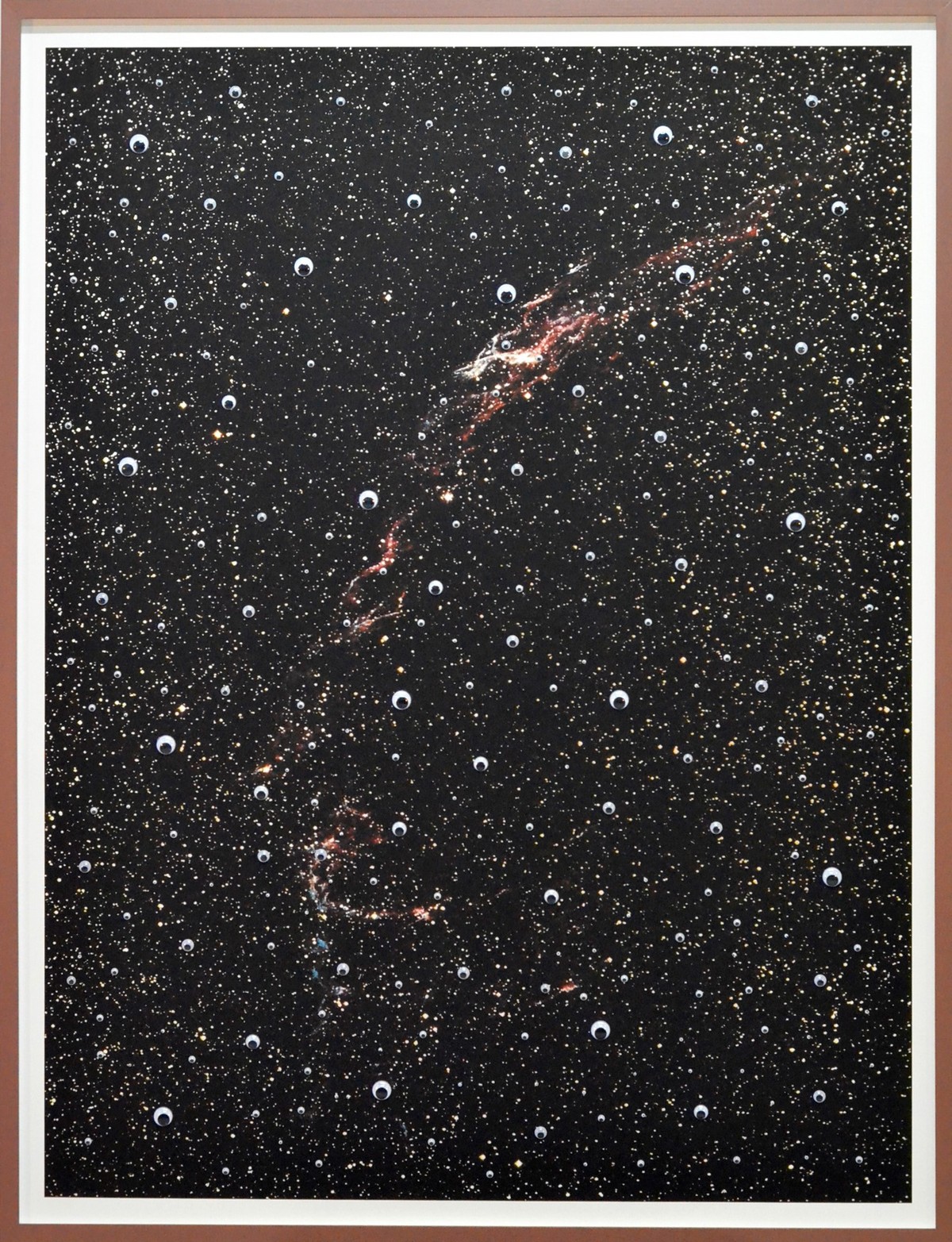 Andy Holden, Polytheistic Pareidolia, 2016, Eyes on inkjet print, 90 x 120 cm
What risks have you taken that perhaps did not go so well but you learnt the most from?
I once did a whole artist's talk about things that I did that did not go well and things I didn't do that I should have done, objectively speaking. That talk takes about an hour. Highlights included terrible proposals for Frieze projects for which they decided they would rather pay me not to do it than go through with, deciding to pull out of building a large sculpture on the roof of the Hayward as too many people would have seen it and attempting to play ten gigs at artist-run spaces from Plymouth to Edinburgh in ten days whilst dragging a full stage show with us in a Transit van. Special mentions also go to building a large sculpture on a hill in Bedford for one day for an audience of about ten dog walkers, booking a bus tour from London to Bedford as a day-long performance, and deciding to take my dad to do Performa festival in New York to talk about British birds. Counter intuitive decisions are always good for the further evolution of the self.
Natural Selection, 2017, Andy and Peter Holden, Installation view, Newington Library, with Artangel, Photo: Marcus Leith 
What is your favourite exhibition, event, or performance you have participated in and why?
It will forever be hard to compete with my opening of Pyramid Piece and Return of the Pyramid Piece for Art Now at Tate Britain as it was also one of my first serious solo shows in England. For the opening we hired a coach from Bedford for family and friends and had Richard Wentworth as the tour guide. We missed most of the private view as we were weaving through north London listening to Richard free associate on the Death of Princess Diana. However, through that I felt a little legitimacy. Getting away with building M!MS at the Zabludowicz Collection was also like having someone help realise a dream as much as it was building an artwork. If a show goes well something always changes, the works, with the performative aspect, seem to transform bits of my life around it. Natural Selection, as it was affected some parts of life for the better, but also came with a personal cost. There seems to always be a cost to personal ambition, and you are not in control with how that cost will be paid for. Hello, well well, what's this? If it isn't the consequence of my own actions, come to visit me.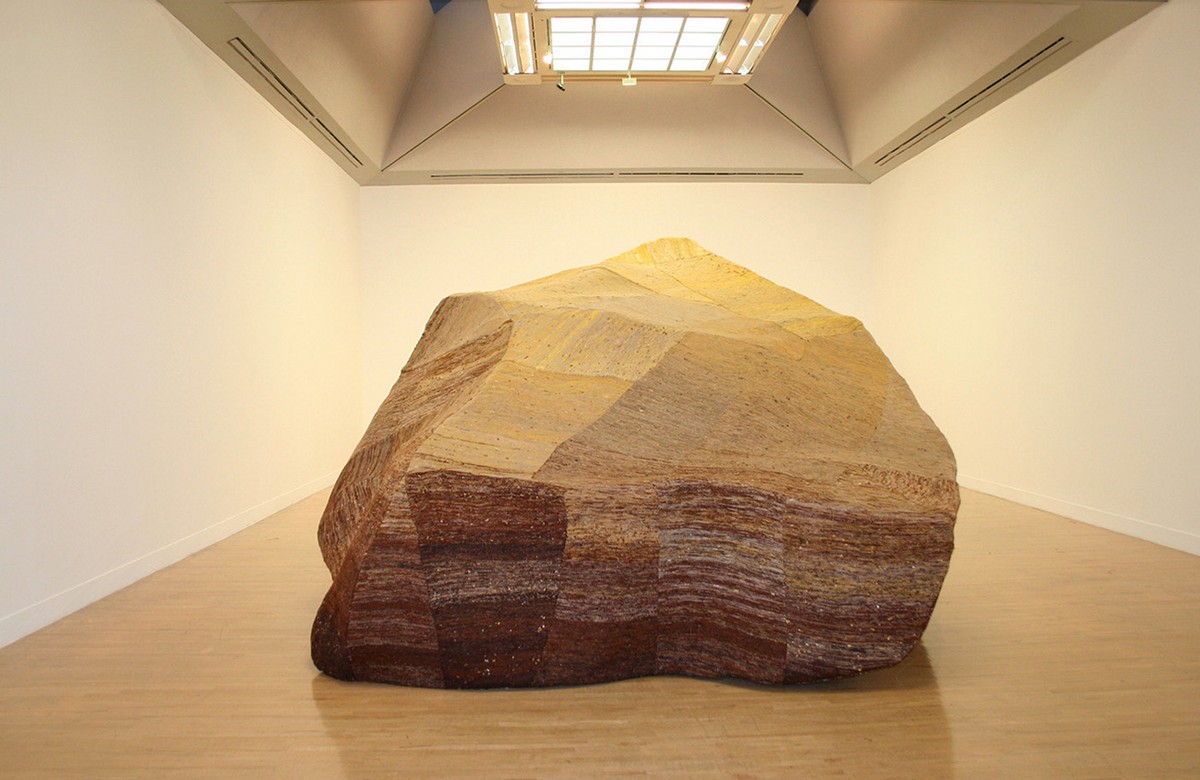 Pyramid Piece; Art Now: Andy Holden, Installation view, Tate Britain, 2010
What would you hope that people experience from encountering your work?
I'd be fooling myself if I said I didn't think about such things, but I do. Maybe too much. I try to hold the show in my head as a virtual structure and think about how much info the viewer might need in advance and then try to limit it to very little and attempt for the work itself to tell you all you need to know: there should be nothing outside of the work. Then I spin the structure around and think about what the first image is and how it sets the tone, how it will unfold in time, how long each section should be, what can be unpicked, what might be a red herring, what is a digression and how can I make the meaning as such arrived at rather than given. That is the formal answer. For a while I'd have probably pinched the Walter Pater, 'All art aspires to the condition of music', quote by way of answer. I'm particularly happy when someone comes out of one of my hour-long films having sat on a bench in a darkened gallery and says, 'that felt like less than an hour'.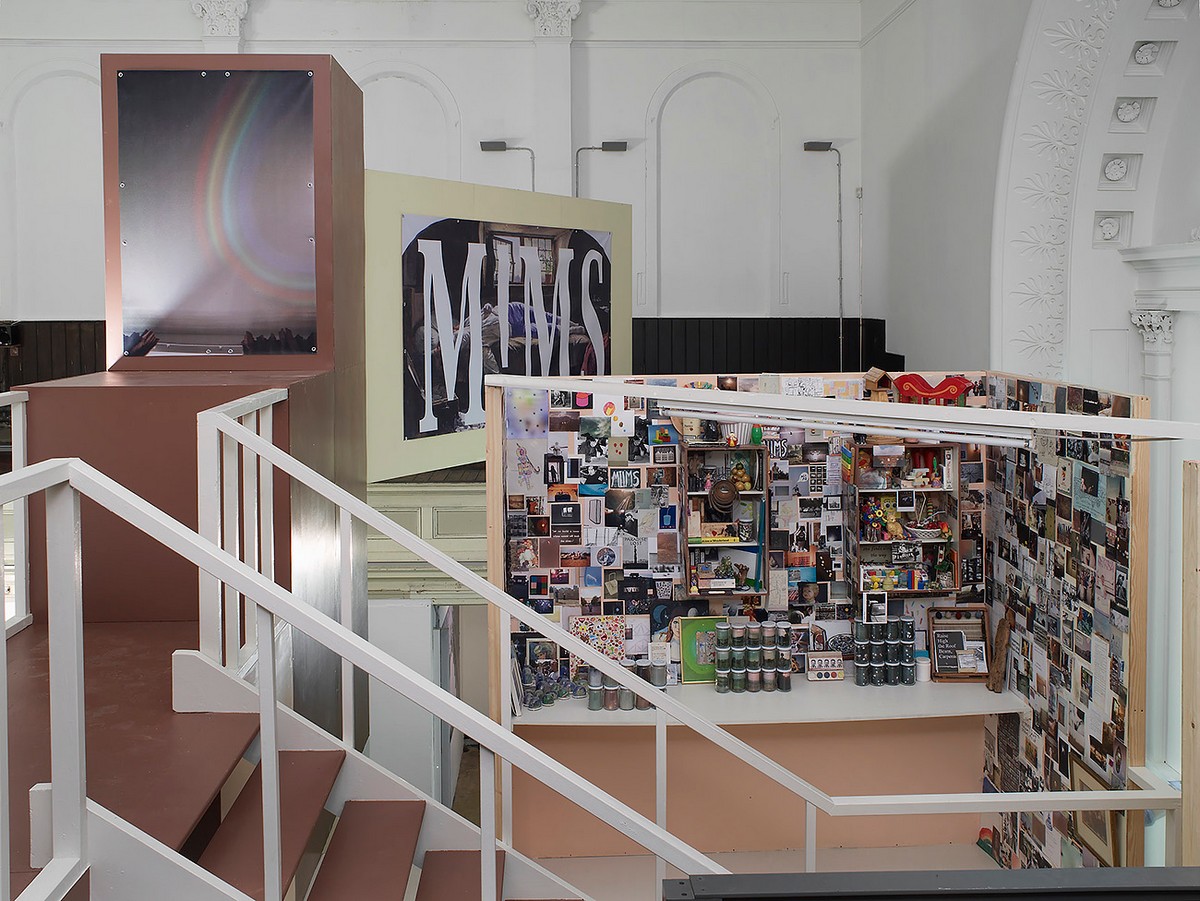 Andy Holden, Maximum Irony! Maximum Sincerity,1999-2003: Towards a Unified Theory of M!MS, Installation view Zabludowicz Collection, London, 2013
Could you tell us a bit more about at a time when you felt stuck and what you did to help yourself out of it?
My analogy for being an artist in the Cartoon Landscape is that one has to walk out over the cliff edge, knowing enough to not look down. If you look down, and become aware there is nothing beneath you, then down you fall down. Be like Bugs Bunny; aware of the laws of gravity, but never study law. Those who can walk out furthest for the longest are the best artists. Like everyone, I have from time to time looked down, and had to climb back up to the top of the cliff and start again. Climbing up does require fashioning your own ladder out of whatever is to hand.
What kind of studio visits, conversations or meetings with curators, producers, writers, press, gallerists, or collectors do you enjoy or get the most out of?
Cold-calling studio visits have often produced blissful afternoons. Visits from interested parties have gradually tapered off, but there was a time they were my main source of company. When I was working out of the remote Rectory Farm in Bedfordshire there were weeks, I would only see Colin the sandwich-man and renegade Kerry the farm owner dropping past to say hello with his shot gun under his arm. So, if a curator, or student, or artist came by it would be a chance to unleash my pent-up verbal deluge and find out if any of my thoughts made sense when said out loud. Now I have set up my gallery project, Ex-Baldessarre, at my studio in Bedford, as, in part, a way of providing an excuse for more people to drop by. Once this lock-down passes I'll be there every Saturday as normal and awaiting your company.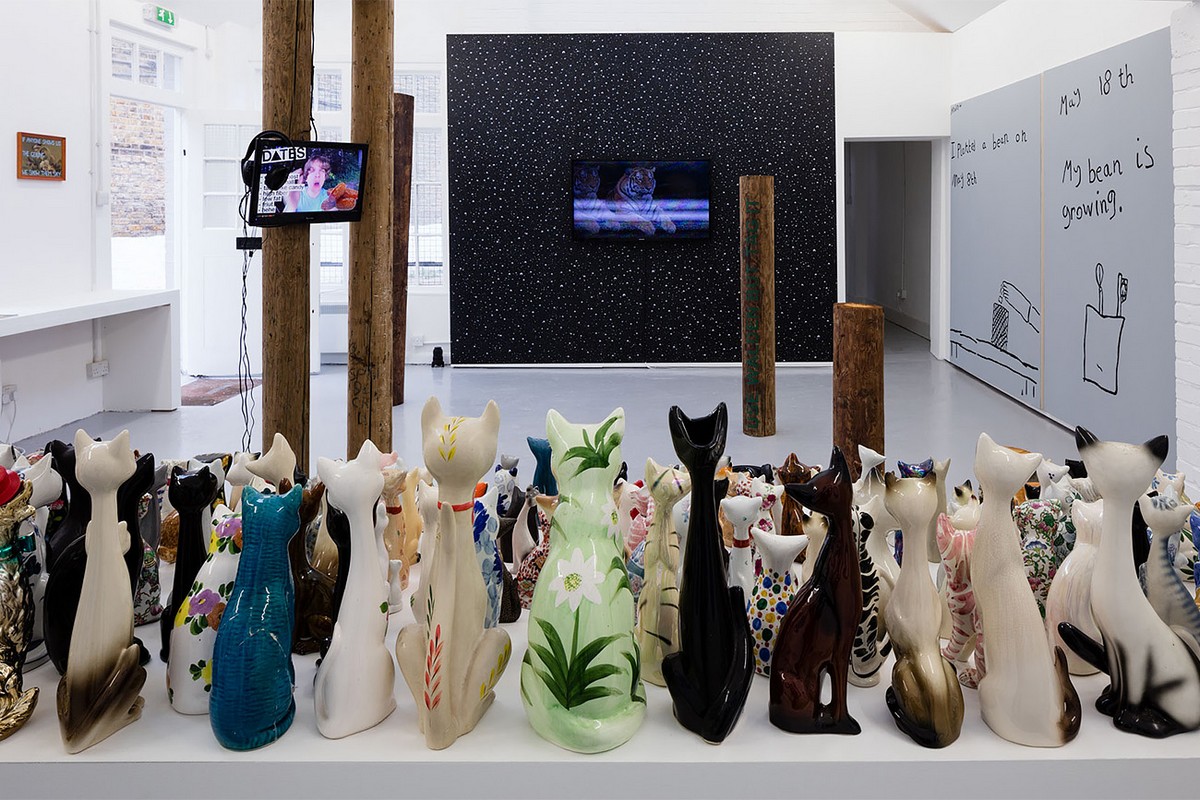 Andy Holden, IF YOU INSTAGRAM MY DEAD BODY USE WALDEN AND TAG IT #NOFILTER, Rowing Projects, London, 2016
If you work with a commercial gallery how does this relationship affect or inform your work and life? 
I don't, so it doesn't. I'd be interested to know how it would. I was too contrary.
Do you have a trusted muse, mentor, network, or circle of friends you consult for critical feedback?
I made a film about the relationship between friendship and creativity called Oh! My Friend's a couple of years ago to explore the way certain friendships were intrinsic to creative development. It was also a sub-plot of M!MS. For me friendship as a place to experiment and challenge oneself has always been crucial, a good friendship is how you grow, through getting to know another. Much of artmaking is very solitary, which makes the blossoming of friendship and dialogue more precious. And now, yes, the friendship of certain artists means the world to me and I could not overstate the importance of those friendships in making me a better artist and a better person.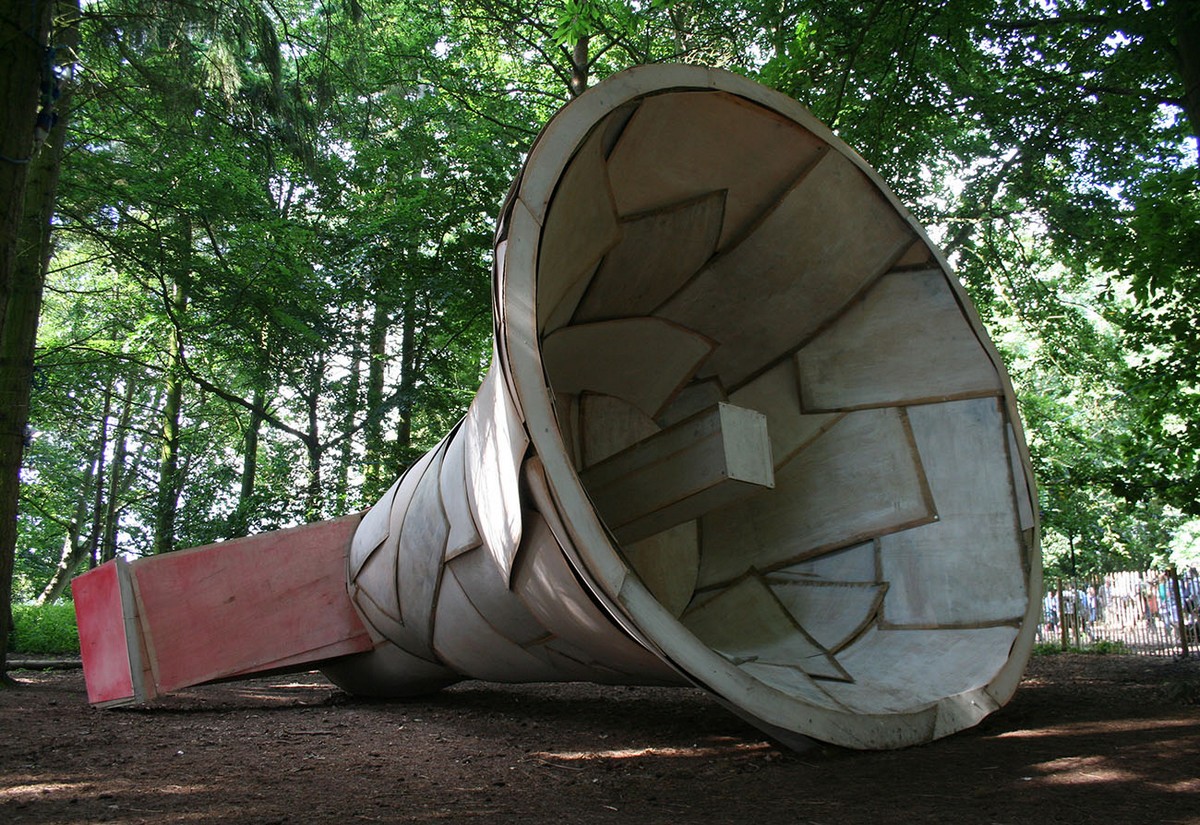 Andy Holden, Unquiet Grave, Temporary Public Sculpture, Latitude Festival, 2014
How do you make money to support your practice?
I've always juggled a few things, combined a few streams, some dry up, then try and get another one to flow a little, dig a new tributary here and there, build the occasionally damn, regularly forget to tend to the banks. Teaching gives a little, music loosens about the same amount of money, grants and commissions makes new major works appear, but I always seem to go over budget so that's normally just the material, so then the cost of life comes from the occasional sale, selling small editions, performances, talks, loans, bailouts, windfalls, miracles like the Hamlyn Award or getting the Artangel show to tour. This year I was saved by the Tate acquiring some works. Every year has been different. I should say that for the first six years of getting started, even when I had shows at Tate and Kettles Yard, I didn't make enough to move out of home, I stayed in my childhood bedroom and used my friend's mums warehouse as a studio, without those support structures I'd have been sunk. I would advocate grooming unlikely patrons and the system of support-in-kind. Favours from friends and exchanges of labour were a huge part of my economic life early on. I have a both a large unpaid student loan and a shit ton of psychic debt.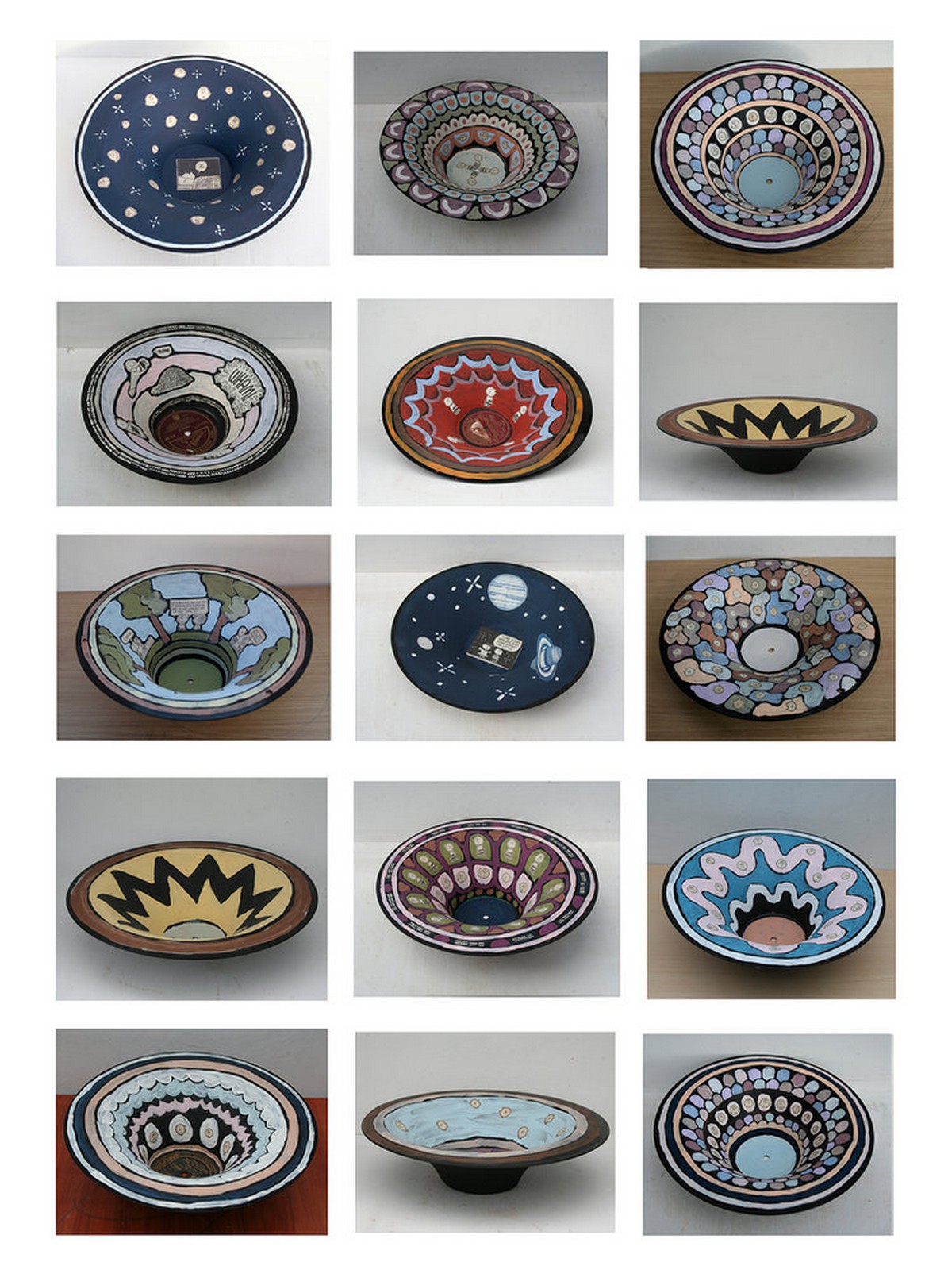 Andy Holden, Pessimism of the Intellect, Optimism of the Will, Paint and collage on melted gramophone records, 2008-11
What compromises have you made to sustain your practice?
Living with my mum and dad until the age of 30, spending most of my twenties on my own on a farm in Arlesey, and ruining a relationship. See also the psychic debt mentioned above.
What advice would you give your past self?
Take piano lessons. Draw more. Be less self-absorbed. Listen to your mother when she says maybe you should think about a career in IT as it's an up-and-coming field.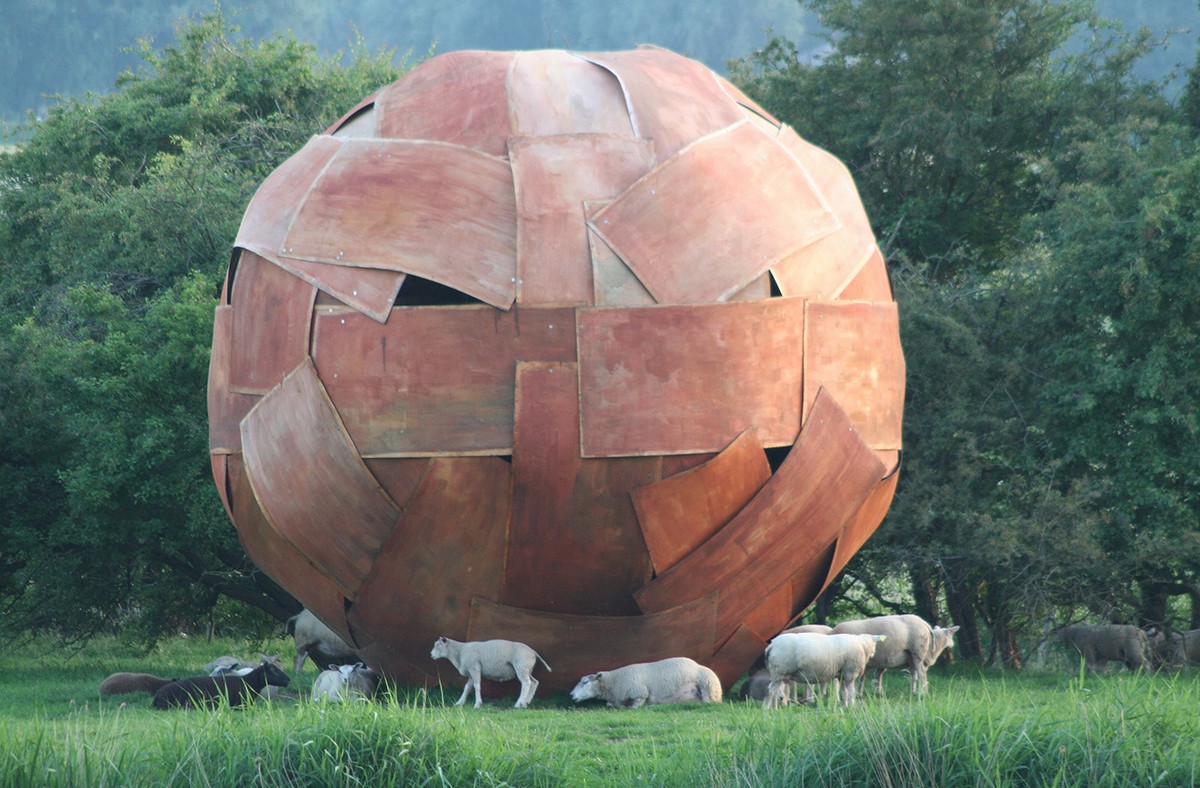 Andy Holden, The Third Attempt, Temporary Public Sculpture, Netherlands, 2008
Can you recommend a book film or podcast that you have been inspired by that transformed your thinking?
To answer this would be the history of my internal life.
Follow Andy on Instagram @andyholdenphotos and Twitter @andyholden_GM and visit his website https://andyholdenartist.com/
Please share this interview
And do subscribe to our newsletter for a monthly round-up of some useful creative hacks, insights, opportunities, and introductions. At the end of each month we host a free special 30 minute online subscriber event on Zoom, providing subscribers with the opportunity to meet and ask Ceri Hand questions about creative careers or in relation to mentoring.
The next informal Q&A session will be Friday 28 August 6pm-7pm and newsletter subscribers will be sent an invitation a little closer to the time.
Feel free to email or contact us via socials @cerihand
Coming Next...
An interview with