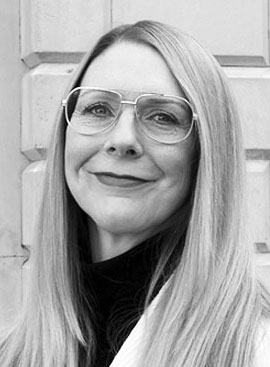 I was first introduced to Curator and Collector Marcelle Joseph by artist Charlie Billingham, at a preview at the Tate in 2012.
We both exhibited Charlie's work, and our interests and enthusiasms for artists and ideas continue to connect. I have enjoyed following Marcelle's curatorial and collecting initiatives and really appreciate her holistic support of artists, over a longer period of time.
She truly loves and appreciates artists, and is passionate about their work and contribution. She is deeply committed to finding ways to support the arts, in diversifying the landscape and is generous in her wider support and contribution to the arts ecology. She is a patron of artists, galleries, arts charities, education initiatives and commissions and buys new work regularly.
We are both Trustees of Matts Gallery, and I find her sincere determination and passion for ensuring a greater parity in the artworld refreshing and much needed. She is a positive, respectful, considered, calm, and thoughtful contributor and a real pleasure to work with.
Marcelle Joseph, Photo, Gabrielle Cooper
Marcelle Joseph is a London-based American independent curator. In 2011, Joseph founded Marcelle Joseph Projects, a nomadic curatorial platform that has produced 38 exhibitions in the UK and the rest of Europe, featuring the work of over 200 international artists. Joseph's expertise is in early career artists based in the UK, in particular, female-identifying and non-binary artists, and has an academic specialization in feminist art practice after completing an MA in Art History with Distinction from Birkbeck, University of London.
In 2013, she executive edited Korean Art: The Power of Now (Thames & Hudson), a survey of the contemporary art scene in South Korea. Additionally, Joseph is a trustee of Matt's Gallery, London and served on the jury of the 2017-2019 Max Mara Art Prize for Women, in collaboration with the Whitechapel Gallery and Collezione Maramotti, and the Mother Art Prize 2018. She also collects artworks by female-identifying artists under the collecting partnership, GIRLPOWER Collection, as well as more generally as part of the Marcelle Joseph Collection. Throughout 2020, Joseph has acted as Curatorial Consultant for Lychee One, a commercial gallery located in East London.
What are you doing, reading, watching, or listening to now, that is helping you to stay positive?
I'm a sucker for the here, the now and the new, and I love literary fiction. So I am drawn to the debut novelist just as I am drawn to the early career artist, and two years ago, I vowed to myself that I would only read the prose of women and queer writers and writers of colour. Who wants to read about a world envisioned by a white straight male writer when we are governed for the most part around the world by white straight males for the benefit of the same group of people largely to the exclusion of all 'others'. Looking at recent reads on my Kindle, these are some of my recommendations for those of you with reading predilections like mine: Catherine Lacey's Pew, Yaa Gyasi's first two novels, Candice Carty-Williams' Queenie, Brit Bennett's The Vanishing Half, Jeanine Cummins' American Dirt, Ta-Nehisi Coates' The Water Dancer, Tayari Jones' An American Marriage, Bernardine Evaristo's Girl, Woman, Other, Kate Elizabeth Russell's My Dark Vanessa, Esi Edugyan's Washington Black, Jesmyn Ward's novels and Curtis Sittenfeld's Rodham.
At the moment, I've gone back in time to fill in some holes in my lexicon. I've just ordered most of the books written by Octavia E. Butler and Toni Morrison. I had to buy physical copies as I have a feeling they will be heavily annotated and nourish me with inspiration for future exhibitions.
Other than reading, I have been hiking in a forest near my home in Ascot while listening to The Great Women Artists and Talk Art podcasts. Supposedly, 'forest bathing' strengthens our immune system, reduces blood pressure, increases energy, boosts our mood and helps us regain and maintain our focus in ways that treeless environments just don't. So London doesn't have the same allure it once did for me before the lockdown.
I do have a few current guilty pleasures to help me stay positive: Darren Star's Emily in Paris and Katherine Ryan's The Duchess – both on Netflix and both featuring strong and funny female protagonists with killer wardrobes. I'm dying for the days pre-pandemic when we had occasions to dress up for.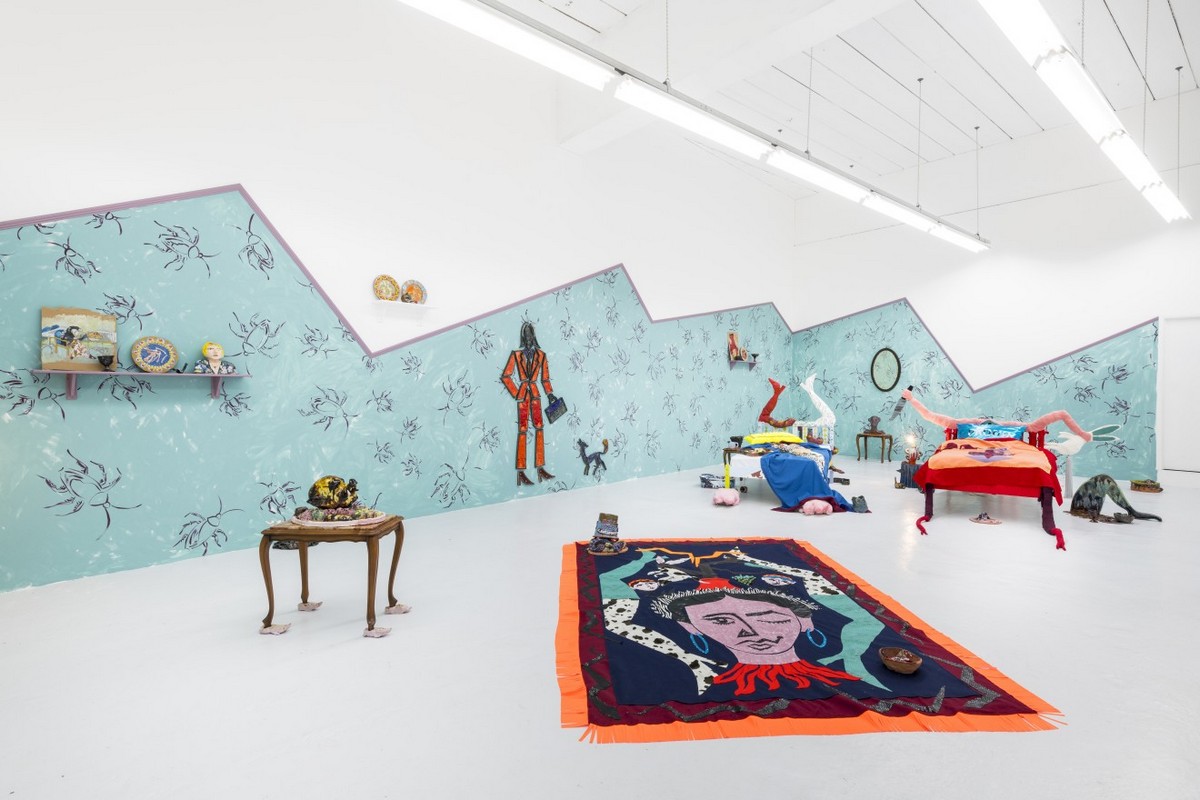 Installation view of PROUDICK, curated by Marcelle Joseph at Hannah Barry Gallery, London, 2018,
with artworks by Lindsey Mendick and Paloma Proudfoot, Photo: Damian Griffiths
What do you enjoy the most about curating?
For me, it's everything that happens prior to the opening of the exhibition: the research, the writing of the text and the placement of the artworks in the space, but, most importantly, it is all of the conversations and studio visits with the artists that led me to choosing them to participate in an exhibition I am curating.
How do you develop your curatorial ideas?
It usually starts with a text I am reading or song lyrics I am listening to. Previous thematic group exhibitions have been inspired by the likes of Frank Ocean, Haruki Murakami, J.G. Ballard and Ursula K. Le Guin. Once the theme has been formulated, I start to think about what artists I would like to include, and always ensure that the mix of artists is as diverse as possible across the gender and racial spectrum in order to attract audiences that are equally diverse.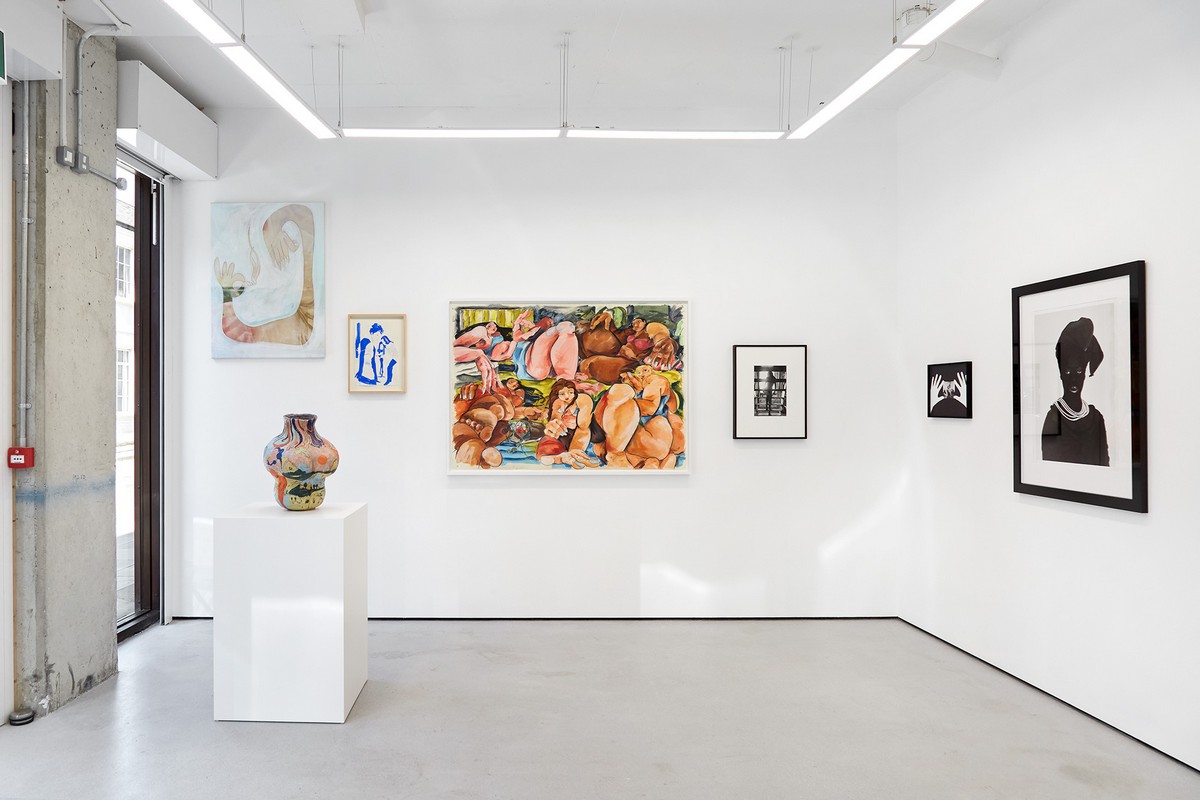 Installation view of Monster/Beauty: An Exploration of the Female/Femme Gaze, curated by Marcelle Joseph at Lychee One, London, 2020,
Artworks left to right: Rafaela de Ascanio (ceramic vase), Chelsea Culprit, Lisa Brice, Cristina BanBan, Hanne Wilke, Sophie Thun and Zanele Muholi. Photo: Corey Bartle Sanderson
How do you discover artists and what factors contribute to your decision to curate an artist's work?
I am an art addict and see as much art as I physically can, whether it be at degree shows, museums, galleries, project spaces, art fairs around the world or on Instagram or in art magazines. Most of my recent curated exhibitions have been thematic groups shows so I choose the artist's work that I feel fits the theme the most. If I do not yet know the artist, I will arrange to meet the artist in their studio to learn more about their practice and what drives their creative impulses.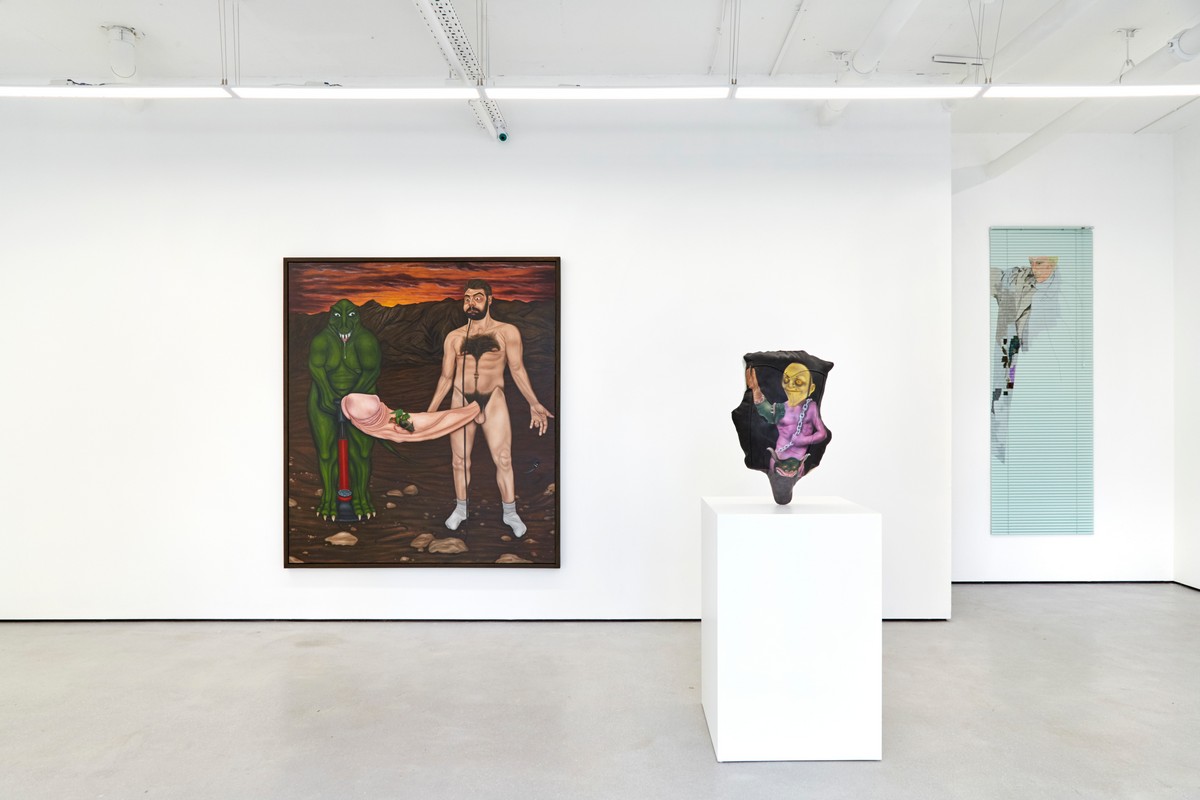 Installation view of Young Monsters, curated by Marcelle Joseph at Lychee One, London, 2019,
Artworks l-r: Glen Pudvine, Gray Wielebinski and Neil Haas, Photo Corey Bartle Sanderson
What do you offer or provide artists in the curatorial relationship?
A friendly ear, a creative eye, a critically engaged outlook and sometimes even a shoulder to cry on. As a curator, I literally want to be a safe space for the artist to realise their full potential. I want to be a sounding board too. I love the exchange of ideas between a curator and an artist. I may recommend to an artist a certain theorist to read or an artist reference to check out and they may recommend other artists' work to me or texts to read or films to watch.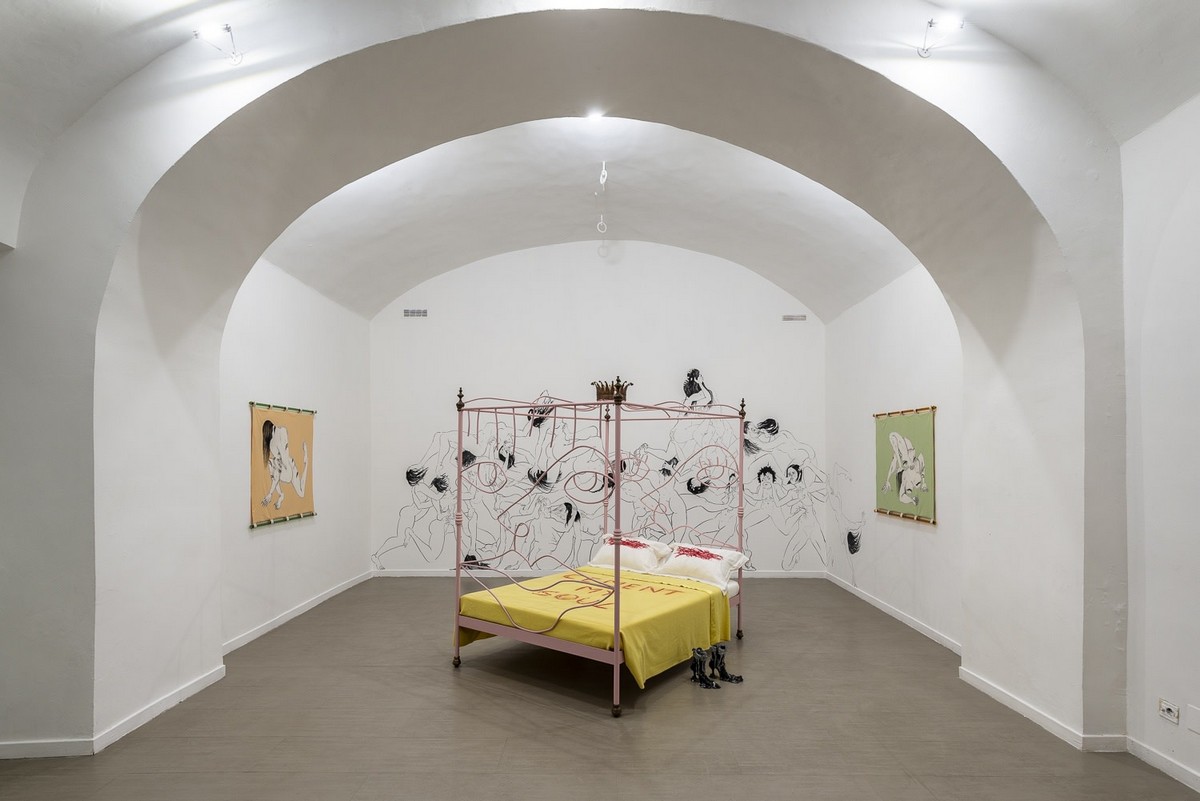 Installation view of Dancing at the Edge of the World curated by Marcelle Joseph at Z2O Sara Zanin Gallery, Rome, 2020,
with artworks by Saelia Aparicio (wall works), Charlotte Colbert (bed) and Lindsey Mendick (ceramic work on floor), Photo: Sebastiano Luciano
What is one of your personal favourite exhibitions or events you have curated and why?
One of my favourite exhibitions I have curated was Dancing at the Edge of the World, a group exhibition in 2020 at Z2O Sara Zanin Gallery, a large commercial gallery space in Rome, featuring the work of ten female-identifying artists and inspired by my favourite feminist science fiction writer, Ursula K. Le Guin. The featured artists were Saelia Aparicio, Charlotte Colbert, Monika Grabuschnigg, Zsófia Keresztes, Alexi Marshall, Florence Peake, Proudick (Lindsey Mendick and Paloma Proudfoot), Megan Rooney and Eve Stainton. And the exhibition envisioned a feminist or non-binary utopia – a new universalism of sorts, devoid of inequality, domination and exploitation and full of feminine pleasure. So it had many of my favourite things: identity politics, empowered female/femme voices, feminist theory, artists with process-based material-led practices, two commissioned wall paintings and two commissioned performances.
This exhibition also attracted my first ArtForum review and four different mentions in Italian national newspapers, so I was very proud of its reception both in Italy and internationally. I really enjoy curating exhibitions outside of the major art world hub that I live in – London – as there is less competition for viewers' eyeballs so an exhibition can have greater visibility and promote more important conversations about art and the world outside of the gallery in a smaller city.
Can you describe what you ideally want to achieve when curating an exhibition?
I would like the viewer of an exhibition I have curated to still be thinking about the exhibition the next day, the next week or the next month – either a specific artwork moved them aesthetically, spiritually or intellectually or the dialogue between works by different artists made them think differently or gain new insight about that artist's work, or the theme of the exhibition made them interrogate or examine the world or their own interiority, in a socially, politically or emotionally engaged manner.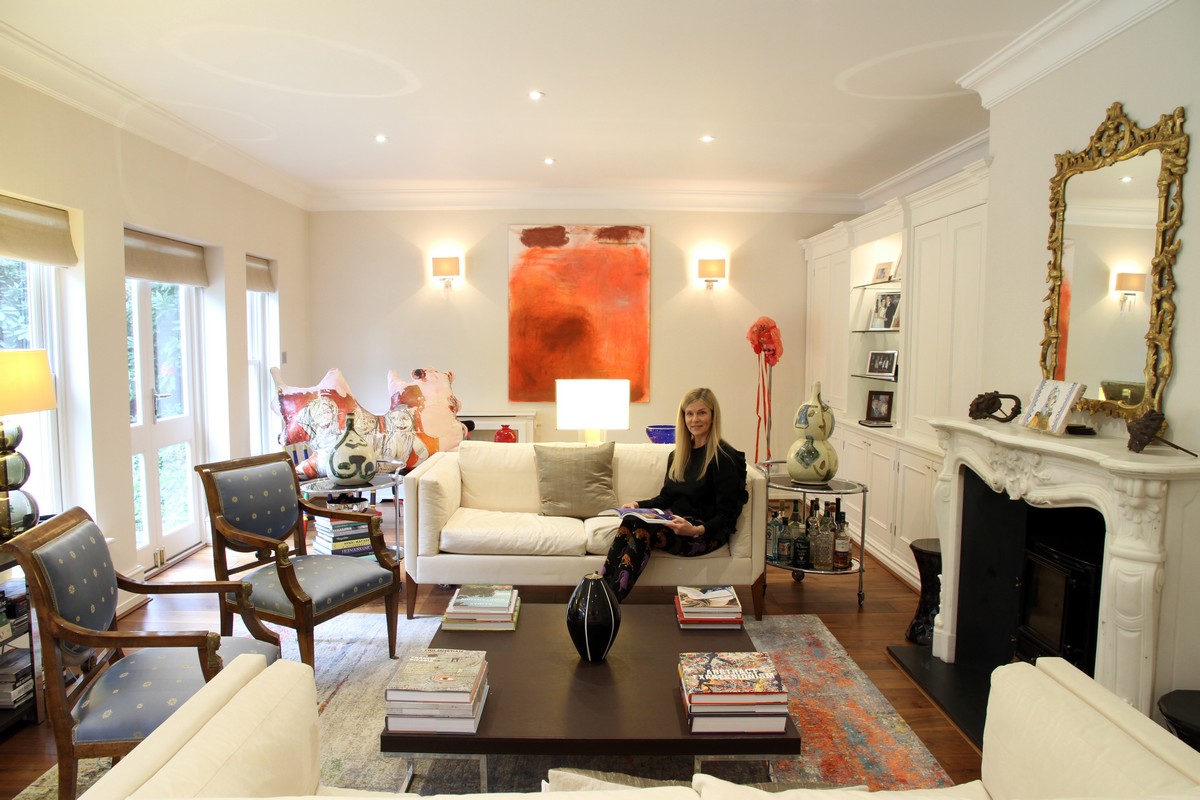 Marcelle Joseph in her drawing room in Ascot with artworks left to right:Laurence Owen (ceramic vases),
Athena Papadopoulos (sculpture), Colden Drystone (painting), Jesse Darling (sculpture) and Brian Griffiths (sculpture on coffee table). Photo: Kâthe Kroma
What are your core values and drivers that you bring to collecting artists' work? What do you care about?
I care a lot about supporting artists at the point in their career when they need it the most, so I am predominantly buying the work of early career artists. But what I'm most interested in achieving across all my activities – whether it be curating, collecting or patronage – is the representation and support of artists who have been marginalised by the patriarchal canon and the white male dominated art world. It started with my support of female-identifying artists through the curation of all-womxn group shows and the GIRLPOWER Collection, a collecting partnership I founded in 2012 with Kimberly Morris, a Zurich-based friend, that acquires only work by female artists. Slowly, over time, this support has grown to encompassing the queer community of artists and artists of colour as an extension of feminist theory to queer and post-colonial theory.
In 2017, I curated You see me like a UFO in my home in Ascot. It was the first exhibition I curated that featured my own collection. I hung all of my works by female and queer artists and artists of colour in prominent positions and commissioned artists Marie Jacotey and Evan Ifekoya to make a set of curtains for the show, behind which were hung the works in my collection by straight white male artists. It was not an attack on these male artists in my collection but a gesture of letting other artists be 'seen' and relish the power normally reserved for the patriarchy – a little like Eddie Murphy in Trading Places (1983) – a role reversal of sorts as well as a forecast of better times to come. As Oprah Winfrey said, 'There is no discrimination against excellence'. And I am attempting to support excellence that may not be recognised by the broader art market, that is largely led by men for men, whether they be artists or collectors.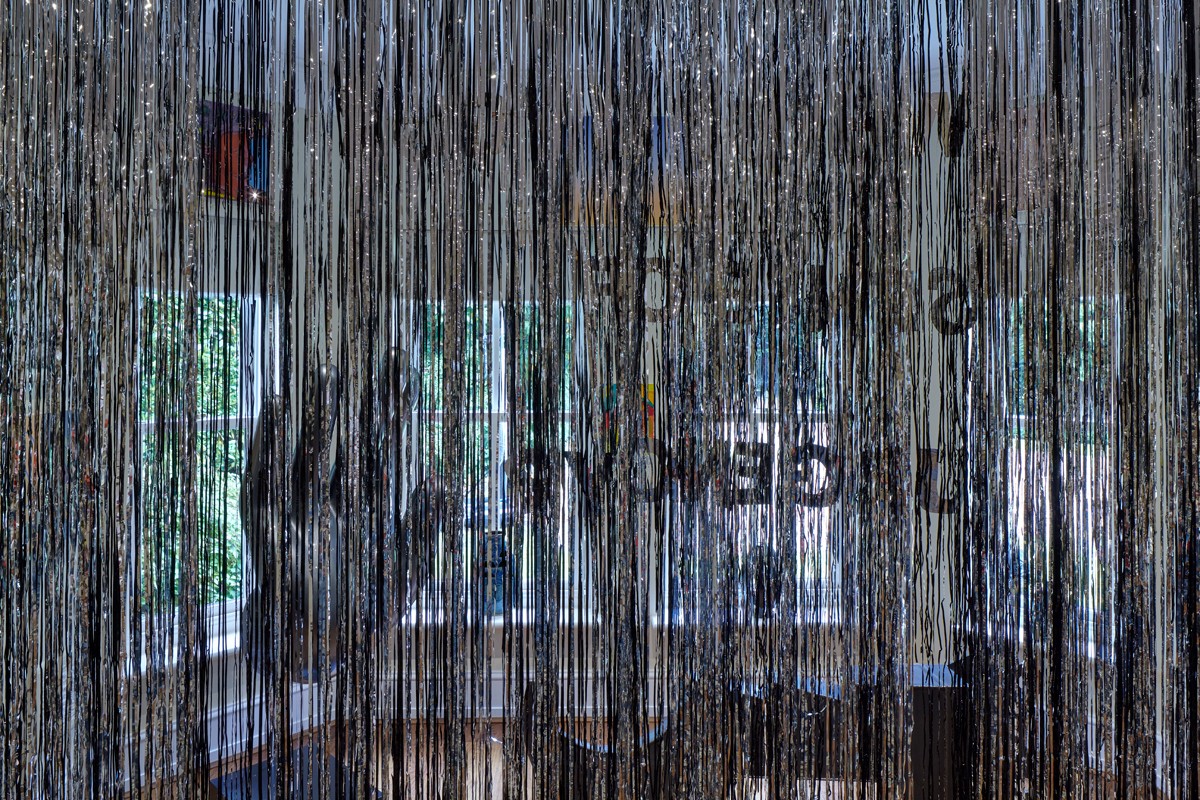 Installation view of You see me like a UFO curated by Marcelle Joseph at her home in Ascot, Marcelle Joseph Projects, 2017):
Evan Ifekoya's commissioned curtains, Where is your Sense of Urgency?, 2017, and other works by Morgan Wills, Colden Drystone, Grant Foster David Micheaud,
Ralph Hunter-Menzies, Robin Seir, Laurence Owen, Brian Griffiths, Matthias Merkel Hess, James Capper and Nikolai Winter. Photo: Jan Krejci
What do you enjoy the most about collecting?
The thing I enjoy the most about collecting is living with the creative expression of so many amazing artists that I have met, written about or worked with over the years. I often call my collection a collection of conversations, as it is very important for me to meet the artist before I collect their work. There are exceptions to that rule but very few. My collection is like living with some of my best friends. And many of my relationships with artists have taken many different guises over time. For example, I may have a studio visit with an artist just after they leave art school, then I invite them to participate in an exhibition I am curating a year later, then I buy their work for the collection a year after that and then two years later I throw a dinner party in their honour for them to meet other collectors and curators, then two years after that I loan their work to a museum exhibition.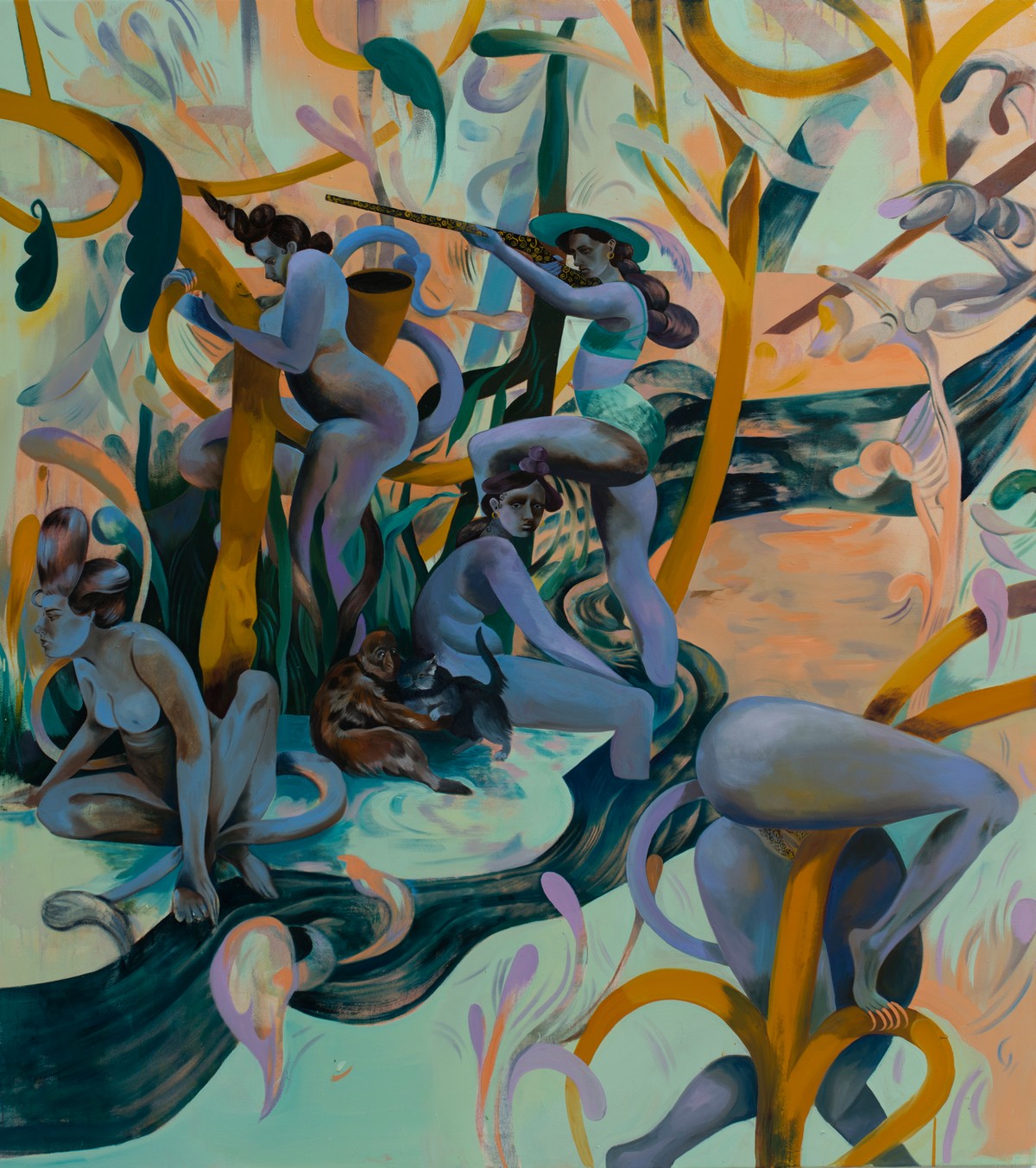 Jessie Makinson, Spiral Bound, 2017, Oil and pigment on canvas, 195 x 165 cm, Courtesy of the artist and Marcelle Joseph Collection
Do you have a focus to your collection?
Most definitely, but not from the very start of my collecting in 2010. I have really enjoyed developing my eye over the years, learning what drives my taste and honing the philosophy of my collection. I call myself an activist collector as I largely collect early career women and queer artists who make work that is about the performativity of identity politics and/or is all about materiality and the processes of making.
Chelsea Culprit, High Spirited Chimeras witih Hypnotic Digital Masks II, 2018,, Oil, acrylic, enamel, gouache, graphite,
pastel, fabric on canvas, 150 x 241 cm, Courtesy of the Marcelle Joseph Collection
Can you describe the kinds of artists and works that light your fuse? 
Given that I am attracted to material-led practices, I tend to buy more painting and sculpture than time-based media. I absolutely love ceramic and textile works. I do have photography and video in the collection but it represents a smaller percentage. Although some of the latest works I have added to the collection are in fact photographic works – including two works by Larry Achiampong.
In terms of geography, the collection is predominantly focused on UK-based artists given that I am physically based in London, most of my curatorial activities take place here and I prefer to meet the artists before I collect their work. I also need to keep shipping costs low so that limits my collecting universe. I do reach out to artists and galleries outside of the UK so the collection contains some works by artists from around the world as well. Given my penchant for identity politics, I am partial to figuration and representational styles at this moment in time.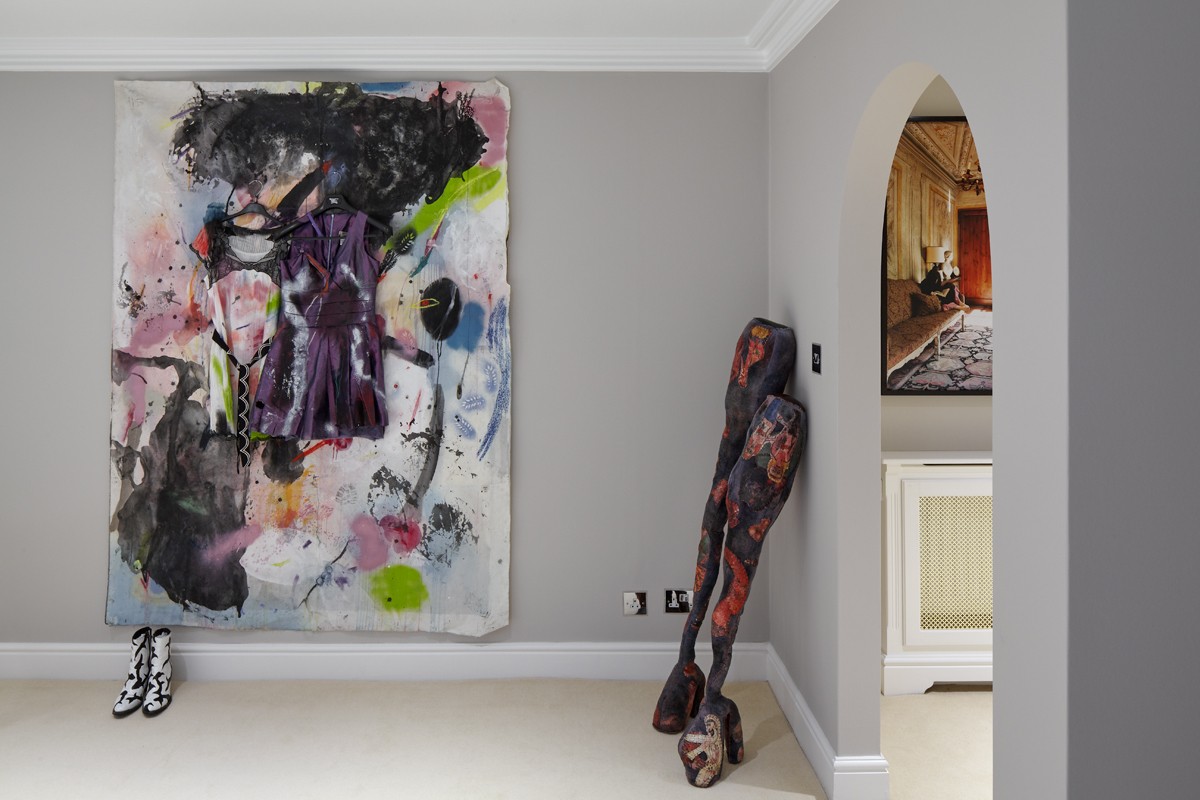 Artworks in Marcelle Joseph's home in Ascot, l-r: Caterina Silva, Athena Papadopoulos and Liane Lang, Photo: Jan Krejci
What kinds of supporting information & materials do you use to help you make the decision?
I do a lot of research before adding an artist's work to my collection. I often already know the artist as explained above, but I look at artist and gallery websites and Instagram accounts; I read online press reviews and artist interviews; I subscribe to ArtForum, Art Review, Frieze, Art in America, Kaleidoscope, Mousse, Cura and Elephant; and I parse through the artist's CV as I value pedigree and an artist's choices throughout their career in terms of art school, exhibitions, residencies and awards. And if the artist lives outside the UK, sometimes I wait until I am travelling somewhere that I can meet them in person before acquiring the work.
Do you have a maximum budget when collecting (monthly? annually?) Do you stick to it? If not, what kind of work has made you stretch?
Since I am interested in supporting artists in the earlier part of their careers, I do have a maximum budget per artwork and that is currently £7,500. The few times that I have stretched over that amount was because it was a GIRLPOWER Collection acquisition as Kimberly Morris and I are 50/50 partners in that collecting partnership.
Do you have a preferred range of galleries you buy from? What is it about their way or working or roster of artists that you connect with?
I often buy an artist's work directly from the studio if they are not represented yet or from an exhibition I have curated. But there is definitely a group of galleries that are my go-to galleries as I trust them and their way of working with their roster of artists. Typically, as gallerists, they stage exhibitions that are more curatorial in scope. This is often not the most commercial way to run an art gallery, but I think it is more important to contextualise an artist's work properly than to focus solely on shifting an artist's work to the highest bidder. My current favourites are Arcadia Missa, Bosse & Baum, Copperfield, Emalin, Hannah Barry Gallery, Seventeen, Soft Opening and The Sunday Painter in London and Gianni Manhattan and Sophie Tappeiner in Vienna and Queer Thoughts in New York (in alphabetical order of course).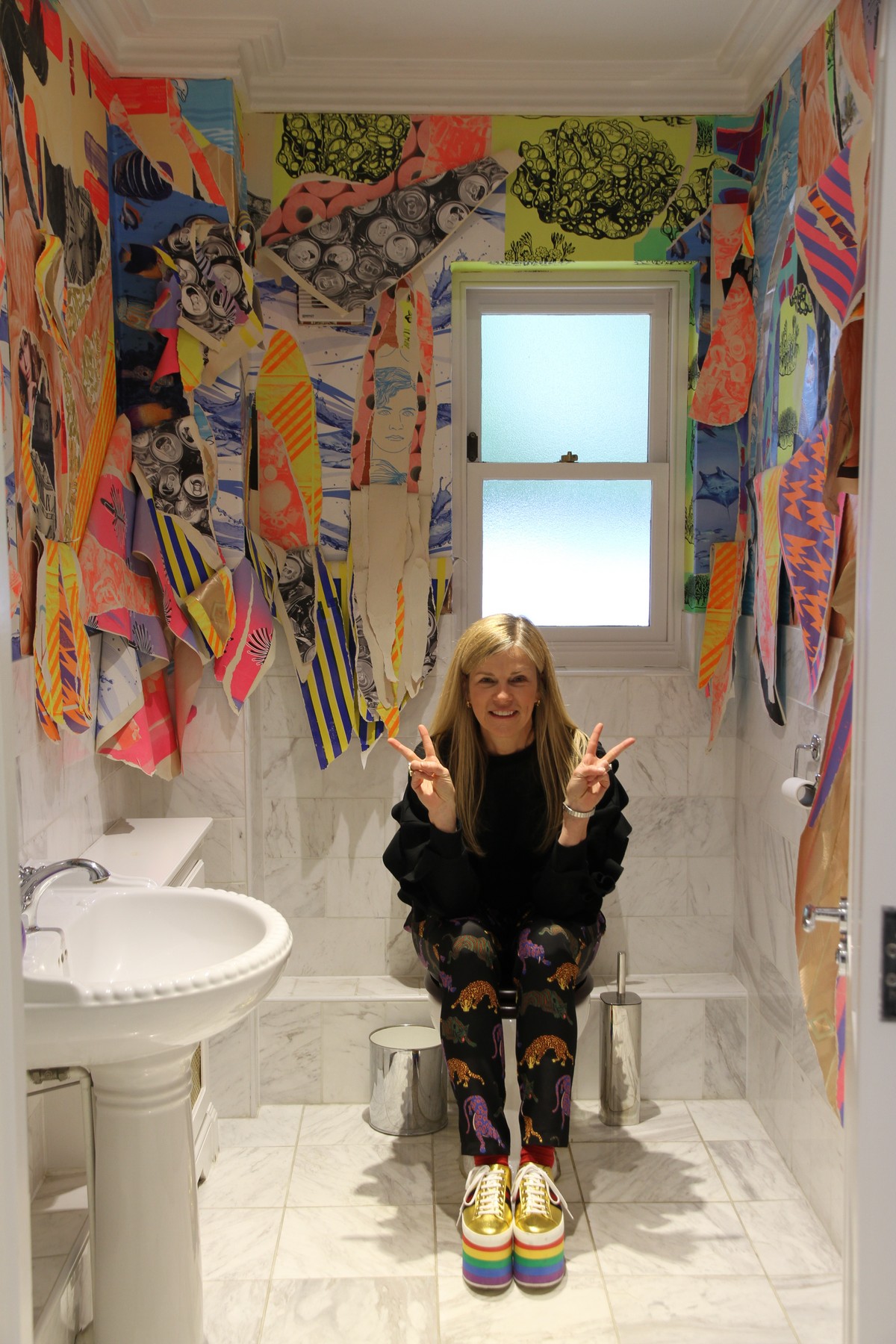 Marcelle Joseph in her cloakroom in Ascot with a permanent commission by Ludovica Gioscia, Photo Kâthe Kroma
Where do you show and store your collection?
Currently, the 250 pieces in the two collections – the GIRLPOWER Collection and my own personal collection - are on display in my homes in London, Ascot (UK) and upstate New York (US). I try to rehang every 6-12 months to get the newer work on the walls and out of my spare bedrooms in Ascot where I store whatever is not on display.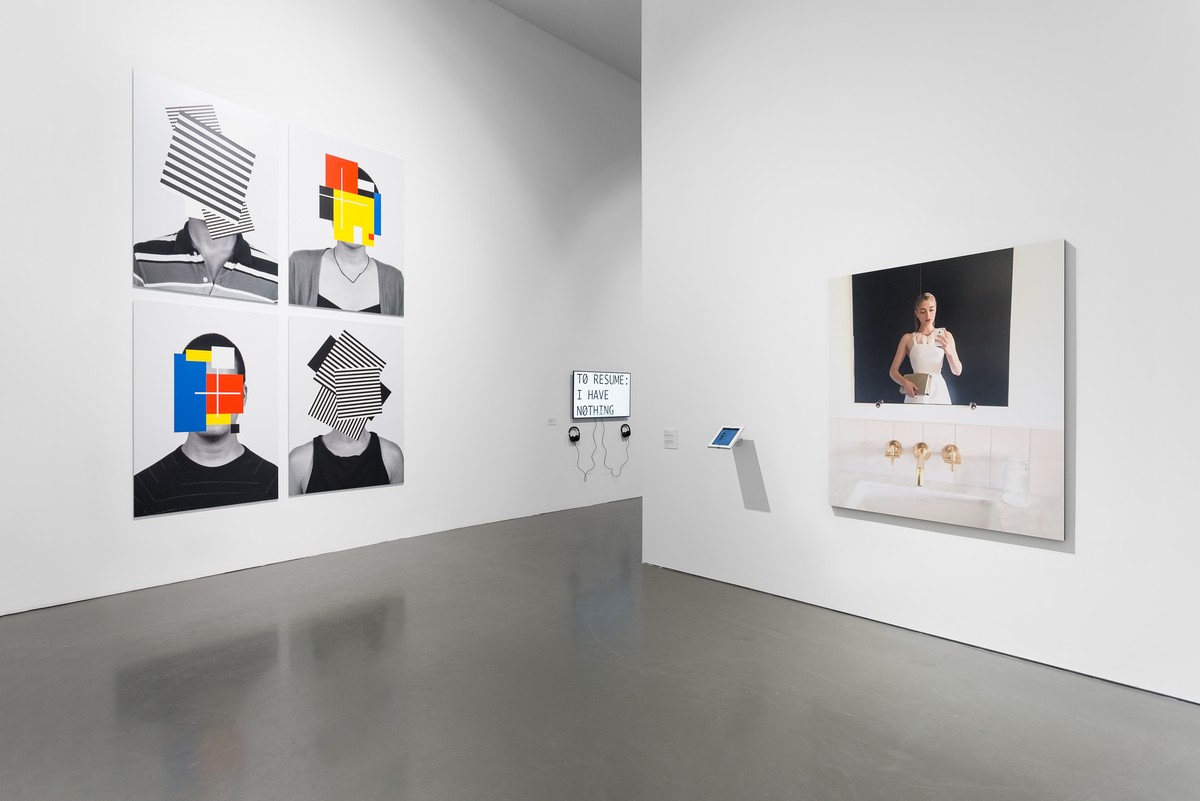 Exhibition view of Electronic Superhighway, MAAT, Lisbon, Portugal, 2017, Including GIRLPOWER Collection's work on right: Amalia Ulman,
Excellences & Perfections (Instagram Update 19th June 2014), 2014, 150 x 150 x 2.5 cm, unique, Phromogenic print dry mounted on aluminium mounted on black edge frame
Do you loan from your collection? If so, can you give an example of the kinds of requests you receive?
The GIRLPOWER Collection and I both loan works from the two collections. For example, a work by Amalia Ulman that is part of the GIRLPOWER Collection was loaned to Whitechapel Gallery's Electronic Superhighway exhibition in 2016 where it later toured to MAAT in Lisbon, Portugal. And I have loaned a work by Eileen Cooper RA to her solo show at the Royal Academy of Arts in London in 2015.
Do you have any advice for artists who engage with collectors IRL and online?
My advice to artists is to make the effort to keep your CV's and websites up to date and post all current developments on your Instagram feed. Network as much as possible at private views and other art world events as you never know who you will meet. And remember that collectors are always eager to meet new artists.
Follow Marcelle on Instagram @marcelle.joseph and visit her website www.marcellejoseph.com
Please share this interview
And do feel free to email or contact us via socials @cerihand