Artist Mentor webinar classes and lectures are designed by dynamic arts experts, with decades of experience. Each class is peppered with industry gold insights and intel, with tried and tested techniques to inform and encourage you. You will hear real-world case studies and learn hacks, tips and tools to put you on the path to success. Artist Mentor webinars are safe, relaxed learning environments, with a friendly host and opportunity to ask questions. Every participant receives a PDF take-away with bonus slides post-session, ensuring you be fully present then test, try and apply the advice and actions in your own time. Each webinar is attended by a diverse range of brilliant creatives, so you will be in inspiring company!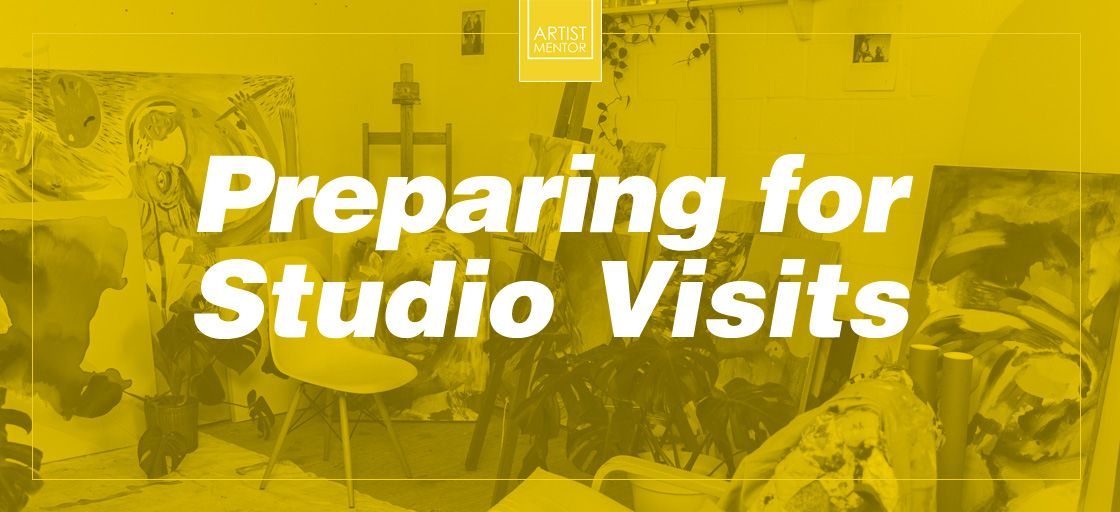 How to prepare for artist's studio visits
Webinar & Q&A
Date: Thursday 6 May 6pm-8pm
Price: £40
There is minimal training for artists or arts professionals on how to have brilliant studio visits.
So we've created a simple framework to help you:
Feel more confident in hosting or attending studio visits
Prepare more effectively for studio visits (IRL & virtually)
Facilitate a thought-provoking, mutually beneficial conversation
Establish a useful ongoing relationship
As an artist, your studio, and time in it, is sacrosanct. We know that inviting strangers into the studio is a big deal.
For curators, producers, collectors, programmers and writers, time with an artist in their studio is exciting and precious.
For both artists and arts professionals, studio visits should be one of the most enjoyable ways to generate useful feedback on your ideas and work.
They should be an amazing learning experience, a rewarding, inspiring dialogue and introduction to new ideas, processes and knowledge network.
But sadly so many of you have told us that they are all too often terrifying, confusing, embarrassing, discombobulating and depressing!
Lack of preparation, information, clear goals and boundaries on both sides are often the root cause of them not going well.
It may be that you just haven't had enough practice or are simply in need of some additional tips and want to brush up on studio etiquette in the digital era.
Either way, our handy framework and candid, open Q&A will ensure more fruitful studio visits in the future.
Ceri Hand, founder of Artist Mentor will lead the webinar. Having conducted thousands of studio visits with artists and creatives over a 30 year career in the arts, she is on a mission to take the sting out of studio visits and enable you to enjoy them and have more control over the outcomes.
All participants can will receive a PDF takeaway post session. 
Digital Marketing for Artists & Creatives
Presented by Artist Mentor and Social Ink
Date 2: Thursday 18 February 2021 | 6pm-7.30pm
Price: £30

Today, more than ever, we're facing an attention war. It's a multi-screen world, with millions of hours' worth of new content being added, every minute. So how can we all find a way to stand out in and amongst the vast sea of content? By choosing! Choosing who we want to connect with. Choosing where and how we want to connect. Most importantly, choosing to turn up and put the SOCIAL back into social media.
One of the biggest challenges facing artists, creatives and small businesses is real engagement. Yet oddly enough, it's rare that individuals or organisations invite it! It's time to take the initiative. You need to get involved. You need to be more social to get results.
It's time to take the initiative. You need to get involved. You need to be more social to get results.
Led by Chris Bruno, this webinar will focus on how you can get out there digitally and be social, outlining the easiest ways to invite people to become part of your community. It will be a hands-on class, and we may even get some content made during the session.
Chris founded Social INK in 2008, a digital marketing agency focused on social media and content creation. Since then he's built and sold an online television station, and created more content than most people could ever imagine, from videos to blogs, infographics to websites.
With Social INK he established the All About Digital Marketing podcast to provide insight, news and tips to help us improve our digital marketing, and the podcast has now reached thousands of people globally.
Subscribe here www.allaboutdigitalmarketing.co.uk & visit Social INK website www.socialink.co
You can find Chris on LinkedIn or Twitter @socialink_co