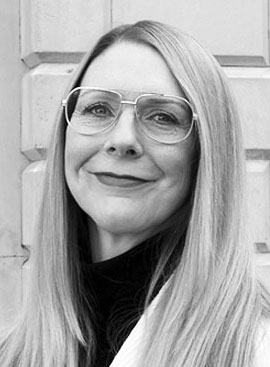 I first met Gavin Wade in 2002, when I was working at Grizedale Arts and toured the artist-extravaganza Roadshow to Lickey Hills and the Ikon Gallery in Birmingham. I have been consistently bowled over by his ideas, commitment, entrepreneurialism, energy and determination ever since.
He has devised and delivered some incredibly exciting and ambitious projects over the years, and Eastside Projects artist led gallery and incubator space is in itself a remarkable achievement.
Gavin and co-Director (and fellow artist) Ruth Claxton kindly invited me to join the Advisory Board of Eastside Projects around 2008. Over a couple of years, I gained first -hand experience of their inspiring, innovative and strategic leadership and ability to galvanise and instill confidence in artists and stakeholders alike.
Gavin is a creative pioneer - first and foremost an artist-curator but also exceptionally good at translating complex ideas to non arts audiences and enthusing others to support artists and their ideas. He makes space for dialogue and creates lush, inviting environments with artists that you want to dwell in and explore.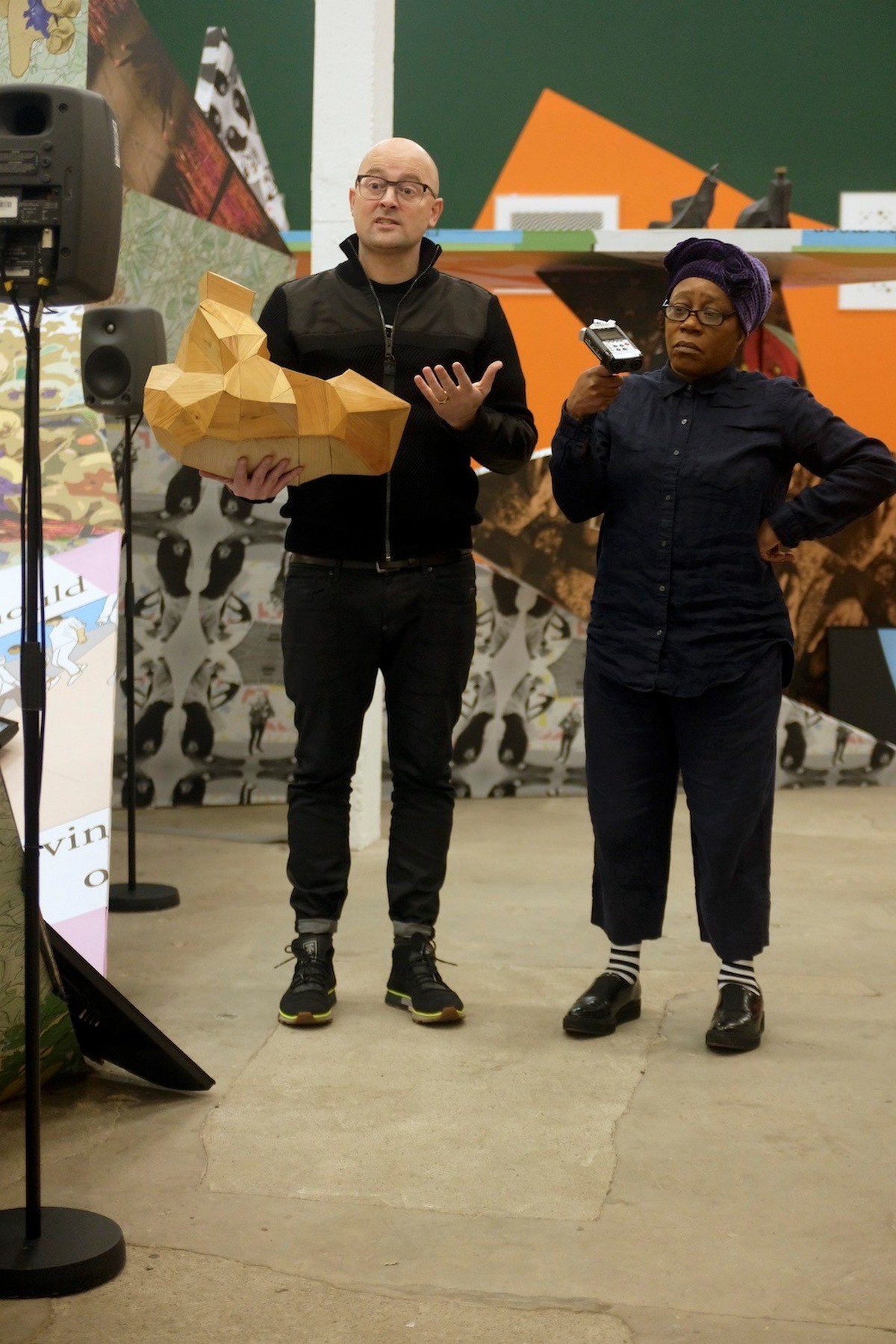 Gavin Wade and Sonia Boyce, 2020, photo by Vanley Burke
Gavin Wade is an artist-curator, Director of Eastside Projects, and Senior Research Fellow at Birmingham City University. His curated and co-curated exhibitions include Sonia Boyce: In the Castle of My Skin (2020), This is the Gallery and the Gallery is Many Things X (2018), Display Show (2015–16), Temple Bar Gallery/Eastside Projects/Stroom den Haag; Painting Show (2011–2012), and Narrative Show (2011) at Eastside Projects. Earlier exhibitions include Strategic Questions Venice, 52nd Venice Biennale (2007); Public Structures, Guangzhou Triennial, China (2005); ArtSheffield05: Spectator T (2005).
Gavin's diverse sites for making and curating art include a Naval Frigate, Portsmouth Cathedral, Greenham Common, Clumber Park, The Piccadilly Line: London Underground, Dudley Zoo and the new Smithfield Market in the centre of Birmingham (2020–2025). His books include Upcycle This Book (2017); Has Man A Function In Universe (2008); and Curating In The 21st Century, (2000). Ongoing projects also include A-Z Display Units (After Kiesler & Krischanitz) (2015–) and Strategic Questions publishing project (2002–).
What are you doing, reading, watching or listening to now, that is helping you to stay positive?
(14 May 2020) I just am positive! I watch a lot of TV. Quite a bit of Twitter and Instagram. I read comics. I watch plants grow. Exciting plants. Tilandsia. Cycads. Cyathias. Cacti. Diascoria. Pachipodiums. Good TV at the moment is DEVS. So good. Or an episode of Midnight Gospel. Lady Skollie recommended it to me. Before I realised it's by Pendleton Ward who made Adventure Time. I love Adventure Time. Great art. One episode is enough at a time. Every day. Proper eye-opening family viewing (if your kids are late teens!). I've just finished the 3rd series of Ozark. Totally captivating and stressful but makes you so glad you didn't get into money laundering or drugs! Brooklyn 99 I can watch over and over. Just started watching The Last Dance after reading Sean Edwards tweet about it being the thing he is looking forward to each week. It's so good. I'm not even into basketball and was never the slightest bit interested in Michael Jordan but it's captivating, compelling watching about the obsessive creative will to become, to win, to make a difference, to overcome.
I haven't been reading so much because I totally splurged out on comics earlier this year. If I'd known I would have waited!  Just before lockdown I finished this mega boxset graphic novel of Buddha by Osamu Tezuka. At 8 volumes and 3000 pages it's a joy to become immersed in this master of comic book making. He worked on it from 1972 to 1983 and it feels like an irreverent labour of love. It's really really good. I might go and read Brian K Vaughan and Fiona Staples' Saga from start to halfway again. I just got into Jonathan Luna's comics too. Waiting for Issue 4 of 20XX to come out. The ultimate pandemic comic. Only a very few survive but if you do, you gain telekinetic powers! Ironically Issue 4 has been delayed by lockdown in the States. Due out on 17 May, I think. How I will get a copy, I don't know. But I will.
The keyworkers that affect me the most are these artists. I keep thinking about all the artfulness keeping people going in their heads as much as the practicalities and administration of our bodies, deliveries, power supplies, policing. TV, comics, music, stories, film, the art on our walls, our clothes, our mugs, everywhere.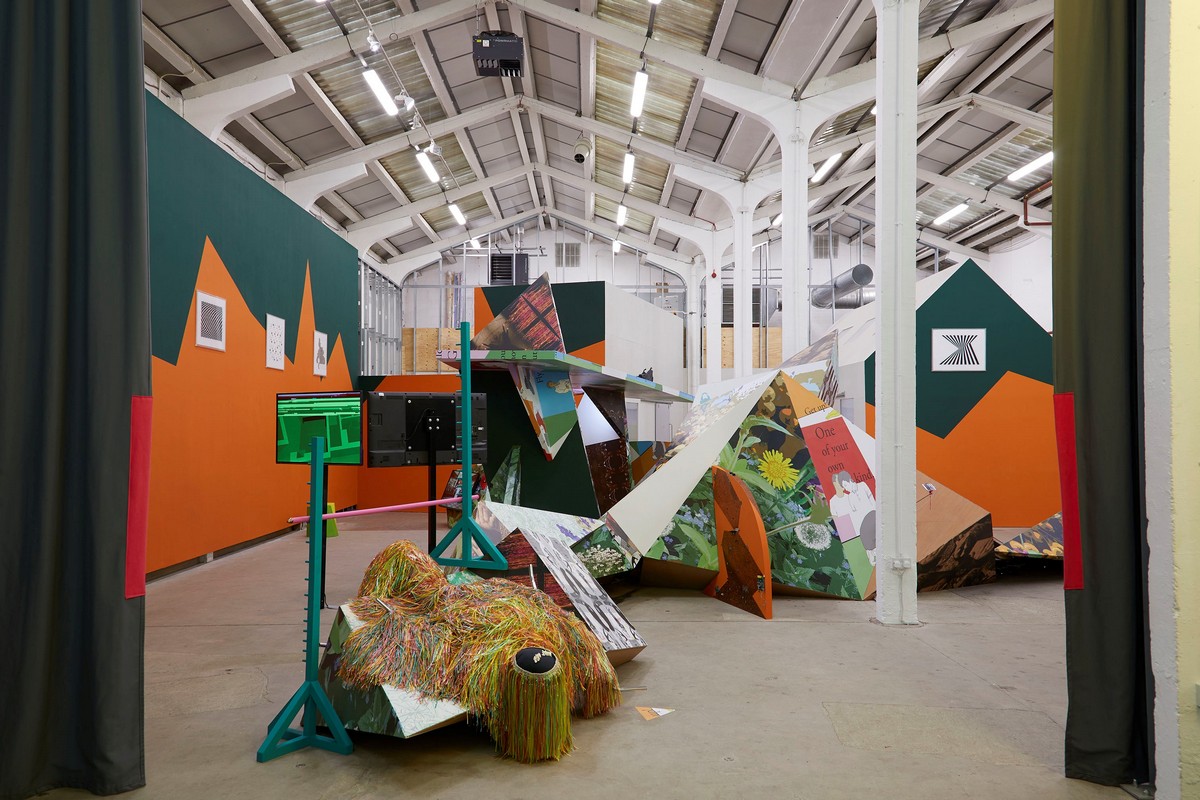 Sonia Boyce, In the Castle of My Skin, 2020, Eastside Projects, curated by Sonia Boyce and Gavin Wade
Co-commissioned by Eastside Projects and MIMA. Photo by Stuart Whipps
What are your core values and drivers that you bring to your curatorial work? What do you care about?
Creativity. My own and others. Birmingham. Utopia. Freedom without fear. Visions. Magic. Points where systems intersect. Creating life. Dancing. Escaping. Committing. Supporting and feeling supported. Collaborating. Improving. Patterns. Love.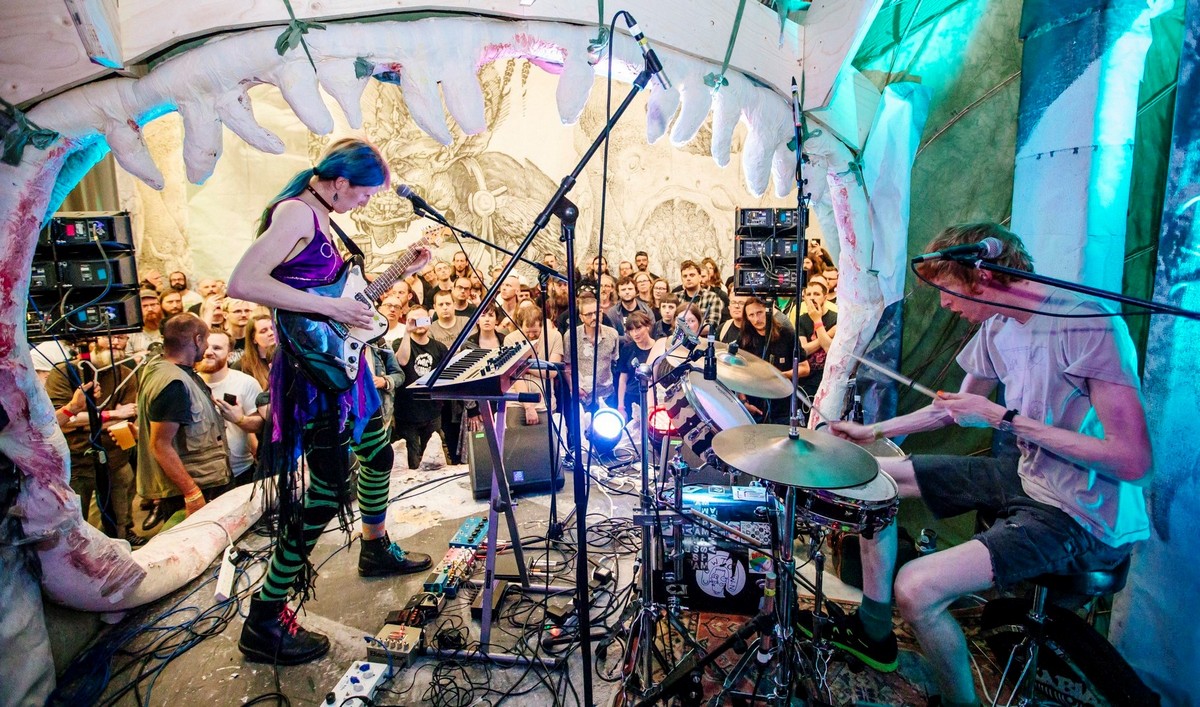 Monster Chetwynd, Hell Mouth 3, 2019 (with Guttersnipe performing at Supersonic Festival) Curated by Gavin Wade, co-commissioned by Eastside Projects and Capsule/Home of Metal
How do you develop your curatorial ideas? How do you test or scope your ideas?
Make exhibitions. Write exhibitions. Draw exhibitions. Teach exhibitions. Speak exhibitions. Dream exhibitions. Argue exhibitions. Be exhibitions.
(17 September 2020) Four months has passed since I sent you those answers back in early May. Feels like the whole world has changed and looped back on itself in that time. Looking back at my previous answers it puts into focus how much interviews and answering questions is so dependent on what is happening around you on that day, week. How you're feeling at the time. How much time you really have to think about these things. When self reflection is useful or not. I'm still positive but definitely feel more measured about just leaping into the void than perhaps some of those previous answers. I might continue the answer to that last question:
Save exhibitions. Resuscitate exhibitions. Free exhibitions. Reimagine exhibitions. Let exhibitions go. If you can. If you have the time and the space and the support and the freedom to.
In truth, exhibitions are testing and scoping. It is the form of doing exactly that. I don't think you need other ways of measuring the form of exhibition. It's enough in itself. Exhibition is life lived successfully. That's what I mean. I'm not into the bureaucratising of exhibition. I've been into the exhibiting of bureaucratic systems sometimes. Putting them to better use. Bureaucracy is pointless in and of itself. Exhibition always has a point.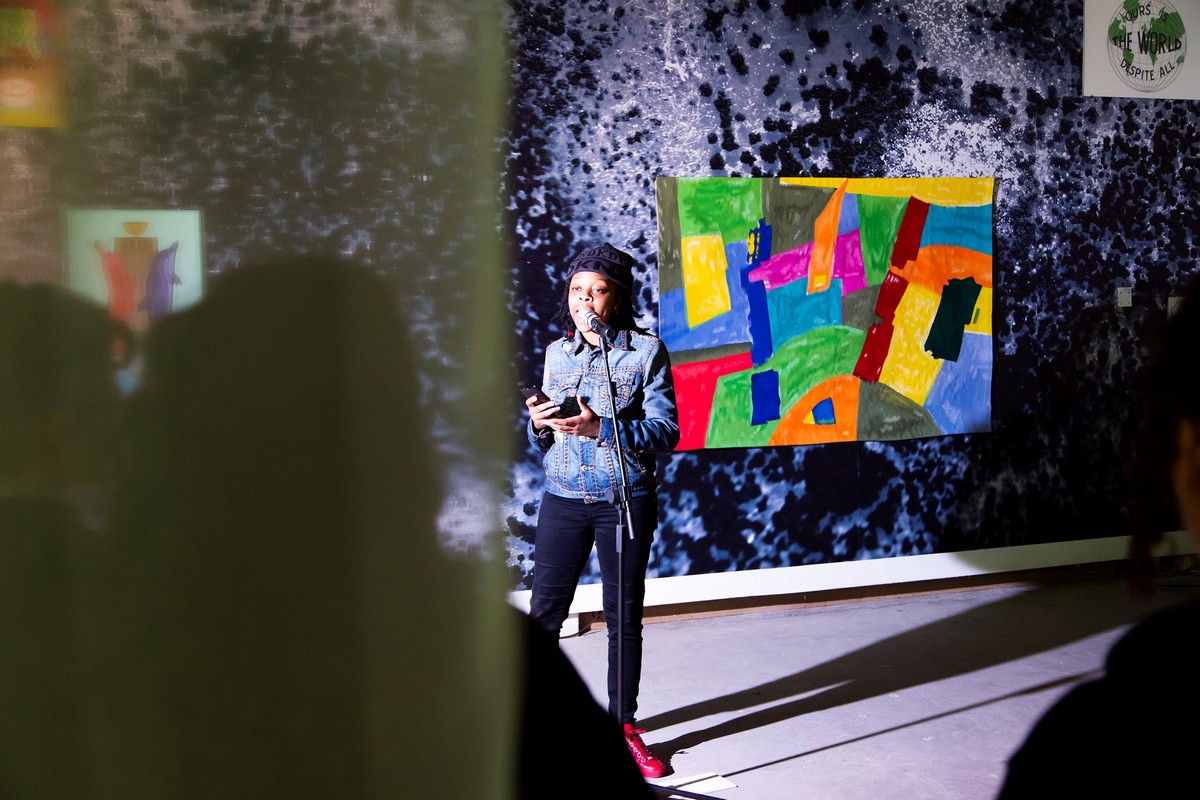 This is the Gallery and the Gallery is Many Things X, 2018, (Truemendous performing with Libita Clayton, Etel Adnan tapestry behind) photo by Zunaira Muzaffar
What emerging artists are you excited by right now and why?
One of the joys of running Eastside Projects is that insight and chance to experience so many other artists works. We made the Extra Ordinary People (EOP) open call for a show in our second gallery earlier this year and had probably the strongest set of applications we have ever had. It was following on the heels of Lindsey Mendick's powerful EOP exhibition, The Yellow Wallpaper, which had inspired many emerging artists to go for it, I think, and make an ambitious proposal to us. We interviewed eight artists as there were so many strong applications. It was a joy to meet them all on zoom and talk about what could be. The downside to having so many artists apply is the sadness of not being able to offer them all projects. But, Lindsey had applied a number of times in the past for shows and projects and not quite made it but we were really excited by her work, and it paid off in the end, for us, and for her. And the same this time. We have ended up offering to work with three of the artists we interviewed instead of just one. For the first time we just felt one of the applications was too big for the second gallery and so we have invited Emii Alrai to develop a show for our main gallery in Autumn 2021. I was so excited by Emii's work, and the images we saw of the show she has made at Tetley in Leeds, and how she spoke about the work. Honest, direct, confident in her skills and sources and intentions. Emii spoke of medieval hunting, woven mazes, animal traps, all through the lense of colonialism and Iraqi heritage, a display that she loved in Birmingham Museum and Art Gallery and making, making, making. Ruth Claxton, Associate Director here at EP and artist of course, and I both felt so energised by meeting her and seeing the work. A similar feeling as when we went to visit Samara Scott years ago in her studio and offered her the main gallery show in 2015. It can be so significant to work with an artist in their emerging years, in this case Emii is in her late 20s, to develop a big show together. If the time is right, it's right.
We also invited Leah Clements to make a new immersive show in the second gallery in May next year alongside the show we are developing and co-curating with Harold Offeh and Dance Xchange next year. Leah hypnotised us with incredible sounds and spoke of the sirens of the deep calling to deep sea divers. She proposed a new work that uses light and sound and form to control a sublime moment, an attempt to create a moment of bliss and weightlessness. Very excited to see how the show develops.
And we also loved Sarah Maple's works and proposal to make a type of short TV series of short films around language. Learning Punjabi in the UK and the slips in languages between different generations that you just become more aware of as you work with more people from different cultures that make up what the UK is, sharing learnings and insights. I hope we can support Sarah's sharp, funny work to get the attention it deserves. It should be prime time viewing. Lots to do.
There's so many artists to talk about. I've just loved working with Luke Routledge who has made a super ambitious show alongside Emma Talbot's show in the main gallery. It's great to see the seeds of an idea in someone like Luke, a great maker here in Birmingham, and be able to offer support and advise over the last couple of years and watch as he turns his dream into a reality with a show like Strange Matter. I've been fortunate enough to work with Luc Pheles, now going by Mwana Nkisi, and see his initial drawings flourish and grow into the stunning detailed drawn objects he is making as part of Sonia Boyce's In the Castle of My Skin. The chance to link up young artists with powerhouses like Sonia is so great, so much learning in both directions, and Mwana will make new works for MIMA next too, so a great chance for others across the UK to experience his work.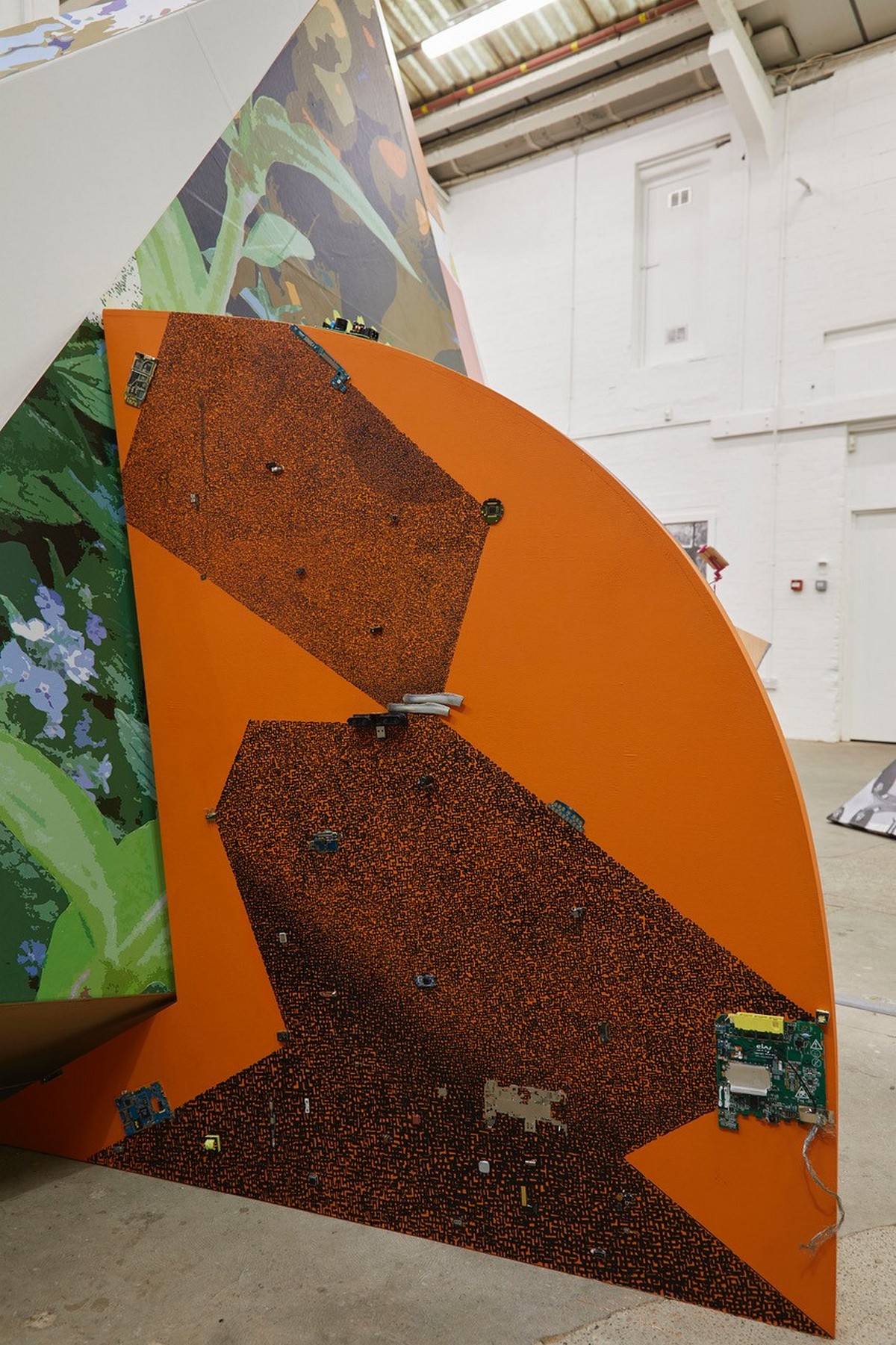 Luc Pheles (Mwani Nkisi) Ishango, 2020, Ink and acrylic paint on painted plywood, bone, motherboards
Part of Sonia Boyce: In the Castle of My Skin, 2020
What do you usually have or need in your studio or at work to inspire and motivate you?
I like stuff, and books, and images, and materials and all sorts of things, but I think it's people more often than not that motivate me and inspire me. I'm really good at the ideas bit, often. Whether it's generating ideas or just recognising and supporting others' ideas. It's the bit I crave, and get overexcited about, as much as the making and experiencing of the exhibition. I love to collaborate. So if I haven't got anyone else there. I need to make something to bounce off, respond to. But looking around me, there are no constants. My work spaces tend to be a bit messy. I think they're ordered messes. Things find their way to the surface when the moment is right.
I write lots of things down. Make notes of sounds, tunes, titles. If you want to make exhibitions it's a good idea to have things ready for just such an occasion. Lists of artists I'd like to meet and work with. Lists of words and sentences if you need to make a song. Questions and structures that I might want to include in something one day. Stuff to do. It is sometimes just in my head also.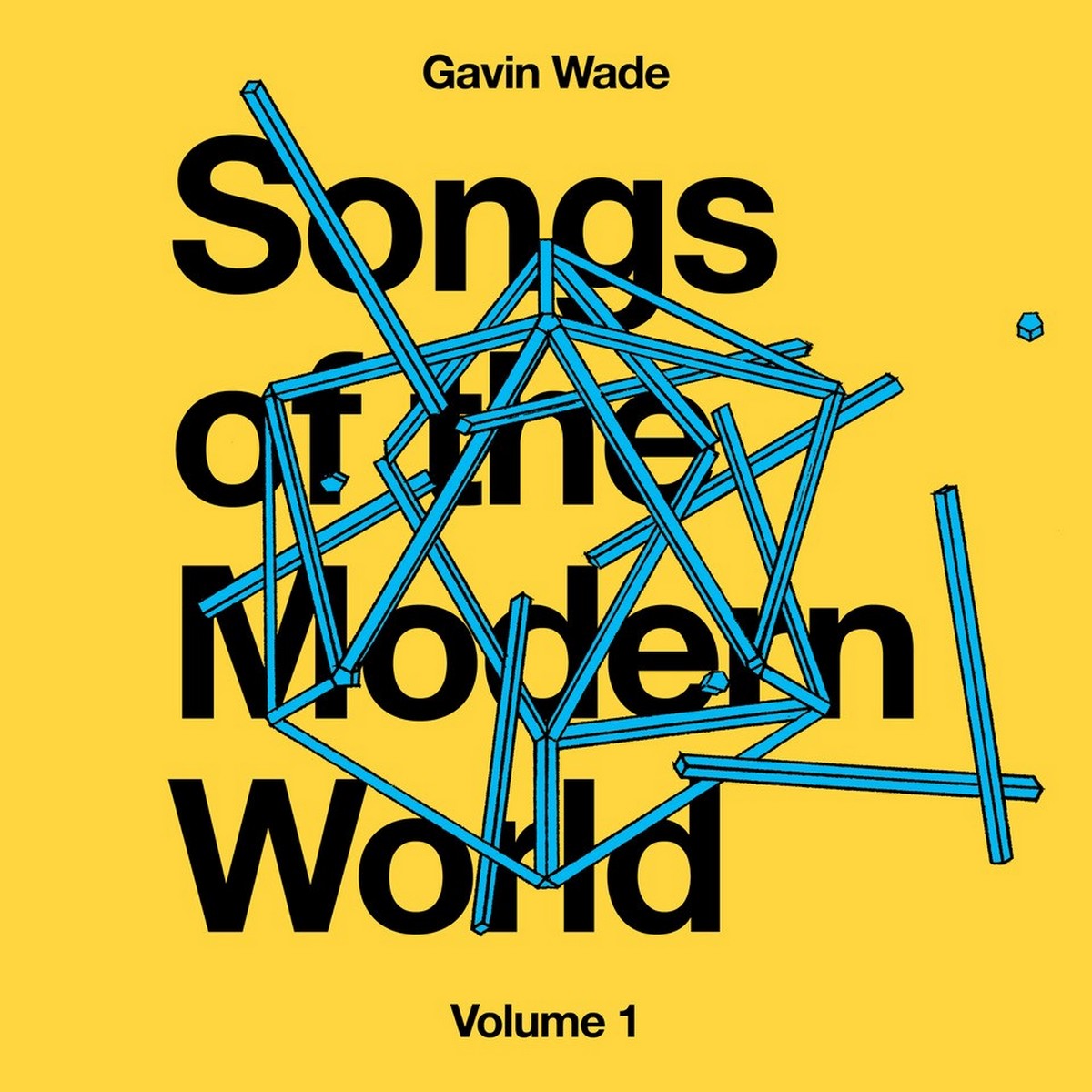 Gavin Wade, Songs of the Modern World, 2020, Album cover, designed by James Langdon, New Reality Records
What systems, rituals and processes do you use to help you get into the creative zone?
Just talking. Bouncing ideas off people. Noticing things and asking questions. I like artist's writings for that reason. Questioning themselves. Letting things flow out in different forms. I think the equivalent to processes and rituals is to come up with structures that will take time to unravel and work out what to do next. It's what Eastside Projects is in some ways, or my Strategic Questions project of 40 questions as publications, or even Support Structure, my collaboration with Celine Condorelli. A big system into which I can operate, solve, propose, combine and learn as I go along. My ongoing A–Z Type Display Unit series (After Frederick Kiesler and Adolf Krishanitz) is another one I started in 2015 within Display Show. It gives me scope to include new ideas with existing ones, and to collaborate with other artists, living and dead.
My current collaborations with Paul Conneally are a different example. Mostly based around poetry forms of renga that we write on twitter as #twenga and #tantwenga we send each other a three or two line text and the other responds using the nonlinear system of shared writing based on Japanese renga. When we do the 100 verse Twengas they involve other people from one other to, I think, there was 18 people in the last one we wrote during lockdown, the 11th Twenga. But we just started a whole other project making music together. Paul started a record label called New Reality Records and was asking me to send him words, recordings, songs for him to produce. During lockdown I finally succumbed and it has been quite magical working with him. I always wanted to be a pop star of course, but along with my comic making career it never became my focus, but I've always written songs, had words ready for a song, found tunes. I started making a list of all the songs I could remember and had written down and so far I have about 30. Some had lyrics and melodies but not music. Some have music and sounds but not words, and some are quite complete. I've been recording them on my phone, sending them to Paul and he has been converting them into wonderful pop moments of sadness and electronics. We made a single and I've got an album completed and coming out for the start of October now. It's called Songs of the Modern World: Volume 1. We've decided to make at least 3 volumes. I think we have more in us! I'd really like to make some songs with other people too, lots of great artists I've worked with recently who rap and make music, and would love to collaborate on other tracks. There's an interesting freedom in making songs. It feels like making another artwork to me, but it is different too. In a good way.
What recurring questions do you return to in your work?
Oh, utopia, I suppose. How to get there, and rename it. What can you do in your life, given the opportunities that are available. How can you make life, shape something in the world, shape yourself. What happens when things collide? What's at that point of intersection? What is our function? Was something that happened, meant to happen for a reason, and I just didn't get it? I've made so many projects using questions. So the form of questions is a methodology to me. My Strategic Questions project has 40 questions of which I've answered/published 27 artworks with probably over 100 artists. Still 13 to go. There's not meant to be a question that you could ask that isn't contained within one of the 40! They were written by R. Buckminster Fuller back in the 1960s as the set of questions you need to answer if you want to solve all the worlds problems. Fuller was serious about it. He did think the world needed to change its geopolitical structure and think about how everyone could have equal access to the world's resources. He tried really hard. He was an interesting man, and model for a type of artist in a way. He writes about being able to see the world with fresh eyes, from different perspectives and through others eyes. This was because he had the good fortune to not be diagnosed as being incredibly short sighted until he was older, and so the moment he was given glasses for the first time, he felt like he was completely seeing a new world. One he had never experienced. He was so conscious of that moment of discovery, that the world wasn't a blur that he tried to approach everything else in his life with that same wonder of seeing something for the first time.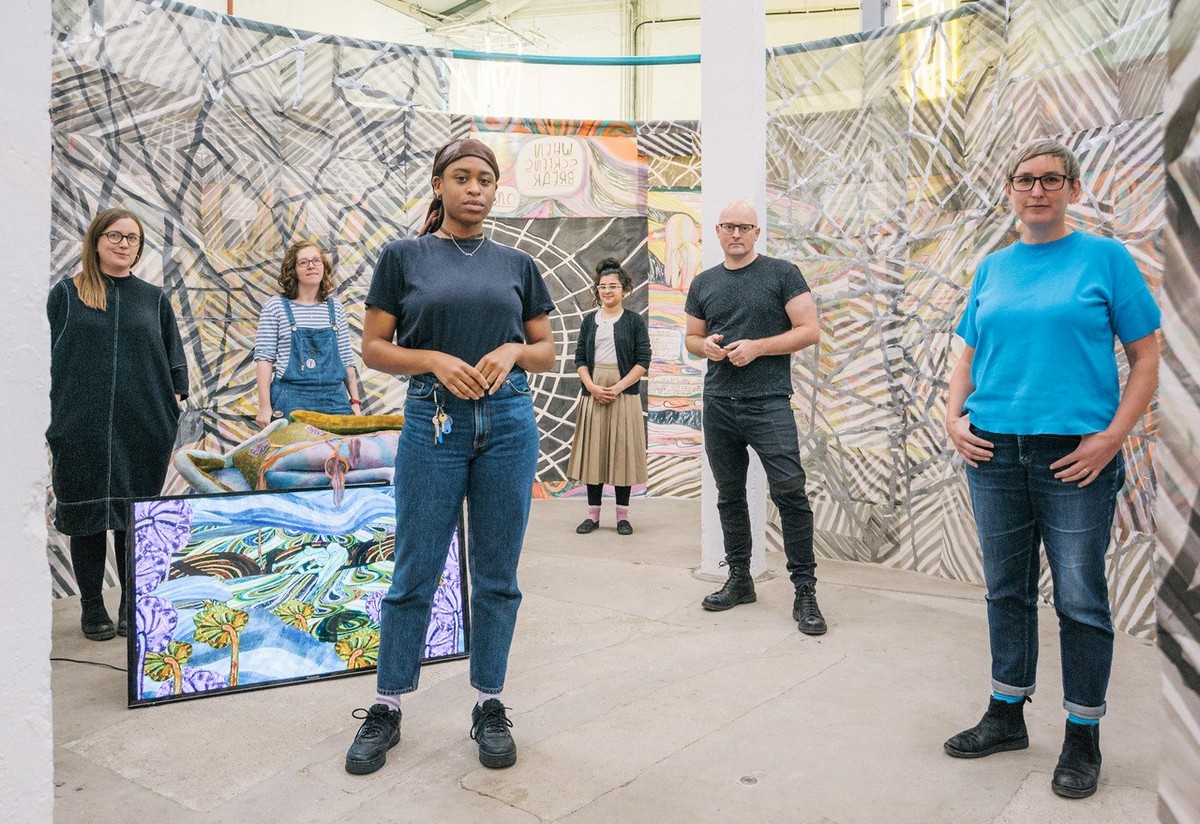 Inside Emma Talbot's When Screens Break, 2020, Eastside Projects, Birmingham, Photo by Ashley Carr
L-R Zoe Sawyer, Amelia Hawk, Candice Nembhard, Yas Lime, Gavin Wade, Ruth Claxton
What risks have you taken in your work that paid off?
It's all risks in life and the artworld in some ways. I know some things are not so much about survival and that I have always felt confident, secure and loved and that I could have a go at doing whatever I set out to achieve. But I never planned to run an art space. I had set my mind to being against the idea that an artist-curator should be hemmed in by running a building, or an organisation, or (the horror) an institution. So in some ways, opening up to the idea that I could create a new entity, an artwork, in collaboration with many others, is how I convinced myself to start up Eastside Projects. It took me a while to warm to the idea that it might be a type of institution. Another structure for achieving things and making things possible. It paid off completely. It has been an incredible 12 years of creativity and amazing people to work with. The structure of Eastside Projects allowed me to make jobs for other people, to bring art, money and ideas into Birmingham, to make connections and influence people and ways of doing things in this city, to be part of something much bigger than me. And it still does. It may not look like a very risky enterprise. But we have gone through a lot here, not least of all the right now. The pandemic has made many things impossible. We can still function, but not without extra support. We have to adapt. Quickly.
What risks have you taken that perhaps did not go so well but you learnt the most from?
I really don't know. It all gets merged into the ways forward. Bounce back. Try and survive. Try and do what you think best. Listen to those you trust. Listen to those you don't! I actually feel like I've got to that age now where it gets harder to pin down moments, and risks. In fact, the thing I would say about 'risk' is that our society has become obsessed with it. Risk aversion. And that it is a problem. A way of controlling people and events, actions, dreams, freedom. It's a big part of the professionalisation and regulation of our lives. And particularly of being an artist. I really prefer to make up my own rules. Which is why I have always loved manifestos, manuals, policies, artworks, but not to control other peoples' lives, or manipulate other people. To create freedom. I acknowledge that one person's freedom is another's prison though. Nothing should be treated as neutral or natural or standard or normal when looking at rules, terms and conditions, codes of conduct. In many ways the biggest risk is when you don't write things with others!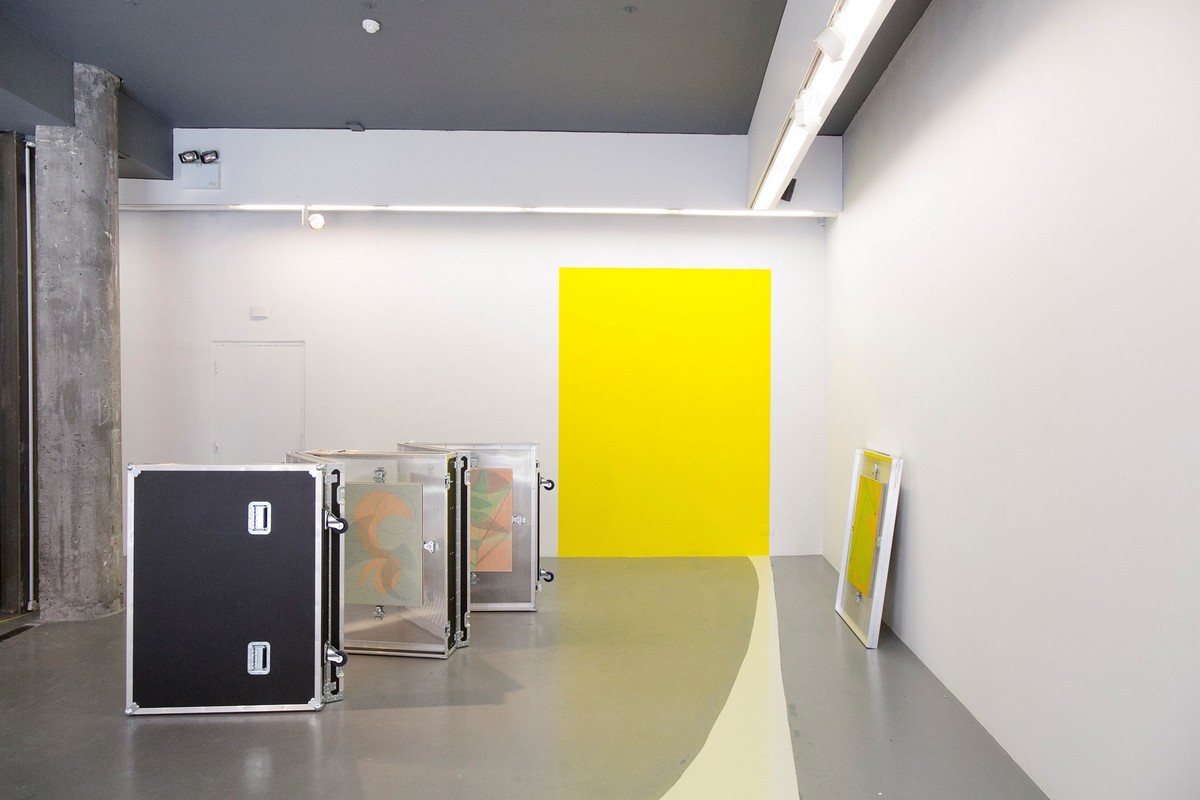 Yelena Popova, The Collectors Case, 2015, Custom flight case, 7 aluminium frames,10 paintings, mixed medium on linen, each 75 x 55cm, from RCA Series 2011 and
Gavin Wade, Proposed Functional Configuration, 2015, 281.5x197.5cm, 1:1 cutting diagram (The size and position of Andrew Lacon's A Display for Sculpture 07 is set by Gavin Wade as a proposal for the new size and position of the Gallery Entrance of Temple Bar Gallery + Studios), Display Show, 2015, Temple Bar Gallery, Dublin
What is your favourite exhibition or event you have curated or participated in and why?
I genuinely don't have a favourite. It's one of the weird things about doing an interview where you have a list of questions, rather than are asked in person. You can make something up on the spot if need be, and it will be the favourite thing that popped into your head in that moment, but it's so reliant on context. I have had so many powerful significant moments in my life where I have made exhibitions and events. I have had opportunities to work with some incredible artists, some outstanding people. It's more about how things come together over time, which is something you realise the longer you stick at it. There is this seemingly impossible practice now, that I used to have, where you go round the world doing stuff and hanging out with other people who have decided to be artists and curators. It was amazing. But it doesn't feel like it should happen again. It doesn't feel relevant any more even. I left London a long time ago now, in 2004. And it has been the true privilege to be able to work in Birmingham so intensively for such a sustained period. And to not travel so much. To not go out into the world to find new experiences. To realise they are all here. I don't know if I would say that if I hadn't had that previous experience though. Probably not.
What would you hope that people experience from encountering your work?
Something new about themselves and their relationship to the universe.
What compromises have you made to sustain your practice?
(9 October 2020)
None.
I'd love to leave it at that! You have to make choices. They always involve an element of compromise. You can be positive about it. You compromise something about yourself in a good way when you join with someone else. You gain so much more by not only going with your own impulses.
What advice would you give your past self?
Take better care of your lower back!
Can you recommend a book, film, or podcast that you have been inspired by that transformed your thinking?
The comics of Alan Moore. From the age of about 13 up to his most recent Providence series about H.P. Lovecraft which I only read a couple of years ago, Moore's comics have been a constant jolt to my system. The form, range and ambition of his works are astonishing. 'Transformed your thinking' is a big ask, and that is exactly what Alan Moore focuses on. How does art transform our reality? It's at the heart of Moore's project. Whenever I read another powerful comic, book, or film, it is partly through the filter of growing up reading Watchmen, Miracleman, Swamp Thing, the Ballad of Halo Jones or From Hell. It stays with you as you encounter other forms. I'd recommend Bucky Fuller's Synergetics and Synergetics II also. Or most of Fuller's writings as transformational, for me. Then I weigh them up with and combine them with ongoing recent transformational moments of learning from writings and lectures by Kehinde Andrews here in Birmingham. Kehinde has made me look at the world in a different way. To question an idea of white psychosis and to consider how the world needs to change. To shake off the systems of racism and control that surround us, and that we are part of. To have been able to attend some of his lectures at Birmingham City University and hear his Black Studies students speak about their positions and ideas in the world. To hear Kehinde talk about learning and understanding about black history through hip hop for example, it is so rich and honest and brave. Or have you read any of Adrian Piper's writings? Everyone should read her words. I've been drawn to Piper's works over the past few years, and she has given so much to art, and to the world. Try and get hold of a copy of Out of Order, Out of Sight, if you can. It includes writings on, alongside and beyond her artworks from the late 60s to the early 90s. Re-reading some of them again over the  past few months makes you realise again how much of a pioneer she is and how much the world still has to catch up with her. And the best sci-fi novels of course. I'm reading Nnedi Okorafor's Binti series at the moment. The smallest details of cultural practices and moments rendered into reality by her words is real creative power. Real knowledge. Real art.
Follow Gavin on Twitter and Instagram @eprjcts and visit https://eastsideprojects.org/
Please subscribe to Artist Mentor newsletter for a monthly round-up of some useful creative hacks, tips, offers, and introductions. Join Ceri Hand and your fellow subscribers each month for a 1 hour informal Q&A via Zoom. Ceri will be happy to answer questions on any subject related to the art world, from your own work and practice to exhibiting, sales and career advice.
Sign up by Tuesday 27 October to receive an invitation to the next session on Thursday 29 October, 6.30pm-7.30pm.
Feel free to email or contact us via socials @cerihand