Artist Mentor Masterclasses are all currently hosted online, in a friendly safe space, suitable for levels of creative professionals.
Each session is 1.5 hours long, consisting of a 45-60 minutes shared presentation and a focused 30 minute Q&A session and opportunity to ask questions throughout.
Artist's statements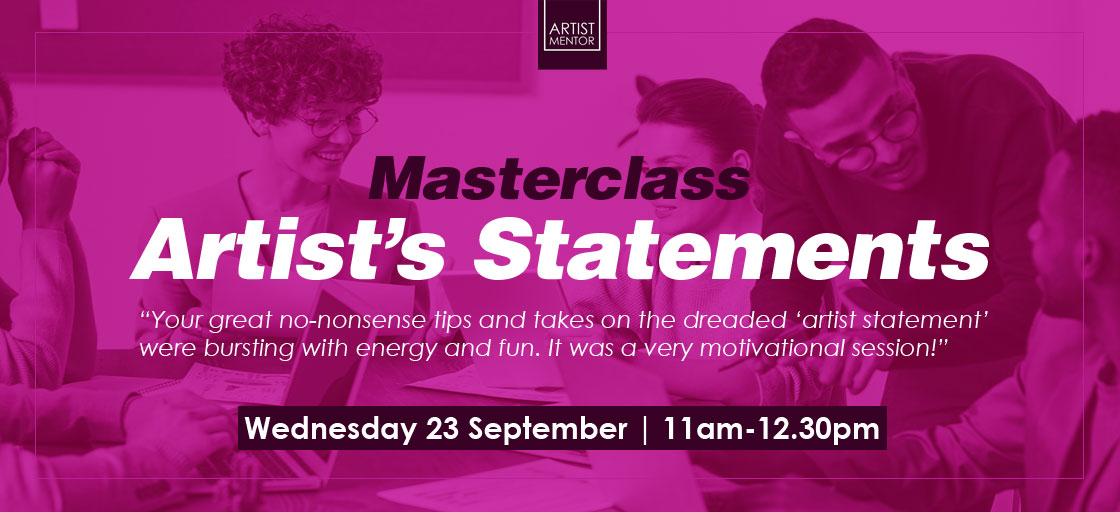 Date: Wednesday 23 September
Time: 11am-12.30pm
Cost: £30
Having a compelling Artist's Statement will help you focus your practice, generate wider interest and engagement with your work and get you a better strike rate.
Ceri Hand leads this Masterclass dedicated to demystifying the Artist Statement, providing inspiration and practical guidelines to get you started and writing a new and improved statement that captures the essence of your practice and motivations.
Recent workshop attendees feedback:
"Your great no nonsense tips and takes on the dreaded 'artist statement' were bursting with energy and fun - it was a very motivational session!"
"I found your repeated reassurance that all experiences were valid especially encouraging. Not just the obviously relatable, but those seemingly alien with an artworld context, in contributing to my authentic journey to date."
"Lovely mix of factual advice and information but light and positive with no pretense....very refreshing! Left me inspired!!" 
"I felt like it gave me a little more creative license to go ahead and break the mould a little with my writing about my work".
Online Marketing for Artists

Date: Tuesday 29 September
Time: 6pm - 7.30pm
Cost: £30
An increase in visibility and a positive public profile will undoubtedly improve your prospects for inclusion in exhibitions and increase sales opportunities.
Ceri Hand leads this session that's been specifically designed for artists and creatives, and those who often struggle to get to grips with marketing and self-promotion.
The session provides practical advice, guidance and support, with an overview of all aspects of the marketing process, from motivation and organisation to tips on creating an online portfolio and developing your social media presence.
Recent workshop attendees feedback:
"Ceri's masterclasses are packed with resources for artists that might take years of experience and research to learn and develop the insights that are given in each session. I found learning about the right mindset (that being confident and creative) for marketing and selling very challenging and useful".
"I loved the workshop, I really liked the tone you created, was enjoyable, easy, made a lot of sense. Created a shift in me right away and I now have a shop!! It was relaxed, easy, accessible, fun, and you are great at bringing artists out of solitary confinement!!"
Pricing & Selling Your Work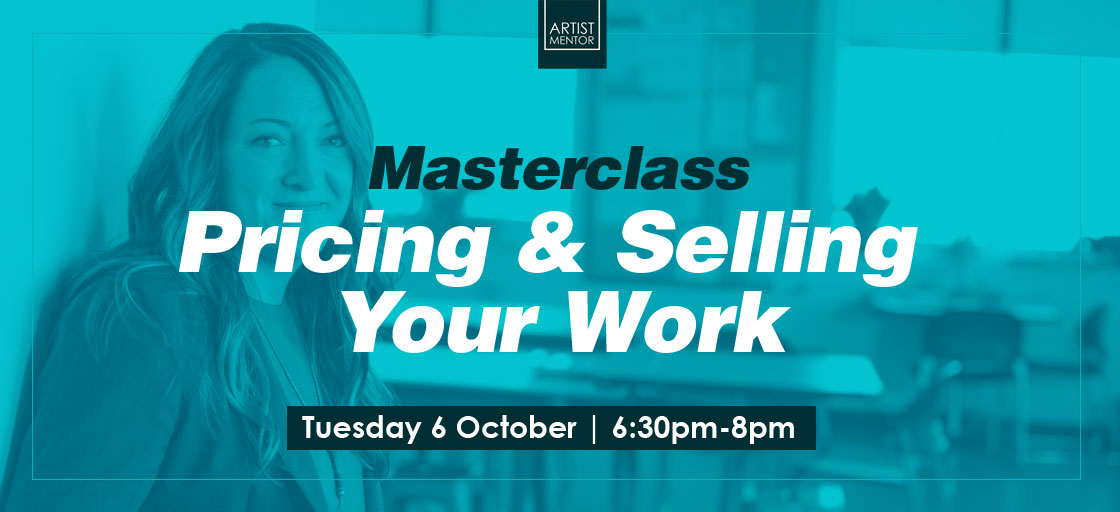 Date: Tuesday 6 October
Time: 6.30pm-8pm
Cost: £30
Ceri Hand will provide an introduction to the contemporary art market, including an overview of how commercial galleries work, example artwork prices and factors to consider when pricing your own work, including editioning, production costs and packaging.
Copyright for Artists: An introduction
Artist Mentor in Partnership with Naomi Korn Associates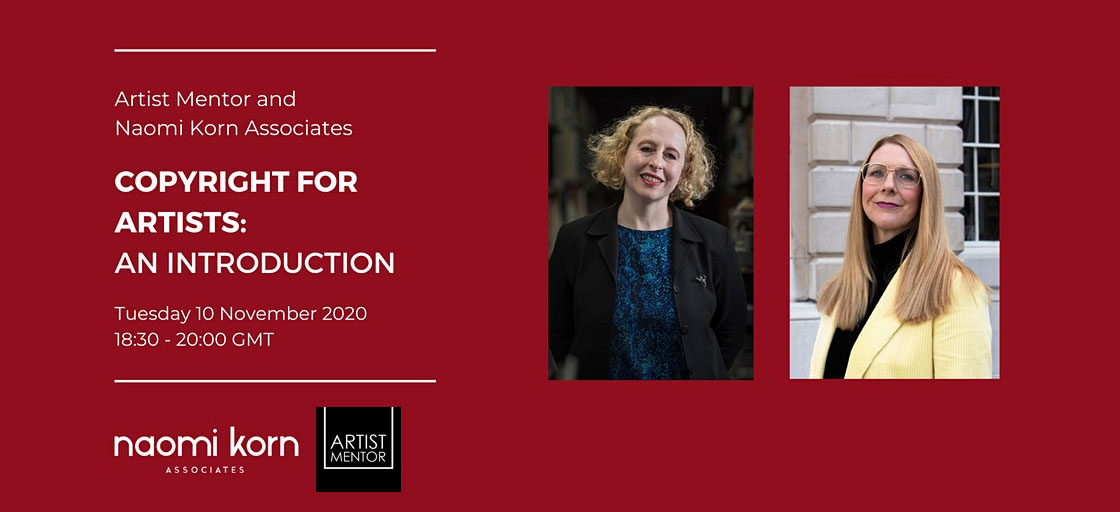 Date: Tuesday 10 November
Time: 6:30pm - 8pm
Cost: £25
Register here to book a place (eventbrite website)
As creators in 2020, understanding how to use and protect copyright in the digital world is imperative. This training, developed and led by leading UK copyright expert, Naomi Korn, has been specially designed for artists and other creators. It will provide a comprehensive and practical introduction to the basic principles of copyright within the context of creating new works, using works produced by others and protecting rights. Focussing on the use of technology, this session will provide artists with the essential knowledge they need to make the most of their work within the digital world.
This session will enable participants to:
Understand the basic principles of copyright and identify what types of work are protected
Consider what you need to do to protect your rights and what you should do next
Know who owns the rights in commissioned works
Understand how long copyright lasts
Consider the exceptions to copyright and how they might help you
Discuss social media and how you can make the most of it whilst protecting your rights
Discuss how to find and use Creative Commons licensed content you can safely use for free
Be guided to content you can use for free
Ask the trainer questions around key related topics
Naomi Korn is the Managing Director of Naomi Korn Associates. She is one of the UK's leading UK experts in copyright, data protection and licensing, with more than 20 years experience, including the facilitation of training courses. Whilst Chair of the Libraries and Archives Copyright Alliance (LACA), she led the reform of the UK's copyright laws on behalf of the cultural heritage sector, which resulted in new UK exceptions to copyright in 2014. Naomi regularly represents the interests of the sector to UK government departments.
Naomi is co-author of "Information Law: Compliance for librarians, information professionals and knowledge managers" together with Charles Oppenheim and Adrienne Muir, both Senior Consultants at Naomi Korn Associates.
Naomi Korn Associates is one of the UK's most experienced and trusted providers of information law related training and consultancy services specialising in copyright, data protection, privacy, and licensing. Naomi Korn Associates has extensive experience of working with artists, professionals and volunteers from organisations of all sizes across the arts and cultural sector. Recent publications include the National Lottery Heritage Fund Online Security Privacy Guide.